It is common knowledge that women have started taking more and more interest in bike riding. This increasing interest has caused industries to develop more gears and accessories for them. 
After all, every biker needs protection. 
If you're reading this, you must be looking for the best women's motorcycle jacket with armor at reasonable prices, which is not readily available. 
We understand your needs, so we're here to help you find the best women's motorcycle jacket with armor. Our experts have done their best research to get you the best products.
Here is a little table for a quick insight if you are not much of a reader

Best Choice

Premium Choice

Best Value For Money

Alpinestars Women's Stella T-GP Plus R V2 Air Motorcycle Jacket
Dainese Women's Air Frame D1 Jacket
Joe Rocket Women's Atomic 5.0 Jacket
Best Choice

Alpinestars Women's Stella T-GP Plus R V2 Air Motorcycle Jacket
Premium Choice

Dainese Women's Air Frame D1 Jacket
Best Value For Money

Joe Rocket Women's Atomic 5.0 Jacket
1. Alpinestars Women's Stella T-GP Plus R V2 Air Motorcycle Jacket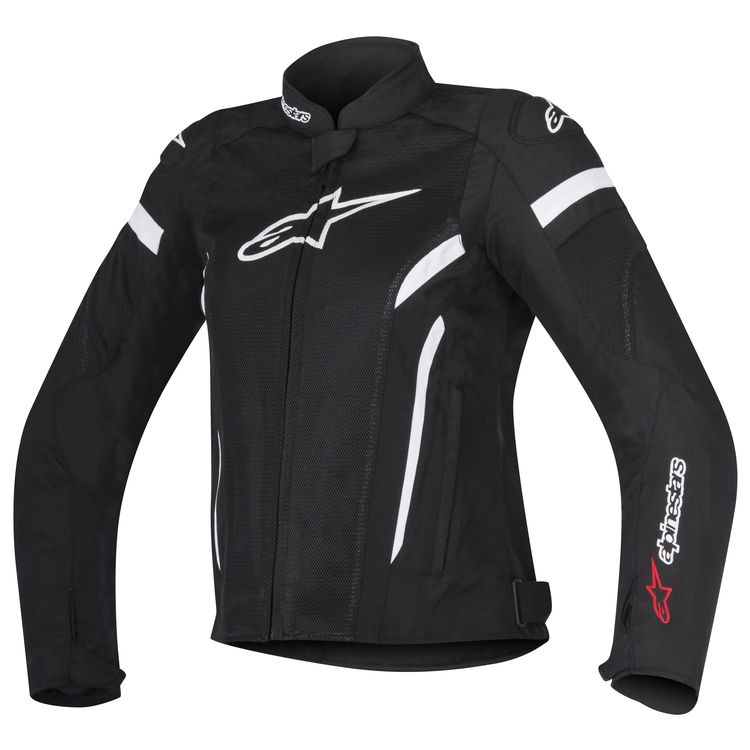 Offers tons of features at a cheap price

Water-resistant

Great for both hot and cold seasons

Powerful ventilation system
The size runs a little small
Undoubtedly, Alpinestars Women's Stella motorcycle jacket is one of the best women's motorcycle jackets with armor. This jacket provides maximum protection and comfort to its users. Being highly demanded, it is available in most online stores. 
Alpinestars, a renowned brand for motorcycle products, has been extremely trustworthy for a number of different products, and their jackets are no exception. The jacket is engineered for performance, comfort, and safety. Thankfully, the Stella is a budget-friendly jacket with tons of useful features.  
Alpinestars Stella women's jacket is prepared with a combination of 450/600 Denier poly-fabric, making it highly durable and flexible. Individual poly fibers make the jacket more stretchable and flexible. The motorcycle jacket is a stylish, premium leather sport, and street riding jacket. The high levels of comfort in the Stella women's jacket are due to its strategically positioned stretch inserts that work with a rider's body on and off the bike.
In addition to that, the 450/600 Denier poly-fabric main shell of the jacket makes it water-resistant. So you can wear it even if it's raining. The jacket consists of CE certified elbow and shoulder armor. You can even buy a Nucleon CE level 2 back protector to upgrade the back. This is the best combination with the jacket for the best protection in sport bikes.  
The jacket is light in weight, flexible, and durable. Whether it's cold or warm, it can be worn in any weather. However, people mostly use it for warmer seasons. The Alpinestars Stella weighs only around 3.6 pounds, which is incredibly light for a motorcycle jacket.  
The jacket consists of a full mesh lining, which enhances the airflow and breathability. It's a jacket with a fixed waterproof membrane, a removable thermal lining, and ventilation for warmer days. Another protective feature is the use of Nucleon Flex on the shoulders and elbows and a back compartment if you need extra protection. 
Also, the jacket consists of multiple internal compartment pockets that are completely waterproof. Some extra pockets are available, but they're necessary and can be bought separately. The only problem with the jacket is that it does not provide a zipper to attach with the pants, which is not a big problem. 
What's more, the jacket is available in different sizes, including extra-large sizes. It is available in 2XS, XS, SM, MD, LG, XL,2XL, 3XL sizes, three different colors, black/white, black/white/red, and black/white/fuchsia. In other words, the Alpinestars Stella gives you tons of options to choose from.
The jacket is an overall fantastic product with many advantages; it has been placed as the best product by the user reviews. It provides maximum protection. Its waterproof material makes it even more incredible.  
These jackets are made to perform at the height of summer heat but are enough for the reality that weather conditions change. The Alpinestars jacket has a great ventilation system and, in some cases, it offers great additional features, which includes removable windbreakers and removable waterproof linings. 
All in all, the Alpinestars Stella jacket is secure and fits like a glove. The range of sizes is also perfect. The jacket is super comfortable and provides the best protection to the rider.
2. Joe Rocket Women's Atomic 5.0 Jacket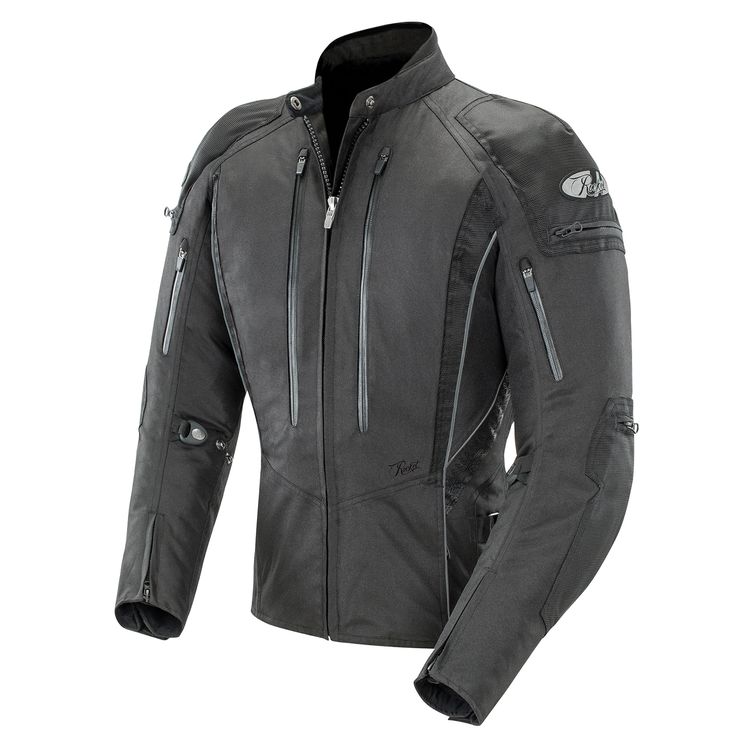 Highly affordable option for budget-buyers

Great protective features

Custom fit adjustment system
Can be a little tight on the waist
Joe Rocket provides their best feature known as Sure Fit, which is based on adaptable straps that can be adjusted by the wearer to develop in a more personalized fit. They also provide free air mesh, which refers to the abrasion-resistant mesh material. 
This jacket is also one of the finest products when it comes to the best women's motorcycle jacket with armor. The Joe Rocket Women's Atomic 5.0 jacket is available in different sizes and colors. This jacket is also highly durable and flexible. As a matter of fact, this jacket is one of the most comfortable motorcycle jackets available on Amazon.  
Joe Rocket women's jackets are known for their style and to relate your look with your bike. These Joe Rocket jackets are synonymous with safety, featuring both armor and reflective stripes. The jackets are made from high-quality materials and designed to have you feeling fashionable. The Atomic 5.0 follows the same pattern. 
The Atomic 5.0 is especially designed for the sport of riding bikes. The jacket has powerful shoulder armor. The armor comes with layers of strong abrasion resistant material. Another plus point for the jacket is that the armor is removable. 
Made from Rock Tex, the jacket is fully waterproof. It also contains a Hitena outer shell, which provides it strength against impact. It has pre-curved arms and flexes. Both the elbow and shoulder armor are CE certified.
The jacket consists of free air mesh. The jacket is comfortable and breathable with good airflow. It consists of Full Flex articulated back expansion panels, which makes owning the jacket more convenient for you. Also, it provides a fit custom adjustment system, and this feature makes it highly desirable.  
The Atomic 5.0 has a large padded lower back storage pocket and a zipper for the pant attachment jacket, which is also waterproof. The 360 degree panels are reflective and have logos, which makes the jacket fashionable. 
The motorcycle jacket is available in XS, SM, MD, LG, XL, 1 Diva, and 2 Diva sizes, making it more impressive. Plus, it is available in 5 different colors: black/black, blue/black, Hi-Viz/black, pink/black, and White/silver.  
Overall, the jacket is of high quality, and it's highly comfortable. It can be a little tight on your waist, but that won't be a problem. The jacket fits perfectly, and its color schemes are grand. Joe Rocket has grown from a brand that no one knew to one of the most popular motorcycle gear manufacturers in North America.
3. Dainese Women's Air Frame D1 Jacket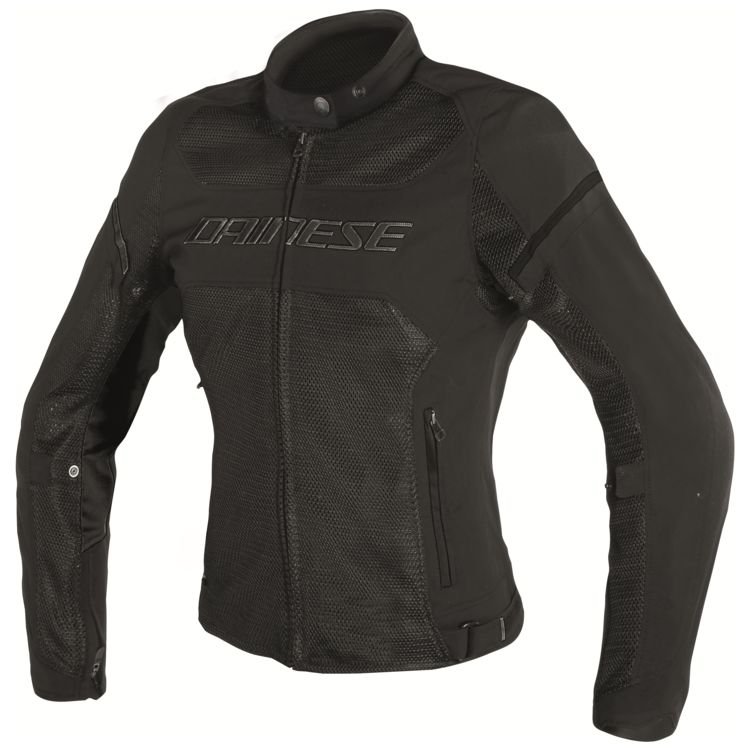 Gives resistance against wind

Dries quickly

Highly breathable
Does not protects you from water
Dainese is a name that you can trust when it comes to the motorcycle jackets in the industry. Dainese gives full commitments of safety to its riders all around the world. The Red Dot Design Award panel recognizes the world's most original and innovative products, including its motorcycle jackets. 
The Air Frame D1 is a perfect riding jacket with compatible features. It is a summer riding jacket with a great fit and a finish that only Dainese can provide. Dainese provides the highest level of protection and technical material for dealing with all harsh weather conditions. 
The jacket is perfect for unbearable conditions of weather. It is created with QuickDry fabric, which provides maximum airflow. The jacket provides a removable composite protector certified to EN 1621.1 standard, which gives high protection to the jacket. You can also buy a pocket, which is much-needed in the jacket. 
The fantastic product has an anti floating sleeve system in it. The jacket is very compatible as it comes with soft inserts at wrist and neck, which is good for the rider's skin. The jacket is not waterproof, but that doesn't matter when the jacket has a quick-dry feature. 
The QuickDry fabric feature of the jacket makes it more comfortable and desirable. The jacket also contains two outer pockets: one reflective insert and one inner pocket. 
The Dainese women's jacket is lightweight and comes in different sizes and three colors. The three colors are black/black/black, black/black-white, and black/vapor grey/fuchsia. It comes in XXS, XS, SM, MD, LG, XL, and XXL sizes. 
This Dainese women's jacket is very comfortable, but it is expensive and contains fewer features than Joe Rocket's Atomic 5.0 jacket. This jacket is a protective and safe jacket with perfect fitness. It is readily available on Amazon at the lowest prices. The attractive features of the motorcycle jacket make it more interesting.
4. Fly Racing Street Women Butane Jacket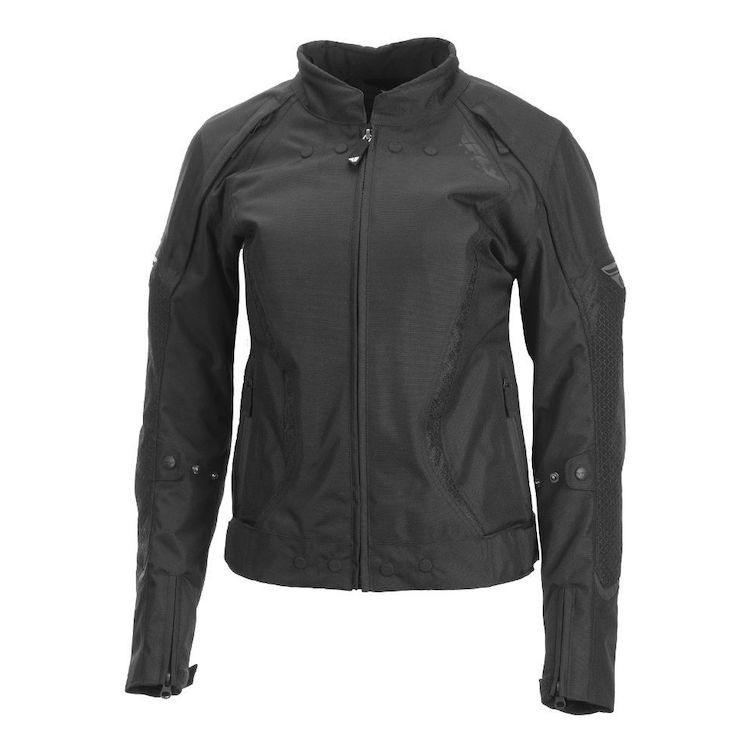 Both water and windproof

Maximum airflow makes it great for hot seasons

Highly affordable
The sizing can bother some buyers
The Butane women's jacket is wind and waterproof for the horrible weather conditions. Fly Racing's Butane is a beautiful choice if you want the best women's motorcycle jacket with armor. It is made for sport riding bikes, and it gives maximum venting of airflow to the rider.  
The Fly Racing Butane Jacket is a perfect all-season middleweight jacket. The jacket is equipped with a Hydra Guard waterproof and breathable membrane with an advanced 600D material that is not only flexible but lightweight and durable as well. 
For winter riding, the Butane jacket offers a removable thermal liner. For summer riding, the Butane jacket offers an industry-first Air Induction panel. This panel is located in the center of the chest and opens to expose a 3D mesh intake vent, which allows a maximum amount of airflow for those hot days. 
The jacket is very light in weight with a weight of about 1.92 pounds. It is available in different sizes and colors. It has CE certified elbow and shoulder armor. It also gives you a nice and large zipper located on the shoulders. 
The product consists of Hydro Guard protection, which makes it the most durable waterproof and windproof jacket. This feature makes the jacket more comfortable and breathable. 
A zipper is located in the sleeves, which connects it with the gloves. The jacket has a PE back and spine protector, which is highly desirable for a bike rider. The product consists of side expansion panels as well. There are reflective panels in the pocket to improve your visibility on the road.
The jacket has a lot of other features as well. It contains upper and lower sleeve volume control, which helps the armor be in the correct position. A zipper is present in the external and internal pocket as well.  
The Fly Racing Butane's entry-level price is attractive to many first-time jacket buyers, and, for a budget-conscious rider, few options would provide better performance in this price range. Overall, the product is uniquely comfortable and also good looking. The product's rating is also outstanding; it's a crowd pleaser. User reviews suggest that it satisfies anyone who wears it.
5. Rev'It! Eclipse Women's Jacket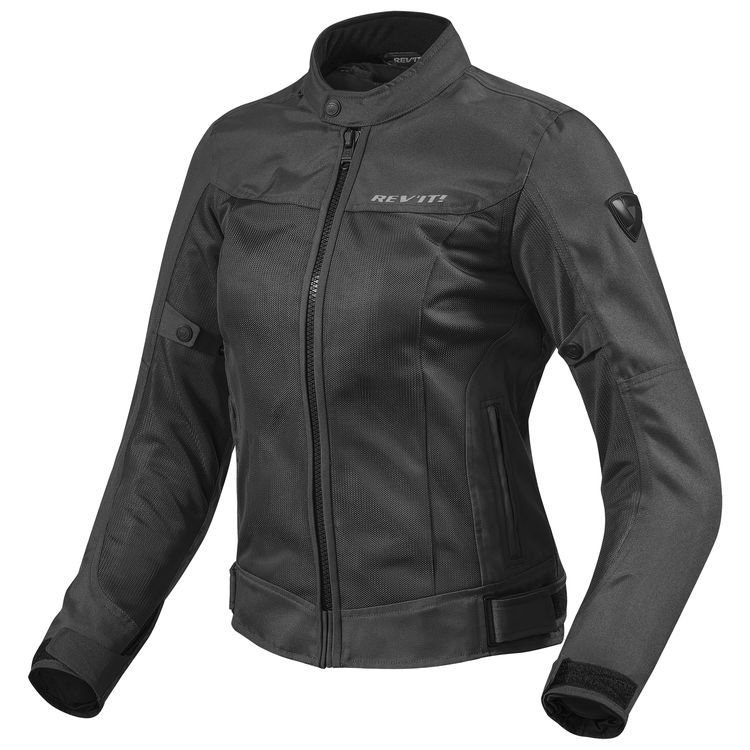 Robust protection at shoulders and elbows

Very breathable
Back protector is sold separately
For those who don't know, Rev'It! is a great motorcycle clothing brand. The motorcycle jackets of Rev'It! are available at low prices and are well-liked too. The Rev'It! Eclipse leads the race when you are looking for a jacket that helps you stay cool and protected as the temperatures rise. So it shouldn't be surprising that the Eclipse is the best women's motorcycle jacket with armor for many people.
The impact zones of the Rev'It! Eclipse are made up of abrasion-resistant polyester. Not only that, but its front, back, and inner sleeves are made of mesh to allow full airflow to your body. The Rev'It! Eclipse women's jacket is also counted as one of the best jackets for bike riding for women. 
It is the best summer weather jacket with maximum airflow. The jacket is light weighted. It provides you comfort and protection at the same time with its fantastic quality. If you are looking for a jacket within your budget, you can buy this one as it is not as expensive as other women's motorcycle jackets in the market.  
The Eclipse has a CE certified armor in the elbows and shoulders. In the impact areas, the jacket consists of formidable abrasion-resistant 600D polyester, which makes this jacket more breathable. 
The Eclipse jacket provides maximum protection due to its Knox Flexiform usage in the shoulders and elbows. Apart from protection at the shoulders and elbows, the Eclipse protects your back as well if you buy its back protector separately. 
It has adjustable straps to increase its adjustability and fitting. These straps and tabs allow you to adjust the fit to match the shape of your body. Also, it contains a double jeans loop that lets you connect the jacket to your jeans to keep it in place while you're on the road. It also has ventilation panels, which increase the airflow across the jacket. It also has a slip pocket and inner pocket. 
The Rev'It! Eclipse is highly durable but not waterproof. It is fashionable with a great logo and design, which is eye-catching. It comes in all perfect sizes and four colors. The Eclipse motorcycle jackets are available in 34, 36, 38, 40, 42, 44, 46, and 48 sizes in Numerics. The Rev'It Jacket is available in four different colors: black, silver, brown, and burgundy. 
So we conclude that the Eclipse by Rev'It! is highly recommended for street riding as it gives perfect and robust shoulder and elbow protection along with a great fit.
Women's Motorcycle Jacket With Armor: Buying Guide
There are some vital factors which should be considered while purchasing the best women's motorcycle jacket with armor. The most important factors are mentioned below. 
Material
The first and the most important thing to be considered is the material of the jacket. Most of the jackets for bike riding are made up of leather because leather gives great resistance to abrasions. 
Since it decides the level of protection, the quality of leather or the material is of immense concern. Fabrics come with more advantages these days. Some even give protection against wind and weather as well. So make sure you get the most advantageous fabric. 
Ventilation
The second most important thing is to check the airflow of the jacket. The many layers of fabric in a motorcycle jacket make it heavier and uncomfortable, so you should choose a jacket with thick layers but good breathability as well. 
A comfortable jacket will keep you cool or warm depending on the weather condition and give you protection at the same time. The more the breathable jacket, the more it will be comfortable. 
Fitting
Before buying a jacket, you must know what size of the jacket you have to choose. It should fit well. The lack of fitting will make you uncomfortable and unsafe while riding your bike, which is not recommended at all. 
If your jacket doesn't fit you well, it may result in irregular riding. This may lead to a lethal accident. So, it is an essential factor to be considered. If you can, we recommend you to try on the jacket before paying for it. You must check that it fits you well beforehand.
Protection
Armor plays an essential role in the strength of a jacket. The majority of motorcycle jackets are made up of leather, which is a good thing. Leather jackets give resistance to abrasion. However, that might be not enough if you're riding on a highway at a high speed. 
Safety and protective features should be at their best in the best women's motorcycle jacket with armor. You must make sure that the jacket you are going to buy contains CE certified elbow and shoulder armors, which provides the maximum protection. A CE certification is obtained once the jacket passes multiple power tests, so this certification makes the jacket more reliable and safe.  
Lining
It is essential to check for the liners and padding in the jacket. You must make sure that they are of the best quality and rigidity since a lot of protection and power depends on them. The lining gives some hardness to the jacket and makes it more durable. 
There could be extra padding in the jacket, which makes it warm and desirable. Today, many manufacturers add various removable padding and linings in the jackets. These can be removed or added when you want.   
Reflectors
There must be reflective elements in the jacket because they are a significant part of the jacket. It plays a crucial role in the visibility of the rider and saves them from a number of road accidents. 
The primary purpose of reflectors is to reflect the light more brightly. Neon colors are widely used for this purpose in jackets, especially in reflectors. The most effective neon colors include yellow and orange mainly. 
Collar
Collars are also a crucial part of the jacket. It provides perfect fit and comfort to the rider. Since it is close to the neck and shoulders, the collar must be smooth. Otherwise, it will cause itching and irritation while riding, which is the last thing that any rider wants.
Motorcycle jackets are the most essential and vital part of biking. A woman must wear her best women's motorcycle jacket with armor to be safe during a race or riding. 
It is our primary goal to give safety to our users. Therefore, we offer highly authentic and reliable products to you. We have done that, and now, it is up to you to choose the best women's motorcycle jacket with armor for yourself from our suggestions.  
Keep the guideline in your mind and our buying guide before buying your motorcycle jacket. Shopping for a jacket can be difficult for a woman, but you can get your best motorcycle jacket with comfort and protection by following our instructions and recommendations. 
The above-described jackets are one of the best jackets for women and provide maximum comfort and protection with their impressive features. Using our instructions, you can easily find a jacket which perfectly fits and protects you in the best way possible. Happy shopping!