Finally, the successor to the incredibly popular and widely loved Sena SMH5 is here, and it is called Sena 5S. For those familiar with Sena's products, the Sena 5S is to the Sena SMH5 as the Sena 10S is to the Sena SMH10.
For the last ten years, Sena has been producing high-quality and reliable intercoms and other Bluetooth devices. From our Sena 5S review, you'll see how Sena has mastered making such products for bikers.
The Sena SMH5 was hugely popular among the fans, but after reading this Sena 5S review, they will love the 5S even more. It's because, from build quality to performance, the 5S is much better than its predecessor.
You must've noticed that devices with many features are usually complicated. This isn't the case with Sena 5S. Although it's packed with impressive features, the Sena 5S is significantly easy-to-use.
Besides, the Sena 5S has all the signature Sena and SMH5 features. As a result, users of the SMH5 can enjoy the new features of the 5S without feeling any significant changes. Adding such a large number of features without making the device overly complicated was not possible in the past.
Buy on Amazon
Sena 5S Available Packs
Price is mostly the deciding factor when you want to buy a gadget. Thankfully, the Sena 5S is not even that expensive.
Sena's feature-rich device is launched in a single and a dual pack. Both the single and double kits contain every vital accessory that you might need with your Sena 5S.
The single pack of the Sena 5S includes the 5S module along with speakers, a clamp unit, surface mounting adapter, wired microphone, wired boom microphone, boom microphone holder, fasteners (for boom microphone, holder, wired microphone, and speakers), Allen wrench, microphone sponges, and USB power & data cable. The dual pack contains the same items but in a doubled amount.
For the costs you pay, you get so many essential accessories along with your 5S module(s).
Therefore, it's clear that the Sena 5S gives more than it takes.
Sena 5S Features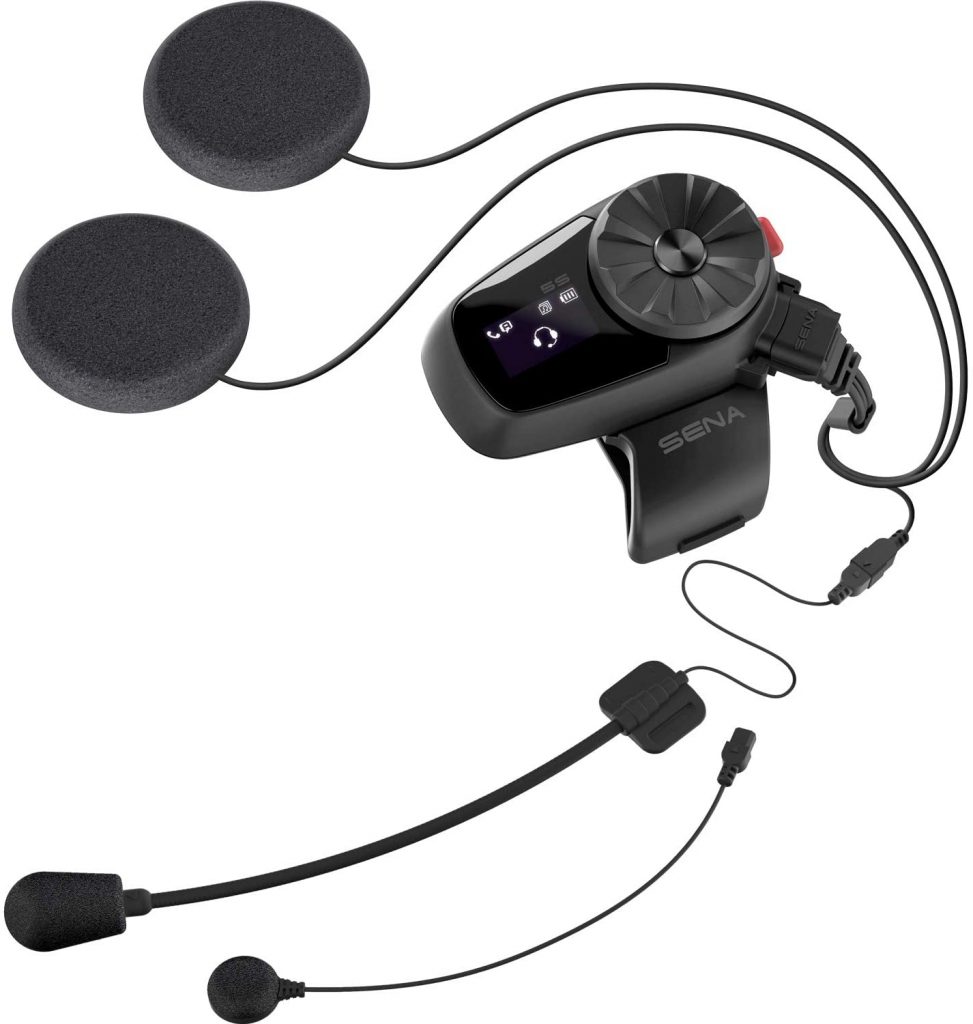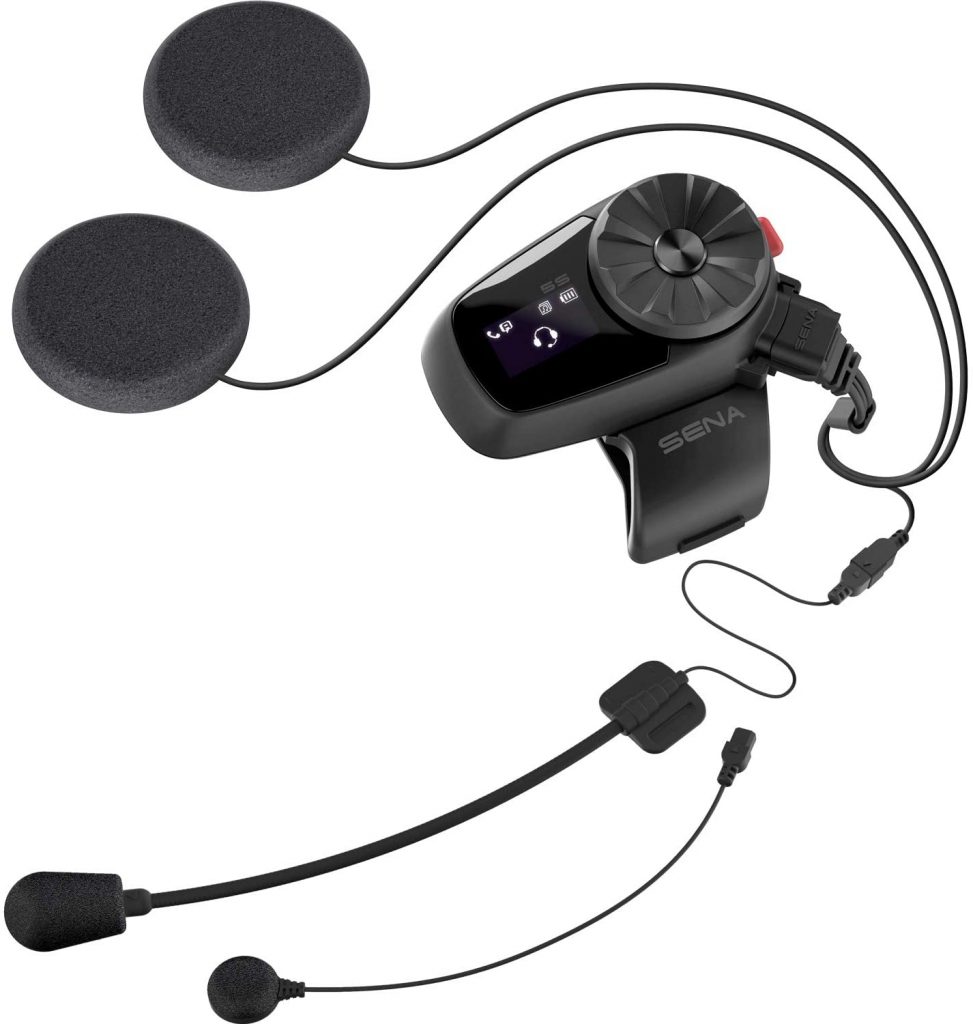 Of course, you won't spend hundreds of dollars on a gadget without knowing about its features. If you are interested in the Sena 5S, we have taken a detailed look at its major features in the Sena 5S review.
1. HD Speakers
When it comes to Bluetooth devices, especially those that are meant to be used on motorcycles and scooters, speakers are among the most crucial parts. Sena has given a lot of thought to the speakers of the 5S.
The Sena 5S is equipped with flat, disk-shaped HD speakers that are great to use when riding a motorcycle. The beveled taper speakers provide fantastic sound quality. Not only that, but they have an excellent bass response as well.
That being said, we believe that the physical comfort of the speakers needs a little more work. The speaker cable ends with a slightly big bose. Due to this, some users might find it hard to fit the 40 mm speakers in a helmet.
The Advanced Noise Control feature of the speakers cancels all background noise. You can rest assured that you will get to hear everything clearly on the phone and intercom both.
Also, the speakers provide additional volume that is quite sufficient. However, if you're at a higher speed on the road, the volume and the overall sound may get compromised.
2. Bluetooth 5.0
The Sena 5S uses the Bluetooth 5.0 version. It's much more advanced than its predecessor, Bluetooth 4.2. The 5.0 version can transfer data up to 2 Mbps, which is twice as fast as Bluetooth 4.2.
Also, it has a more significant range as well. So it allows the transfer of data, such as images, audios, or documents, between two faraway devices in half the time.
3. 2-Way HD Intercom
The Sena 5S has a 2-Way HD Bluetooth intercom system. The system is excellent for creating a robust and wireless connection between two riders. It creates a highly stable connection so that you can interact with another rider without any interruption.
The intercom has an extensive range of almost half a mile (or about 700 meters). So your connection will remain secure even if your partner is a little far away from you.
4. Smartphone Connectivity
You can connect your smartphone easily with your Sena 5S. It's one of its essential options, but it is a significant one.
With this option, you can pair your smartphone with your 5S to listen to GPS directions, songs, podcasts, talk on calls, and much more.
Other than that, the Sena 5S also has an Audio Multitasking option. This particular feature allows users to talk over the Bluetooth Intercom and listen to music at the same time.
You might be thinking about how such a thing can work. Trust us; technology has come far. This feature doesn't spoil either your music or calling experience.
5. Jog Dial
The 5S form Sena features a jog dial that is not only intuitive but highly versatile as well. You can perform a variety of operations with this component. For example, you can rotate the dial to adjust volume and seek FM radio stations.
You can also use the jog dial to answer and end phone calls, start and end intercom conversations, and much more. Even though the jog dial is highly functional and incredibly valuable, it can cause some problems.
Many—not all—customers have complained that their jog dial is either too hard or too easy to rotate. Since the jog dial is used for so many essential operations, this fault can cause severe problems for users.
6. LCD Display
You get a built-in integrated LCD screen with your Sena 5S as well. This LCD has a few functions. For example, it allows you to configure the headset visually. The display comes in quite handy if you want to manage your connections and settings before starting your journey quickly.
However, some customers feel like this feature is not that important. This is understandable since you can't use a screen when you're on the road.
7. Sena Utility Application
If the various features of the Sena 5S weren't enough for you, Sena's Utility App would surely impress you. You can connect your Sena 5S device with the Sena Utility App. This particular feature opens many outstanding options for you.
For example, you can connect your Sena 5S with the Utility App to configure speed dial settings, radio presets, and much more. Fortunately, the Sena Utility App is available for both Android and iOS devices.
8. Hands-Free Profile
Another significant feature of the Sena 5S is its Hands-Free Profile (HFP). It's one of the essential elements in the gadget. Luckily, it works smoothly, as well.
With the Hands-Free Profile of Sena 5S, control has been made hands-free for you. It allows you to command the device by using your voice. However, the best part is that it supports 8 languages. This includes English, German, French, Spanish, Italian, Japanese, and more.
Other Features
As you know that the Sena 5S is fully packed with amazing features, it's hard to mention every single one. However, other notable features of the headset include a helmet clamp kit, a long-lasting battery, and a built-in FM Radio.
The Helmet Clamp Kit ensures that the headset attaches tightly to your helmet. However, it doesn't go well with all helmets. Also, the headset's weight, along with that of the clamp kit, is easily over 100 grams. Therefore, it might feel a little heavy. If your helmet is a bit loose, the headset's weight will make it hard for you to keep your helmet in place.
The 5S comes with one lithium polymer battery. The battery requires charging for 1.5 hours. This might feel long to you, but it's an improvement if you compare it with the 2.5-hour charging time of SMH5. The Sena 5S battery gives a talk time of 7 hours, like its predecessor.
The built-in FM radio of the Sena 5S comes with RDS AF. Also, it supports a frequency range of 64-108 MHz. Besides that, it has a 10 preset station memory along with an automatic scan function.
Pros
The module can withstand extreme temperatures, from -10°C to 55°C.
It has long battery life.
The sound quality is top-notch.
The device supports voice commands in 8 widely spoken languages.
It uses the latest Bluetooth version, i.e., 5.0.
Its 2-Way Intercom has an extended range of 700 meters.
Cons
The headset doesn't clip well into all types of helmets.
The kit doesn't come with a wall charger.
Using the multifunctional jog dial can be confusing.
The speakers can be made more comfortable.
Sena 5S Motorcycle Bluetooth Headset Communication System, Black, Model Number: 5S-01
Pair the device to your smartphone to enjoy your music, hear GPS navigation, and make phone calls
Communicate with another nearby 5S user by pairing up with Bluetooth Intercom
HD Speakers optimized for audio quality, delivering a boost in volume, bass, and clarity
Built-in LCD Screen displays statuses such as battery life, radio frequency, and volume level
Easy to use and setup with included clamp kit and boom microphone
Conclusion
The Sena 5S is a worthy successor to its famous predecessor, the Sena SMH5. We're sure that people will love the Sena 5S even more.
Even most SMH5 users are planning to upgrade and get the 5S. We believe that the 5S has all the best features of all the devices from the Sena "S" series, and it will last long because of its firmware updates. Because of that, the Sena 5S has become our favorite Sena intercom till now.
We recommend buying the Sena 5S to all old and potential customers of Sena.
Also Read: Sena 50S Review