If you're a motorcyclist, you probably understand the level of excitement riding a bike gives a rider. However, like all good things, motorcycles riding comes with a price too. Since motorbikes don't have any doors and windows that you can lock, there is always a risk of an intruder messing or stealing your bike. Therefore, it is really important to make sure that your bike is safe, and a motorcycle alarm can help you with that.
If you want to buy the best motorcycle alarm for your bike, you must make sure that it is a one-time investment. To help you out, we have compiled a list of the best motorcycle alarms of the year and a buying that will help you decide which option you should go for.
Here is a quick comparison table for a quick insight if you are not much of a reader
Best Choice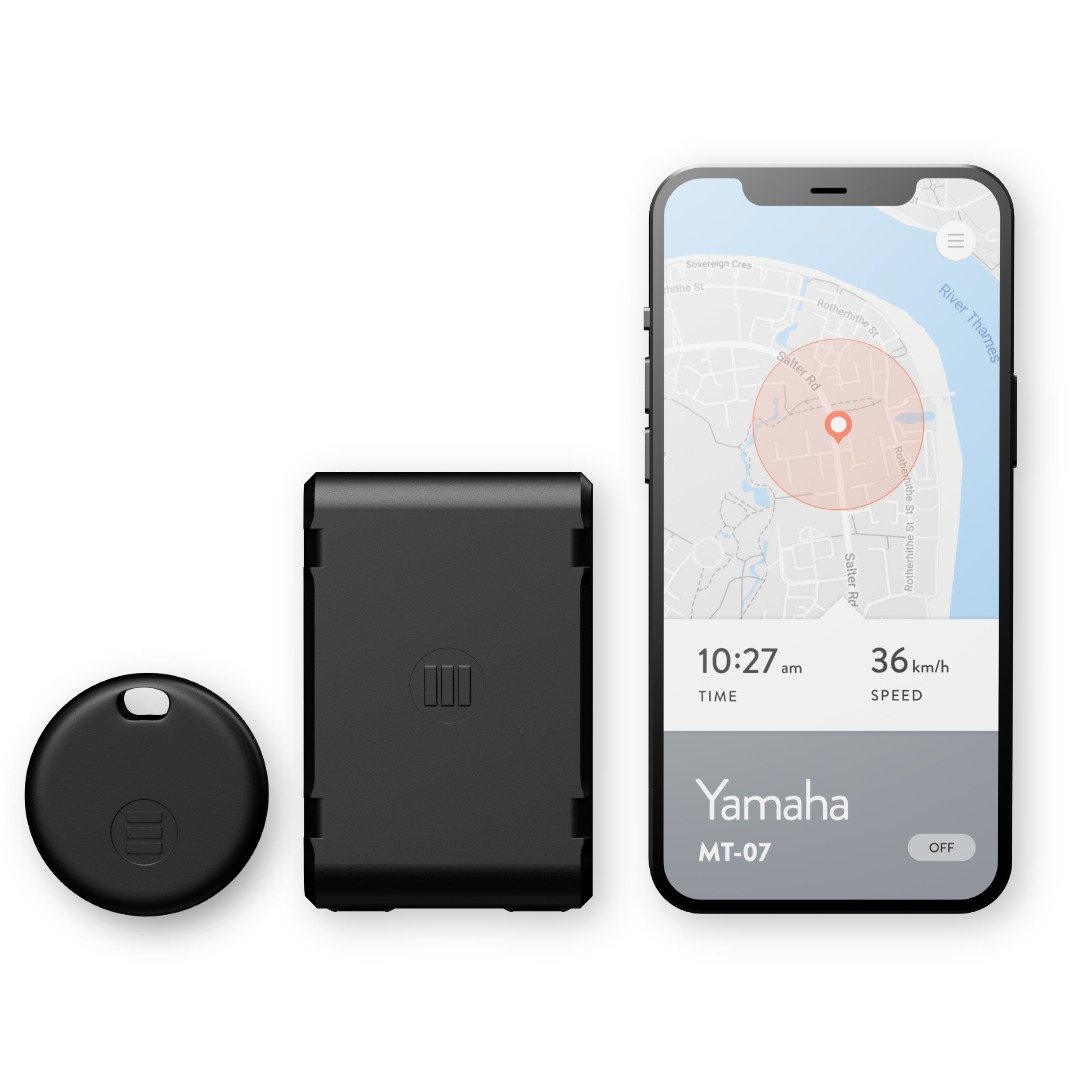 Premium Choice

Best Value For Money

Scorpio SRX-900 Hands-Free Motorcycle Alarm
Wsdcam 113 dB Anti-Theft Motorcycle Alarm
Best Choice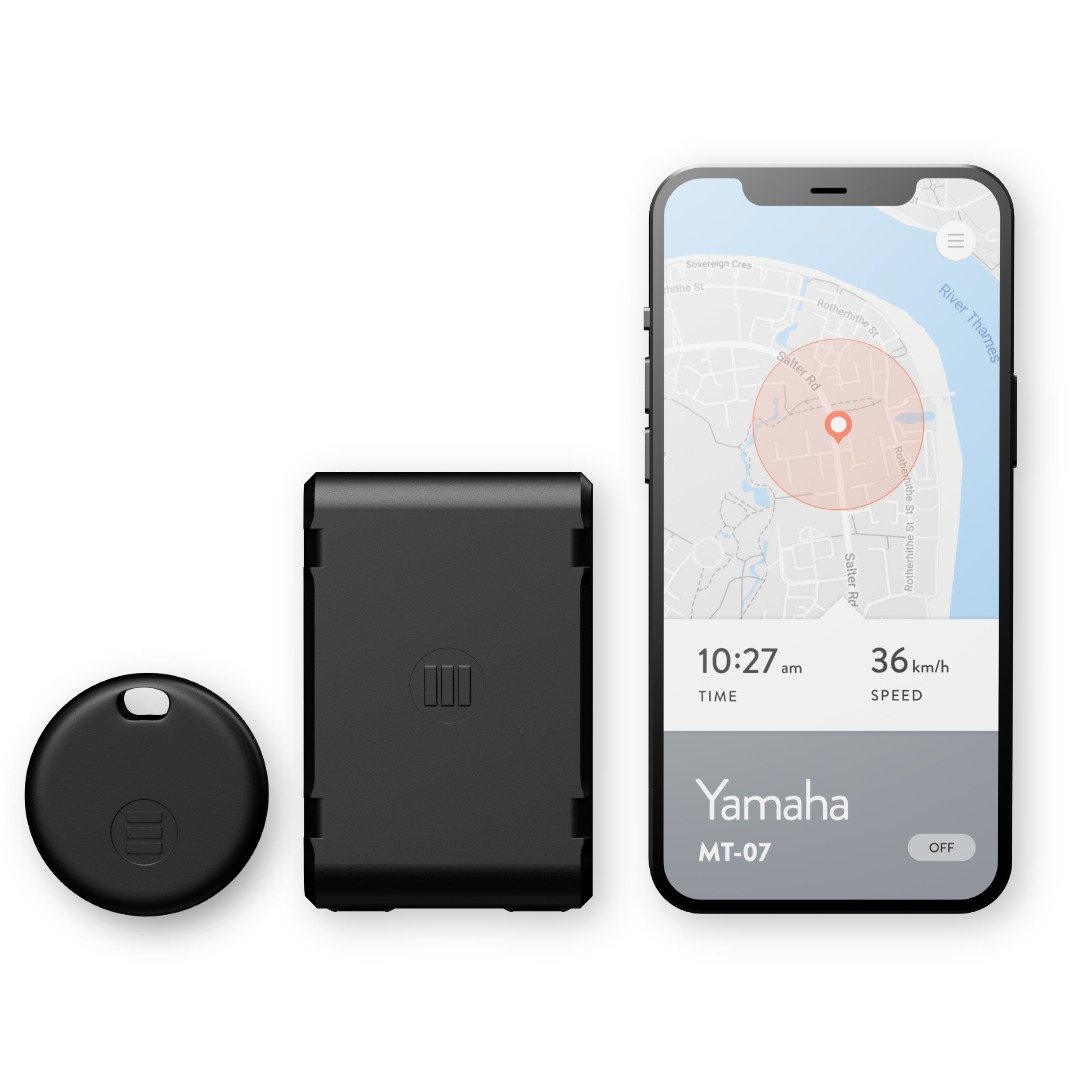 Premium Choice

Scorpio SRX-900 Hands-Free Motorcycle Alarm
Best Value For Money

Wsdcam 113 dB Anti-Theft Motorcycle Alarm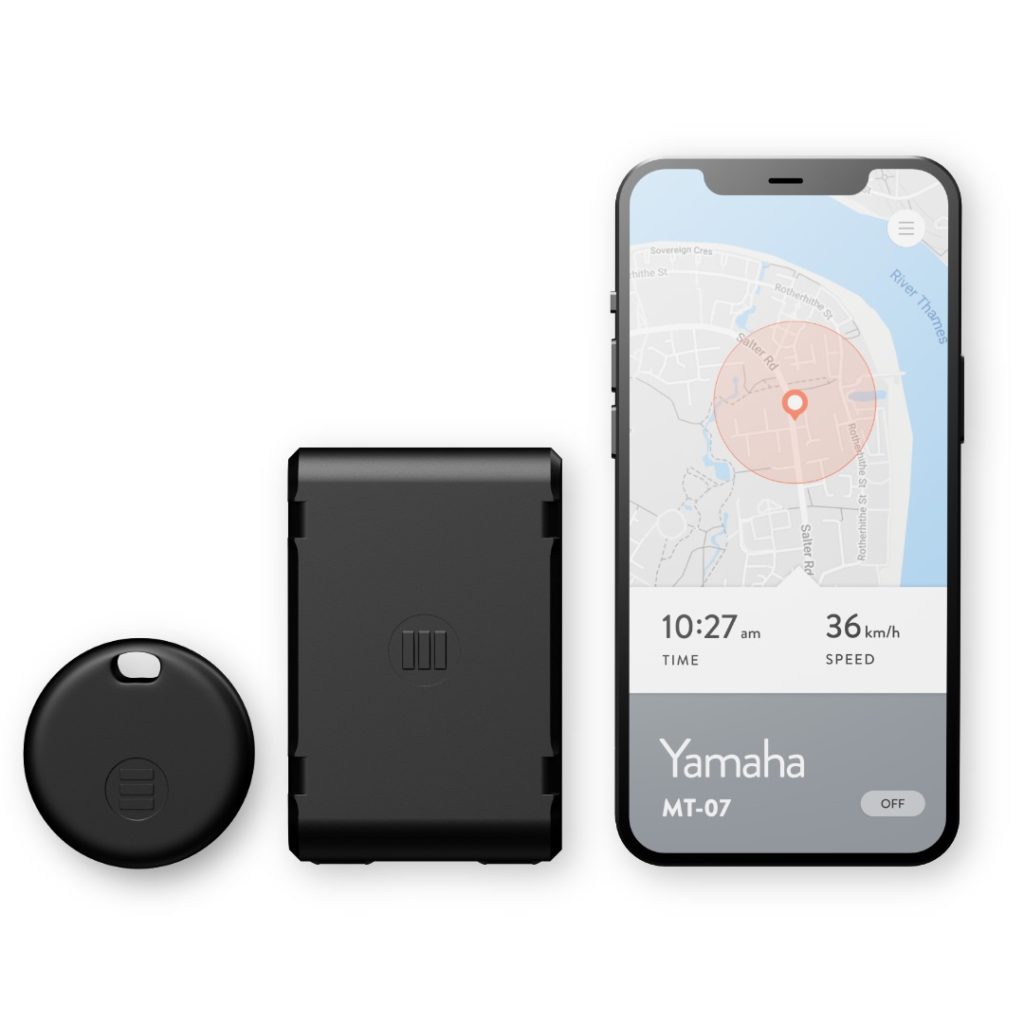 The device sends GPS location coordinates to your phone. 

It is very smart and easy to set up. 

If the movement is detected in your motorcycle, Monimoto 7 calls your phone in less than 1 minute. 

The device doesn't require any wiring, and it works simply by an app.
It will not emit any sound, will not interfere with any mechanical components of your motorcycle, and will not give itself away in any other manner.
Monimoto is a Lithuanian company that strives to provide an exceptionally simple and convenient way to install and utilize mobile property alarm systems. It is very helpful with the security of your motorbikes, motorboats, cycle, and any other vehicle. 
The Monimoto 7 is a completely new Monimoto model. Motorcycles, mopeds, scooters, and other vehicles can be tracked using this intelligent GPS tracker. This model (Monimoto 7) makes use of the LTE-M network, which is available all over the world and does not deplete its wireless battery. 
The best feature about this motorcycle tracker is that it is operated with two single-use batteries and doesn't depend upon the power source of the bike. The batteries have a lifespan of up to 12 months or longer. 
A very quick and simple initial setup method is provided through our iOS or Android mobile app wizard, which takes no more than 10 minutes to complete. All that is required is the removal of the plastic straps from the Monimoto gadget itself, followed by the configuration of the Monimoto App. All of the necessary batteries are already included, as is an international eSIM card. 
Another attractive part about this tracker is that it is wireless. In addition, you will be able to simply switch from one motorcycle to another while using your Monimoto Device. 
The best feature about this Monimoto 7 tracker is that it works globally. Monimoto is equipped with an inbuilt eSIM card that provides coverage for most of the world's population in areas where 2G and 4G networks are available. It works with at least two distinct GSM service providers in most nations. With the help of the Monimoto algorithm, it always selects the strongest signal available in the area to communicate with. 
Wsdcam is one of the best motorcycle alarm brands these days. This alarm from Wsdcam is very easy to install so that you can start using it right after purchasing it. To apply it on your bike, all you have to do is tie it through the holes present on the alarm. The alarm comes with a double-sided tape, so you can also stick the alarm on to a uniform and stable surface.
Moreover, this anti-theft motorcycle alarm from Wsdcam is very smart. It has a smart locking system with a vibrational trigger. When you lock your bike, the alarm beeps three times in order to confirm that the bike has properly locked. When you turn off the alarm, it gives 2 beeps. However, you must remember that this feature only works when you activate the ringtone option after you press the arming or disarming buttons.
Wsdcam has given this unit an SOS feature as well. This option is really useful if you want to locate your bike when it gets lost or stolen. Additionally, the SOS option gives you 6 types of sounds to choose from. A great benefit of this feature is that, if you face an accident while riding your bike, the SOS feature will alert the people around you because this motorcycle alarm goes off if your bike tilts at an angle of 45 degree or more.
What's more, the Wsdcam motorcycle alarm is waterproof. This means that the unit is durable, and it will stay with you for a long time. With this feature, you don't have to worry about rains or snows damaging your unit.
The best feature of this Wsdcam masterpiece is that it allows you to choose from 7 levels of sensitivity: do, re, mi, fa, sol, la, and si. These levels refer to push, touch, beat, and other actions. The highest level out of these is Do, whereas the lowest level is Si. This feature is very simple to activate. All you need is to press and hold the disarm button until the LED light glows. After this, you must press the arm button and set the sensitivity level.
3. Scorpio SRX-900 Hands-Free Motorcycle Alarm
The Scorpio SRX-900 is not just the best motorcycle alarm out there, it is also the most trustworthy one. The outstanding construction and programming of this unit make it such a brilliant invention. To begin with, the whole system of SRX-900 runs on its own battery. The unit comes with its backup battery, so even if its wires are cut or damaged, it will still work.
With its remote control that offers digital display and alerts, you can control (turn on and off) the alarm system at a distance. The range of this motorcycle alarm is pretty long since it can send real-time alert up to half a mile. Apart from automatic control, you can arm or disarm the alarm manually as well.
When it comes to protection and security, the Scorpio Alarms motorcycle alarm is quite smart. It can sense if anyone touches, attempts to move, attempts to start, gets too close to your motorbike,
or cuts your battery. Whether you like the SRX-900 or not, one thing is for sure: it will stay with you for a long time. The SRX-900 is highly durable and made to last long. The alarm system is made with waterproof materials. Due to that, and its backup battery, the alarm system will stay active no matter how hard it is raining.
Also, the motorcycle alarm system from Scorpio is incredibly effective when it comes to alerting the owner. This compactly designed alarm module is engineered to consume a very low amount of power in order to produce 125 dB of multi-tone siren. Moreover, once you purchase it, you can start using it right away because it's extremely simple to install. Having a 3-wire universal install harness, you can install it in a matter of minutes on any bike with a tail light and a 12 V battery.
This motorcycle alarm cum disk lock from YOHOOLYO is one of the best motorcycle alarm systems out there right now. The motorcycle alarm has tons of impressive features to show off. First off, the unit is made from strong, heavy duty metal. This is where the alarm gets its incredible strength and corrosion resistance from.
Among its countless fantastic features is its water-resistant quality. This useful feature allows you to secure the lock with a simple press so that it can protect your bike without letting you worry about rusting for years.
Also, the YOHOOLYO masterpiece will stay by your side for a long period of time because it runs on battery. When it comes to the special locking feature, this motorcycle alarm is extremely smart. To give you an example of its smartness, the alarm always alerts the user with a beep sound in order to inform them that the lock has been properly applied.
That said, if the alarm beeps thrice, it is an indication that an intruder is messing with your motorcycle. Moreover, the YOHOOLYO motorbike alarm ensures maximum security in a number of ways. The most notable one is that the alarm produces a loud sound for a long period of time, which is followed by a 10 second interval if you have not responded to the first sound.
The alarm unit is for the vehicles that have a good gap between the wheel spokes. This is because this lock can only be secured properly if there is enough gap between the wheels. The motorcycle alarm has a 7 mm lock pin that balances the locking system and makes sure that it is easy to install.
The package contains the YOHOOLYO motorcycle alarm disk lock along with two keys, a different key for unscrewing the 4 lock screws, and a long-length cord for proper locking of the wheels.
This upgraded anti-theft motorcycle alarm from Onvian is a hidden gem in the best motorcycle alarm world. From durability to advanced features, this device has everything. Like the Wsdcam anti-theft motorbike alarm, this one also offers 7 adjustable sensitivity levels. From gently touch to push, you can change its sensitivity however you want.
Also, this Onvian motorcycle alarm gives the user wireless remote control operation as well. We have tested and confirmed that the remote control has a range of up to 66 feet or 20 meters. In addition to that, the motorcycle alarm is also rated IP55. This means that it is fit for outdoor use; it is protected against dust ingress that can mess with its functioning, solid objects, and water.
In order to raise the level of convenience provided by this alarm, Onvian made it extremely easy to install. You do not need any wiring or screws to install this alarm. As a matter of fact, all you need is to paste it on your bike with its double-sided sticker. Alternatively, you can tie it on your bike with a strap.
A great thing about this alarm is that is not designed for a particular type of vehicle. The Onvian upgraded wireless motorcycle alarm is an all purpose alarm. First, it is not just an alarm, but it works great as a bike theft deterrent as well. It uses vibrations to get triggered before sounding its alarm, and it can be easily used on motorcycles, bicycles, electric scooters, electric bikes, and other kinds of bikes.
As an alarm, the Onvian motorcycle alarm is great at diverting the attention of surrounding people towards your motorcycle. The alarm has an incredibly loud sound of 113 dB, which is more than enough to scare an intruder away and grab someone's attention. Such a loud sound can easily be used as an SOS emergency alarm in situations like an accident.
With 4.02 x 2.36 x 1.38 inches of dimensions, it goes without saying that the Onvian anti-theft motorcycle alarm is quite compact. For this reason, it is really easy to hide and install this tiny device. Moreover, this alarm gives you 3 different bell sound options to choose from. When it comes to ease of use, the Onvian masterpiece excels since it allows you to control it remotely with a remote control. This also makes it easy to find your bike.
The XENA XX6-SS has a great record as far as customer satisfaction is concerned, which qualifies it for our best motorcycle alarm list. The XX6-SS is a dual purpose device. The XENA creation is not just a motorcycle alarm, but it is a robust disk lock as well. For this reason, the XENA XX6-SS is packed with amazing features.
Since it is a motorcycle alarm first, we will start with its alarm related features. The XX6-SS is one of the loudest motorcycle alarms you can find out there. It can produce a staggering sound of 120 dB when its shock and movement sensors detect something, which is more than enough to alert you, the people surrounding your bike, or scare an intruder. A sound this loud is also efficient as an SOS.
The alarm side of the XENA XX6-SS also has an automatic arm and disarm option, adding to its ease of use. This means that this device is self-arming and needs no on/off button. It simply re-sets itself to armed mode in only 15 seconds. All the electronics are placed inside a replaceable alarm unit and thus no tools are required by the user with this alarm system.
As a disk lock, you can use the XX6-SS on any type of scooter or motorcycle brake disk. The device is produced with a high-quality stainless steel, so you can rest assured that it's going to last long. It also features a 6 mm pushdown locking pin made of hard steel. The lock is designed to be both freeze-spray resistant and pick-resistant.
Motorcycle Alarm System Buying Guide
While looking for the best motorcycle alarm for yourself, there are a few considerations that you need to make. We have compiled a few tips that will help you choose the best option from a large number of motorcycle alarms.
Type Of Sensor
Motorcycle alarms come with sensors, and these sensors exist in various types. The most common and precise type is the shock sensor. It goes off and blares the alarm if an intruder moves your bike suddenly. Other common sensors include the tilt sensor, location sensor, and current sensor.
It's a good idea to go with a unit that has multiple sensors, such as tilt, proximity, and motion sensors. Also, make sure you check the sensor reaction level. Medium sensitivity works fine because you don't want your alarm to go off even when a car passes by your motorcycle. 
Alarm Power 
It would be extremely illogical to invest in a motorcycle alarm that doesn't sound loud enough to capture people's attention. Therefore, the best motorcycle alarm should be capable of making a sound of at least over 100 dB. Sounds below 100 dB aren't loud enough to alert the people around your bike when someone is messing with your motorcycle.
If your bike is parked in your own garage, a 50 dB alarm would be fine. However, if it is parked in a large, open area or an area that is far from you, a 100 dB alarm will be the right choice for you.
 Type Of Remote
Remote control operation is another highly important feature of a motorbike alarm system. Providing convenience to the user, the inclusion of this feature simply enhances the quality of the product. This is primarily because a remote allows you to activate and deactivate your alarm remotely. Basically, when it comes to motorcycle alarms, there are two types of remotes: one way remotes and two way remotes.
Generally, you can expect the best motorcycle alarm to have a two way remote. These remotes are quick and efficient to alert you when something unusual happens to your motorcycle. The only catch is that you should be inside the range of the remotes. This kind of system is especially helpful if you usually park your bike a little further away from yourself, for example, in the parking lot of a mall.
Battery
If you have already tried looking for motorbike alarms in the market or online, you must have noticed that some of them run on their own batteries, while others use the battery of your bike. Units that come with their own battery are generally considered better. This is very obvious because you wouldn't like it if your alarm drains your motorcycle battery.
Fortunately, the best motorcycle alarm systems come with their own power supply. Not only that, but they also have extremely low energy requirements. If you choose an alarm that would run on your bike battery, it would be best to check if it has a low energy rating.
Quality Of Material
Motorcycles are likely to spend most of their time outdoors. For this reason, when you are looking to buy an alarm for your bike, it is important that you choose one that is made of robust materials. At the same time, your motorcycle alarm should be resistant to water and wear, among other things. Stainless steel is a material that can fulfil all these requirements.
If you wish to buy a plastic motorcycle alarm, make sure that the plastic used in it is thick enough. Alarms with thick and strong plastic don't break too easily. Another reason for getting a high quality alarm system for your motorbike is that it is less likely to break or cut through. However, you should still check and make sure that the lock type or wiring of your unit is foolproof to avoid lock pickers.
The quality of the material of your alarm (and its design) is also important for its durability. Motorcycle alarms need to be significantly durable and powerful since they have to face hostile conditions, such as wind resistance, nearly all the time. Therefore, you must only buy the best motorcycle alarm units in the market made by the leading brands. Reviews about these products and their manufacturers are easily available on the internet.
Additional Features
Apart from its phenomenal performance, the best motorcycle alarm would give you many extra features as well. These additional features are quite helpful for insurance claims. For instance, some alarm comes with a loud sound power only, while some only have a physical locking option. That being said, there are many alarms that have both of these features.
Many motorcycle alarms come with a geo-location feature for your bike. The geo-location of your vehicle is either allowed through a service that is offered by the brand or a linked app that tracks and records real time suspected activity. Furthermore, some motorcycle alarms are equipped with systems that can cut the circuit in order to immobilize your bike.
Obviously, you should go with an alarm unit that has the best additional features to offer. However, we recommend you not to spend extra money on an alarm with tons of features that aren't going to be of any use to you.
Each of the above-mentioned products is good enough to be qualified as the best motorcycle alarm. However, it's not necessary that all of them are the best for you. The best motorcycle alarm for you is the one that fulfills your requirements. So it is up to you to identify your needs and choose the best motorcycle alarm for your purpose.