Over the past decade and a half, digital technology has become a part of our everyday life. It has crept into our routine and plummets us to a level where we cannot function fully-fledged without them. In all this, the contribution of Bluetooth communication is significant.
The innovation has spread everywhere as we speak to our friends or business associates in a 'hands-free' mode allowing us to multitask and save time.
The technology has expanded so much that it has entered the fast-paced Motorcycle industry for bikers to communicate effectively.
Over the past few years, reliability on Bluetooth communication has also improved a lot and plays a decisive role with such bikers who race.
Two names stand out among others in this field, and they are Sena and Cardo, and the issue has boiled down to Cardo Vs. Sena.
Both companies have a good number of devices to present. Each has their own advantages and disadvantages.
How does one know which of these are best suited for your needs? Do they differ in their features to achieve superiority, and do they have any disadvantages at all?
Preview
Best From Sena

Best From Cardo





Range With Mesh (6+ Riders)
Best From Sena
Preview

Range With Mesh (6+ Riders)
Best From Cardo
Preview

Range With Mesh (6+ Riders)
Preview

Range With Mesh (6+ Riders)
Preview

Range With Mesh (6+ Riders)
Preview

Range With Mesh (6+ Riders)
Preview

Range With Mesh (6+ Riders)
Let's find out by comparing them thoroughly.
1. Mesh Technology
Cardo's Dynamic Mesh Communication: (DMC)
DMC is the ' in thing' for bikers in communication. 
The bikers on a ride can connect with the other bikers in the same group, forming a web between them. They can disconnect too, and it does not disturb the others in the group. 
In other words, even if one biker loses communication, the others would still stay connected. 
Pairing it with other Bluetooth brands is another facility one gets with DMC technology.
Sena's Mesh Intercom Technology:
The specific idea of Sena to develop this form of communication was to enhance the communiqué between bikers. 
The Mesh system does not require headsets to be paired and can simultaneously engage more than thirty thousand people to participate in a conversation common to all.
If the conversation is private, the bikers can join the chat and quit from the group allowing the others to carry on.
In the case of a rider who moves out of range, the Mesh allows for automatic reconnection once he steps back into range, thus proving that it is better than Bluetooth technology.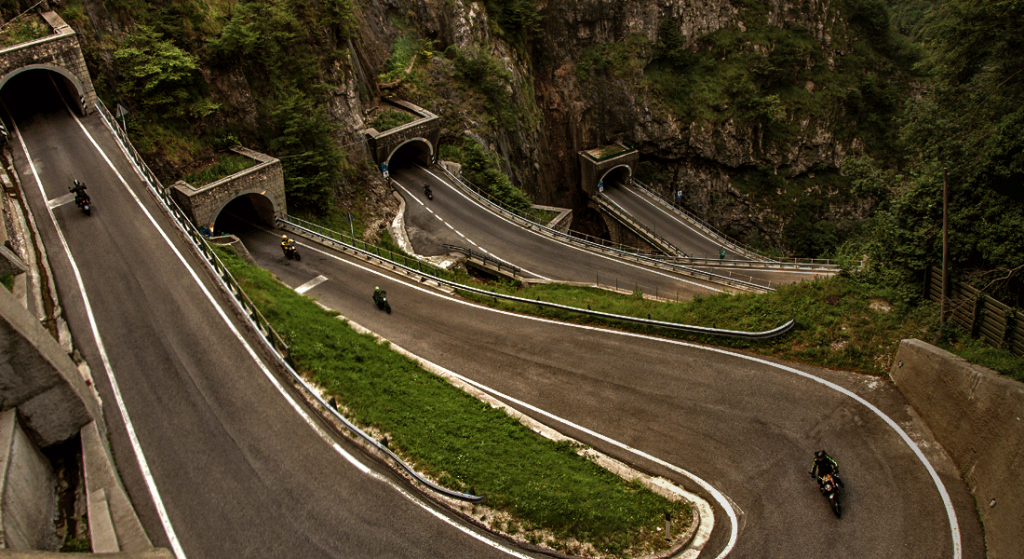 2. The Longest Range
The Cardo Packtalk is ideal for intercom communication to stay steady within a mile under natural conditions. In case there are disturbances, communication would be effective up to one kilometer.
On the other hand, the Sena beats the 'Cardo mile, 'and communication is possible for an extra .2 mile in favorable conditions. 
Both Cardo and Sena have their mesh technologies(DMC and Mesh 2.0 respectively) in place to take care of the connectivity up to 5 km in cases where you have more than 6 riders in your group.
The hidden feature of Sena over the Cardo is that with the mesh technology, Sena can add virtually an unlimited number of guests to their group. If that happens, the connectivity is possible up to 5 km.
3. Vocals Empowerment
One has gone just say 'Hey Cardo' and issue the command, which is to be executed. In other words, you don't move a muscle, and the voice command does whatever is suggested of it. Commands could be ' Hey Cardo, play the music or ' increase the volume.'
One has to exercise caution over such voice commands as ' shouting' leads to voice distortion and wrong execution of commands.
The Sena also has this feature of voice command on newer devices, and the users just have to say "Hey Google or Hey Siri" every time they require a specific function. 
These operations can be easily set-up via the smartphone connected.
4. Audio System
Cardo's decision to align with one of the best audio production companies, namely JBL, has paid off. JBL is reputed for its high-end speakers, and it keeps the intercom in the bike ahead in audio quality. Cardo is a proud pioneer of this innovative technology now.  
The JBL speakers make your music listening to a wonderful experience, and the clarity in communication is crystal clear. Moreover, specific features come in as a bonus such as FM radio, smart mixing of audio, etc. It allows these features to operate as long as a mile and a maximum of 15 riders to connect. 
The Sena has not gone in for specialist speakers or audio professionals. Their Mesh network enables very clear audio communication between the packers. In addition to this, the speakers are loud and precise than any other intercom, and one can almost feel that the person communicating is standing right next to him. 
The music and the FM audio output are excellent, and the volume can be turned up and higher if the biker is traveling at high speed. On top of all this, the volume decreases as the bike loses speed.
5. Design
The Cardo Scala Rider has improved on its predecessor and has now been streamlined to make the talking unit far better. Moreover, the app allows the smartphone to become a remote control, which provides for secure communication.
Among other features, the ' one-touch' is incredible as it facilitates many functions such as choosing music, delete or add members to the pack. The switchover from Bluetooth mode to DMC intercom is also possible with the touch of a finger.
Sena, on the other hand, has designed their newer devices to be sleek. This sleekness makes it easy to use and compact to carry it around. 
All one has to do is fix it to the helmet, raise the antenna followed by switching on the power button.
Review Of Products: Sena & Cardo
Below we have compared all the popular devices by Sena & Cardo. Read on to see which one suits your needs.
Just visualize a scenario on how communication with your other bikers can be facilitated by just pressing a button. And to make it better, talking to the biker who is five miles distant from you? 
Thanks to the Mesh 2.0 technology, this is made possible through the Sena 50S Bluetooth headset. Let us look at its top features: 
When you are riding fast on your bike, it turns out to be a risky affair by feeling your pockets and press a button. Instead, the voice command enables you just to say ' Hey Google' and activate it. The Google Assistant listens to your instructions and executes the command. 
The Wi-Fi adapter which accompanies the Sena 50S is exclusive. The battery is high density and can fully charge the headset under an hour, which sets up plenty of talk time. Auto upgrades are another feature of this Wi-Fi adapter.
The Sena 50S has speakers of HD quality, and the smartphone can enable connectivity of Bluetooth 5.0 with the headgear.
Thanks to Mesh 2, private conversations between 24 members can affect the switching of nine channels. The Sena 50S is water-resistant even though this is not mentioned in the label.
The unit fits into the helmet correctly.
On the ride, external noises would be louder than usual. The noise cancellation feature blocks out such noises and allows transparent communication.
The battery lasts long and up to ten hours. 
Adjustment in volume and controlling the sound quality is easier on this unit.
It jells well with Android's and conveniences music, calls answering, GPS, etc. 
Google and Siri support.
Users can switch between 9 different channels when using open mesh mode.
There is a shortfall in the App's performance compared to what is promised.
The Sena 50S would serve as a suitable up-gradation, and the beginner would not be comfortable with it.
Cardo's DMC transforms the PACKTALK BOLD Into an experience you would never forget. Pairing the Bluetooth requires time, and just by setting up your intercom on the first go sets up everything else perfectly.
The PACKTALK does not let you down despite changes in weather and however, inclement. It just works fine.
Starting with two, the PACKTALK can communicate with a maximum of 15 riders. Trying to press a button to activate functions is unnecessary with the PACKTALK. Just say ' Hey Cardo' and give your command to be executed. This promotes safe driving.
Paired up with JBL, it renders the ultimate audio experience, and the Mesh is geared up to pair it with any Bluetooth brand.
Music from your smartphone can be streamed easily, and Single finger touch activates a lot of functions, including answering calls.
Volume adjusts automatically with the external noise, and the app is capable of smart audio mixing.
The batteries provide 13 hours of talk time.
Communication should be clear both ways as far as audio quality is concerned. The Bold delivers this.
The manual is in the simple but precise language, which enables even beginners to understand it effortlessly.
The battery is going to last up to 13 hours of talk time.
The Mesh can keep 15 bikers in communication.
Apart from snuggling into the helmet comfortably, the voice activation remains the top feature.
Buttons are not the easiest to handle and hence advised voice activation.
A few complaints on connectivity through the app.
Cardo PACKTALK BLACK (Special Edition)
Update: Cardo has recently launched their special edition model, The Cardo Packtalk Black.
This is basically a blacked out Packtalk Bold unit which comes with bigger 45mm speaker units when compared to regular Packtalk Bold's 40mm speakers and an extra year added to the warranty period (which makes it 3 years instead of 2 years).
Sena 30K has been one of the top-selling intercom units. There is no necessity to pair headsets. Push a button, spring open the antenna and connect with a virtually unlimited number of riders. Sena 30K was the first-ever intercom to come with this feature. The same feature can also be activated for private conversations.
Once the connection is set up between the riders and one rider goes out of range, the other bikers stay in contact. The innovative technology sends out signals to the biker out of range and picks up communication with him.
Many features of the Sena 30K can be set up using your smartphone, and the audio quality is excellent with helmet speakers.
 Sena 30K top feature allows communication up to 1.2 miles, and Bluetooth connectivity is included, combining all audio-related elements from the smartphone.
The Sena 30K is user friendly.
30 K connections can otherwise be termed as limitless and allow up to 6 people to talk simultaneously.
The app controls the audio mixing efficiently and the mesh features blends in naturally.
Google and Siri support.
Sometimes, if options or features are too many, only confusion prevails.
Voice commands are a problematic feature to handle when bikes are traveling at high speeds, and the command becomes inaudible.
Cardo PACKTALK Slim is the sleeker version of the infamous Cardo PACKTALK Bold. Due to the slim design, they had to make a separate battery unit that mounts on the back of your helmet behind your neck.
These batteries do not drain out in a short time. It lasts up to 13 hours of talk time. The battery can be recharged if you connect it to the 12V charger connected to the battery on the bike while riding. 
As passionate as you are towards biking, so would it be listening to music? Cardo has partnered with JBL, the giants in speakers, and ensures a smooth listening experience to the biker. 
Bikers, when traveling in a group, can connect up to 15 riders.and Bluetooth user friendly as any brand can pair with it.
The unit is only 6.55 mm thick and bears an aesthetic look too with Single finger touch to activate many functions, including phone calls.
The antenna can be easily deployed.
The design is sleek but yet rugged.
It's a comfortable fit into helmets.
Warranty up to two years demonstrates confidence
The speakers from JBL enhances the audio system.
It is not easy to use Module input controls.
The Mesh and Bluetooth features blend well but not to the optimum levels expected.
The Sena 20S is quite sleek and found to be durable. The antenna is in the shape of a shark fin, and this is an innovation over the usual flip-up antenna. It also allows contact with up to seven people. Therefore it is ideal for a small group of riders.
Any headset is not set up for life. The features have to be changed once in a while, and the Sena app enables this.
The Sena 20S Evo can communicate effectively with as much as 8 riders up to a range of 1.2 miles. This becomes more enhanced if the terrain is flat and there is good weather. 
A protective rubber covering guards it from water, dust, etc., .and thus ensuring its durability and comes with a GPS.
It's a universal fit as this can be fitted on any helmet conveniently, and the battery takes not less than five hours to regain full charge, and 13 hours of talk time is available.
It covers a range.
It is well guarded against dust and water.
GPS works perfectly.
The battery charges faster.
Voice commands are clear, and execution is perfect.
The FM relay is inconsistent.
The Cardo FREECOM 4+ is a great competition to the Sena 20S, even better than the 20S in some aspects like IP67 waterproofing, better sound with JBL speakers integration. Voice commands is a top feature among Cardo's as you just have to say ' Hey Cardo' and activate the smart assistant. You can request anything that you require, like information on where you are presently traveling, songs, etc. The other pleasant feature is that it can accommodate Ok Google and Siri.
By using the built-in dial, you can adjust the volume. 
This unit is ideal for a set of four people. The intercom connection is made possible by the Bluetooth headset. The four bikers can share even music.
The smartphone should be connected to the headset, and GPS can be enabled. Since the headset is integrated with the phone, it would be receiving navigation or directions from the smartphone.
Use the phone facility to make or answer calls by using the smart assistant. But one has to bear in mind that communication is possible only up to 0.75 miles only when compared to 20S's 1.2 miles.
JBL speakers are there to make you enjoy music.
The voice control works efficiently.
The batteries charge on the go.
Batteries can withstand one week if in standby mode.
It is very beginner-friendly.
It can sync with any android phone or IOS.
The users are restricted to four only.
The range is low. 
The Buyer's Guide To Motorcycle Communication Systems
The following are the factors to be kept in mind while setting up your bike communication.
It should be user friendly and easy to use.
The GPS function should cover the maximum range.
It should cater to the number of connections you desire.
It should be all-weather resistant.
Is the noise cancellation feature perfect?
Does the communication work effectively up to a range you desire? 
Does the price fall within your budget without compromising?
Are the audio and music good enough?
Can Cardo Devices Communicate With Sena Devices?
Yes, It is possible. You can pair your Cardo Intercom device with a Sena Intercom. Provided, you have a Cardo device that came after G9 Model and Sena Model 10S upward.
There's a "Universal Intercom" mode on Sena, that you can enable to connect to a Cardo device.
Is Sena Waterproof?
Sena has not advertised their devices as waterproof. But, all the Sena Intercom devices come with water resistance. Which means you can ride in rain without worrying about water ruining your device.
Is Cardo Waterproof?
All the popular Cardo devices come with IP67 waterproofing. Which means they can be submerged into water up to 1 meter deep. And, there will be no problem riding in rain.
The passage above illustrates the usefulness of communication devices and the ever-continuing war between Cardo VS Sena. 
Both have plenty of merits, and the demerits are nonexistent. Demerits rise only when the comparison is made. And the biker has to first decide his priorities before launching himself into the market. The price difference is also kept minimal, and that should not be weighed against the features which may save lives one day.
The best advice would be to go by the buyer's guide, which would serve as a checklist too. If one tick of the boxes for both the products and the one with the maximum ticks would prevail on which is better Cardo or Sena?
However, we recommend that if you are planning to ride in a group of people less than 15, Cardo Packtalk BOLD will be the best option for you. If you ride in large groups, where you need to connect to a large number of people. Then, the Sena 50s will be the best pick for you. Which allows you to connect with an unlimited number of riders. FREEDCOM 4+ will do the job If you have a group of 4 riders.
In case, you want a helmet with built-in Intercom, you can try Sena Momentum Smart Helmet.
RIDE ON!
You might also like: Sena 5S Review