Long trips on a bike can become seemingly endless if you do not have something to kill that time. For instance, the tedious journey can always turn into something fun if you have a bike partner.
But the thing is, you may not always have a person to take with you but you can always keep earbuds to keep yourself busy with those endless stretches.
Listening to your favorite tunes while your bike is roaring on the road is an unmatched experience.
Only passionate bikers can relate to this and know how imperative earbuds are for having a transcendent bike-expedition.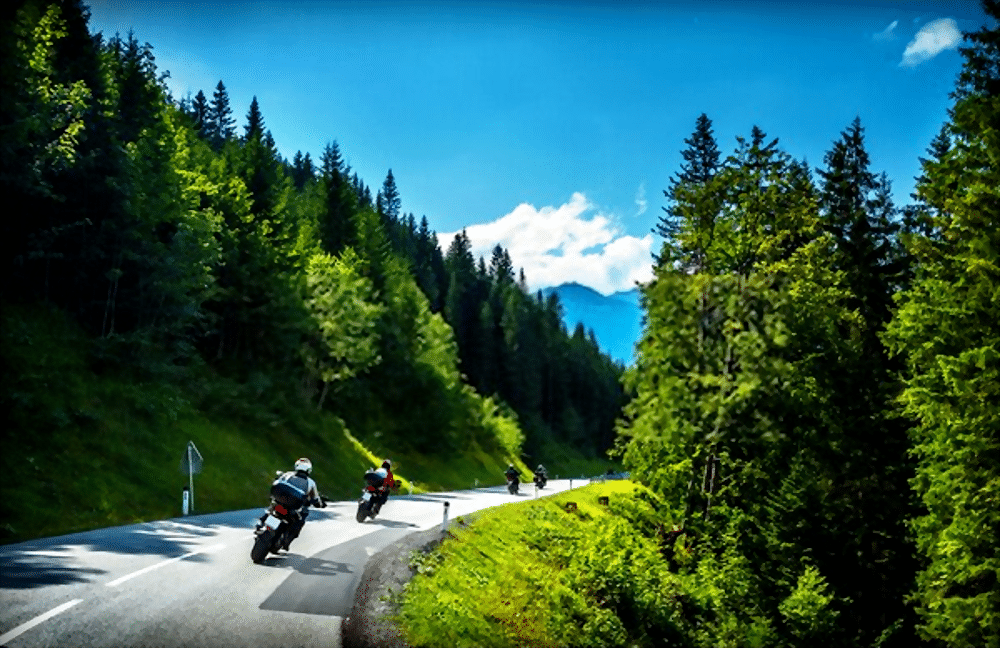 The fine-quality earbuds have better sound, better resistance against wind, and better noise blocking capability.
All these qualities cannot be overlooked if you are someone who wants something for your road trips. Here are a few tips and products that might prove everything to improve your on-road experience.
Before we start going through products there are some things that need to be considered before buying. Let's have a look at them first.
Comfort Level
No matter how good the sound quality is, if the earbuds do not settle well in your ears, they are pointless.
Everybody has different ear sizes so before purchasing make sure that the device goes well with the shape and size of your ears.
Wind Blockage
The intolerable wind noise can spoil your mood instantly if you don't have something to block it out. Here you need earbuds to block that agonizing wind sound.
Not all earbuds have the same capabilities, some of them are better at reducing the noise than others.
So, get yourself the ones that serve the purpose.
Weatherproof/Shockproof
Imagine you are on the road, listening to your favorite music while riding your bike and it starts raining.
It would be an unmatched experience to enjoy the beautiful weather with the jams you love.
On the contrary, if you have to put your earbuds back inside your pocket every time the weather goes bad just because they are not waterproof, then it can instantly turn your mood off.
Get yourself the kind that can stand against rain and bumpy roads without spoiling all the fun.
Wired/Wireless
Whether your earbuds need to be wired or wireless mostly depends on personal preference.
To some extent, the Bluetooth enabled earbuds are easier to handle while riding a bike but if they are not shockproof, you can easily lose them on a bumpy ride.
That is why people consider wired ones to be safer.
Additional Features
Depending on the price and the brand of the earbud, you can get many additional features.
For instance, there are brands that offer noise isolation technology which is best for motorcycle riders.
Some others provide better sound quality along with separate buttons for volume control, power and song adjustment.
Best Earbuds For Motorcycle Trips
1. IASUS XSound 3 High Definition Helmet Speakers
This one of its kind speakers are specially designed to go with your helmet and provide the purest and clearest sound possible. They might not prove useful enough for regular use but for bike journeys, they rival even the large-sized headphones.
Moreover, for comfort, manufacturers have ensured that its sleek design and lightweight construct fit well without striking the walls of the helmet.
You just have to make sure that the speakers are precisely centered above the ears. 
The design is unique and stylish
The construction is solid aluminum which ensures durability
Comfortable
Lightweight
It doesn't have a volume control feature
Media volume is not loud enough
2. Snug Phones Wireless Silicon Headphones
Features & Specifications
Weight: 5.6 ounces
Dimensions: 4.3 x 4.3 x 2 inches
Battery life:
12 hours on 60% volume
10 hours on 80% volume
8 hours on 100% volume
Construction: waterproof
Material: Silicon
The main feature that makes these headphones outstanding is the design which never let the headphone fall out.
No matter how bumpy the road is, or how vigorously you are moving around, the shape of the earbuds needs to fit the ear and stay put. So, you wouldn't have to keep adjusting them once you have placed them in the ear canal.
While riding in hot weather, sweat can mess up any normal headphones if they are not waterproof. The silicone construction of this device allows it to withstand exposure to moisture. Moreover, you can even wash them if you want to.
You wouldn't need to readjust these headphones because they stick well in your ear
Sweat and rain have no effect on them
They have a good battery life
They are comfortable to wear
The construction is not sturdy
They do not cancel noise effectively
Features & Specifications
Weight: 7 ounces
Dimensions: 7.9 x 1.6 x 0.7 inches
Battery life: 6 hours
Wind resistant microphone
Noise cancellation capabilities
USB charging
Are you tired of constantly adjusting your earbuds to stay in place?
Well, you can put that struggle behind by purchasing this masterpiece. It stays in place no matter how much you move or how fast you are going on the bike.
Also, they reduce the jarring effect of wind noise and help you enjoy purest symphonies.
They reduce the noise of wind and engine significantly
Comes with various size options to go for different ear sizes
Comes with a wind-resistant microphone
The battery charges fast within 1.5 hours
Comfortable fit
Do not have a very long battery life.
The material does not last long.
4. Holiper Bluetooth 5.0 Earbuds
Features & Specifications
Weight: 0.64 ounces
Playback time: 8 hours
Impedance: 32 OHM
Sensitivity: 96 dB
Frequency response range: 20-20 kHz.
Connection range: >=15 meters (50 feet)
HiFi Stereo Bluetooth
The exceptional sound quality is what makes these wireless earbuds stand out in the huge crowd of the market.
The combination of powerful bass, bright alto and treble, and metal acoustic cavity allow this device to create an awesome sound.
It is also packed with a microphone that allows you to pick up calls with ease.
Also, various buttons are present on the plastic device allowing you to control the volume and change the music you are listening to.
The sound quality is top-notch
Wide range of connectivity
The battery time is long enough
Lightweight
The cord might be difficult to handle
Might show signs of wear fast
It is ideal for people who just want to get rid of the noise they experience on bike rides.
The advanced noise cancellation properties of these Ruckus earbuds allow them to reduce the noise up to 25 decibels.
The rushing gust sound, the loud horns, and jarring engine sounds will not annoy you anymore if you got these up on your ears.
The silicone earbuds will ensure a comfortable fit while staying put no matter how vigorously you move around. It goes without saying that these earbuds fit the needs of your bike riding.
Effectively reduces the disturbing noises around
The battery time is extraordinarily long
Has strong construction ensuring longevity
Comfortable to wear
The battery time reduces overtime
It has no rivals in terms of stylish appearance. It doesn't just serve its purpose but also looks pretty awesome while you are wearing it.
LASUNEY earbuds have incredible battery time with a case that can charge earbuds continuously when you put them back.
It provides an overall of 60 hours of non-stop music and 5.5 hours of earbud charge.
The case can be charged fully within three hours and ensures more than 4 days of battery. It is everything you need for a long trip with your friends.
Incredibly long battery life
Bluetooth connection is stable
Very stylish appearance
Do not wear fast
The quality is questionable
The range of these earbuds is short
This brand is known for its noise cancellation earbuds.
The device cancels out every jarring sound that might end up ruining your mood.
Furthermore, these earbuds have a comfortable fit because of the simple silicone design.
Reduces nearby noises pretty well
Has a comfortable fit
The device is lightweight
Has good battery timing
It slips from your ear
The battery time reduces overtime
8. IASUS XSound 2.1 Helmet Speakers
Features & Specifications
Weight: 1.76 ounces
Dimensions: 1.8 x 1.8 x 0.5 inches
Speaker Outside Diameter: 4.6cm (1.8in)
Thickness: 1.3cm (0.5in)
Right wire – 20cm (7.9in)
Left wire – 40cm (15.8in)
Drivers Size: 40mm
Maximum Power: 30mW
Impedance: 32 Ohm
Frequency Range: 20Hz-22kHz
Sensitivity: 125dB
Weight: 1.2oz (34g)
Left speaker: 40cm (15.8″)
Right speaker: 20cm (7.9″)
100cm (40″) extension cable
Transform your helmet into a miniature concert with these high-tech helmet speakers.
They have a design that doesn't get in the way of your helmet and you can easily enjoy your favorite music without readjusting your gear ever. The foam ends feel comfortable and make sure that your ears don't get tired of wearing headphones for long.
One more problem that people face while buying earbuds is compatibility. This instrument is compatible with most Android, iPhone, Samsung, EAR3, Filo, and other com systems.
The sound quality of these speakers is exceptional as it rivals even the best full-sized headphones.
It is compatible with most devices
It has a high-quality sound system
It is comfortable to put up on ears
The cord is long enough
Do not reduce nearby noise
Durability is questionable
Understand the lyrics of your favorite songs without any interruption with Bose QuietComfort headphones' noise reduction technology.
It blocks additional nearby sounds that might prove irritating. It also has a one-touch answer/end button that lets you switch between songs and music swiftly without any problem.
It has extraordinary digital-quality audio
Reduces the annoying noise around
Stays put with its sticking design
Comfortable to wear
The buttons provide an easy switch between songs and calls
It is only designed for Apple and Samsung systems
The cord wears fast
All these products that we have mentioned can significantly enhance your experience on the road. Some are wired and others are wireless, some provide exceptional noise cancellation while others are good at staying put.
Choose the one that fits your needs and change the way you used to ride your motorcycle.