When it comes to riding accessories, the helmet is the most crucial one. As tech-inspired accessories are taking over the market, built-in integrated intercom communication system helmets are getting very popular. These allow riders to communicate without risking their lives.
With day-to-day technological advancements, motorcycle helmets now come integrated with high-end features and specs to deliver the modern needs of contemporary times. It has largely eased the lives of riders. 
Motorcycle helmets do not only allow communication for a wider range but come with pairing abilities, water resistance and upgraded batteries. Freedconn is a well-reputed name in the riding industry and here we have one of its best Bluetooth motorcycle helmets. Read on for a detailed review!
Freedconn Motorcycle Helmet Review
The Freedconn Bluetooth Motorcycle Helmet has an impressive build. It offers all the basic specs of a Bluetooth system along with ease of operation and durable use. It comes with the following significant features:
Buy on Amazon
Solid yet Lightweight
This helmet is made of ABS thermoplastic polymer which is one of the most solid manufacturing materials for helmets. This makes it a durable and protective helmet. With this strong built and sleek design, it delivers its fundamental purpose really well i.e. protection against brutal head injuries in case of an accident.
Also, it features an EPS cushion layer that absorbs all the unwanted noise as it is insulated. This keeps you from any kind of distraction.
The best thing about this material is that it is light besides being solid. Thus, you are not going to feel a lot of weight on your head while wearing it. Weighing 4 lbs. only, it proves to be highly comfortable and convenient. This helmet is known to keep you light headed!
Modular Style
Due to its modular style, it provides complete protection. Its full face front cover keeps your face and head safe in any unfortunate accident.
Its elegant design is highly appealing, making it a modern piece for modern riders. No compromise over the looks, right?
Dual and Clear Visors
Freedconn's Motorcycle helmet comes with dual visors – a feature that is missing in most of the motorcycle helmets. Freedconn has well realized the need for separate visors for ultimate protection from sun and perfect visibility in all light conditions.
This modular helmet is easy to flip up with its front face. The inner visor is specifically a sun visor and can be lowered up and down as per the need. Its smooth slide system allows a quick flip. Sun visor offers complete wrap-around coverage to protect your eyes from direct sun. Also, the field of view provides a wide range vision.
Good Ventilation System
This helmet offers a good ventilation system, thanks to three air intake vents. Two of them are located at the top of the helmet and one is placed near the chin bar. It ensures ample airflow so that you feel cool and comfortable, especially during summers.
Even with the full front cover, you do not feel suffocated at all. It allows you to breathe very well.
Built-in Integrated Intercom Communication System (Bluetooth)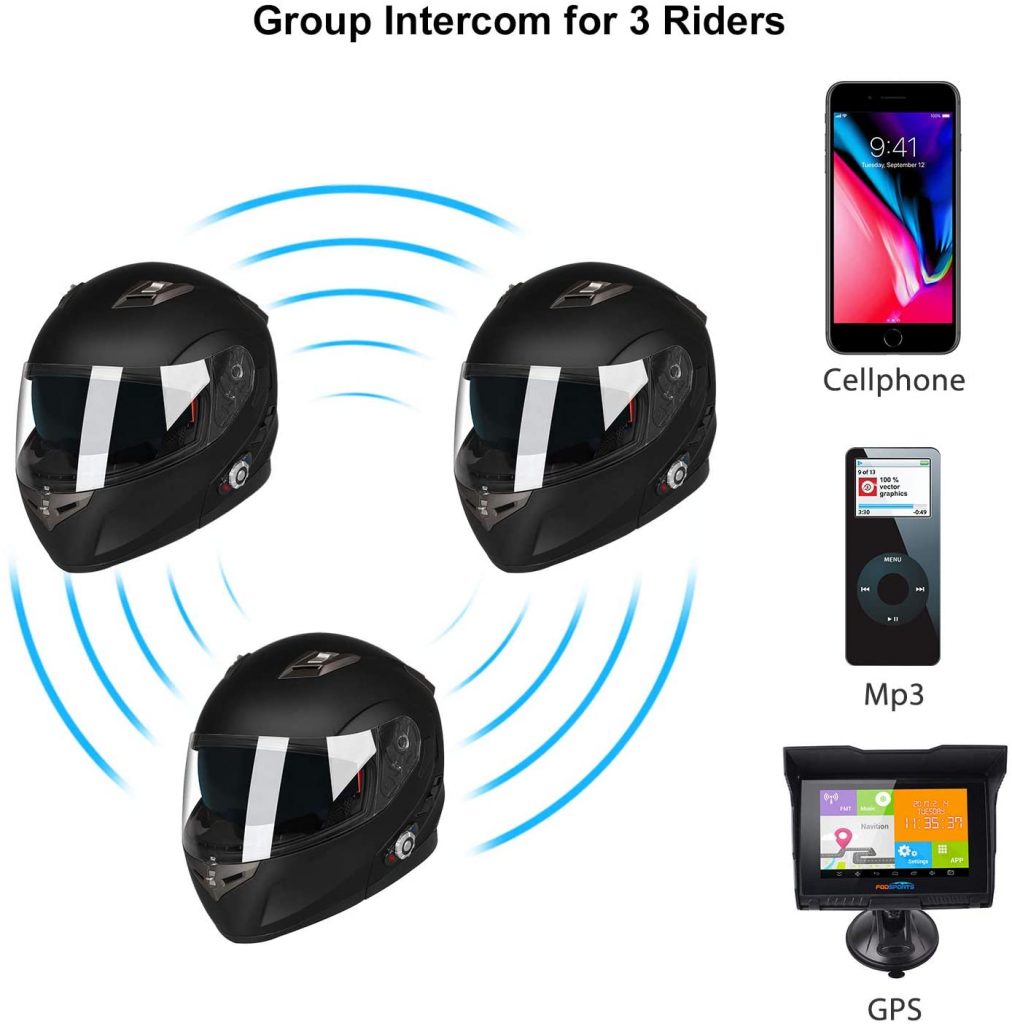 The Freedconn Motorcycle Bluetooth Helmet comes with the best built-in integrated communication system. Using Bluetooth 3.0, like all the other high-end Bluetooth devices, it provides topnotch communication in a range of 1,640 feet. It allows up to 3 riders pairing for efficient communication during group trips.
With this Bluetooth feature, you cannot only answer calls
. but listen to FM Radio, stream music, access GPS and enjoy safe directions.
This makes Freedconn Flip-Up Dual Visors Bluetooth Motorcycle Helmet exceptionally versatile. Efficient multi-tasking is all that riders look for in a Bluetooth helmet. It adds to the usability of this helmet.
Crystal Clear Sound for Topnotch Performance
Another good thing about this Freedconn helmet is its crystal clear sound that ensures topnotch performance. Thanks to built-in premium speakers, you can enjoy full stereo sound. Also, it features Advanced DSP echo cancellation to suppress all the noise from the surroundings.
Even at high speeds, you can answer your calls without any noise interference. This feature makes it a suitable choice for riders who prefer comfortable and noiseless communication during rides.
Easy Control and Operation
Now that we know about all the handy communication features this Freedconn helmet offers, what about control and operation? You will be glad knowing that it has a single multi-functional button that allows you control and command all the operations.
You can answer or reject the incoming calls and redial the last number as well as trigger Siri command. Also, it is easier to increase or decrease the volume. You will not have to use your smartphone for any kind of operation. Be it music streaming, listening to radio or GPS navigation audio, you have it all in your hand.
Great Battery Life
Last but not the least, it is important to consider the battery life of a Bluetooth helmet when buying one. This Freedconn motorcycle helmet has a 600 mAh polymer battery. You can easily recharge it using any smartphone adapter and so, it does not come with its own adapter.
The standby time is 120 hours. The talk time over the phone is up to 12 hours while you can talk over the intercom for up to 9 hours. We think this is amazing for the price it comes with.
Additional Accessories
You get several additional accessories in the package including a helmet bag, a microphone, a USB cable, a speaker and a user manual.
Pros
Durable yet lightweight
Dual visors with clear visibility
Good enough ventilation
Wide range, clear communication
Long battery life
Affordable
Cons
Only connects up to 3 riders
Limited connectivity range (500 meters)
FreedConn Motorcycle Bluetooth Helmet BM2-S Flip Up Modular Bluetooth Motorcycle Helmet Voice...
✪ [ DOT Modular Motorcycle Helmet ] FreedConn Bluetooth helmet supports max intercom range up to 1640 feet for 2 riders talking or 3 riders pairing. We had meets and exceeds DOT safety standards, don't worry about the safety while riding.
✪ [ 3.0 Bluetooth Motorcycle Helmets ] Motorcycle helmet with Bluetooth 3.0 technology allows you to enjoy music, FM, GPS voice prompt and intercom stably while riding, makes team motorbike communication more convenient and efficient.
✪ [ Crystal Clear Sound Helmet Intercom ] Built in 2 premium speakers with full stereo sound. Advanced DSP echo cancellation and noise suppression technology, FreedConn Bluetooth helmet offers you clear music and intercom voice at high speed.
✪ [ 1 Button Control Helmets Motorbike ] Bluetooth FM helmet supports hands-free call (answering, rejecting incoming calls and redialing last number) with 1 multi-functional button. Incoming phone call overrides intercom, MP3 music, FM radio and GPS navigation audio. You can trigger Siri voice command by long press the MFB button for 2 seconds.
✪ [ Long Battery Life & UPGRADE Package ] 8 hours intercom talk time and 110 hours of standby. Upgrade package comes with gloves ( same size as bluetooth motorcycle helmet). M/ L/ XL motorcycle helmet with washable liner, if the size doesn't fit well, we will send you bigger or smaller liner. We also make 2 extra size paddings to provide you better fit: M-U between S and M, XL-U between XL and 2XL.
Final Verdict
Given the reputation that Freedconn Electronic Co. has in the industry, this Bluetooth motorcycle helmet has well delivered the standards. It features all the basic and advanced specs that riders are looking for. The only thing that might concern you is the limited number of pairing (up to 3). Otherwise, this is the best Bluetooth helmet out there considering its affordability, usability and versatility!