In the modern world, technological advancements are taking over almost everything in our daily lives, the Uclear Motion Infinity Bluetooth Headset is another addition to it. 
The headset does not use a button for communications but instead, allows the system to be controlled by gestures. The headset's high sensitivity restricts thick bikers gloves being a hindrance while allowing riders to connect using its full-duplex intercom.
Motion infinity is a weatherproof headset that provides a clear communication and music experience along your journey. Irrespective of the rainfall or the scorching sun, your biking trip is guaranteed to be without hiccups as far as communication is concerned.
Buy on Amazon
UClear is said to have constructed the product based on reviews by bikers and dealers to know what do the people require and build something accordingly. This is why the UClear motion infinity headset has several qualities that give it an edge over any other similar product in the market.
Specifications
Bluetooth: V5.0 (BR/EDR/BLE), Class 1
Profiles: HSP, HFP, A2DP, AVRCP, GATT
Intercom range: Up to 1.2 km per person (0.75 miles)
Talk time: up to 18 hours
Standby time: 400 hours
Operating temperature: -40 ◦C to 60 ◦C.
Charging temperature: 0 ◦C to 45 ◦C.
Charging time: 2.3 to 3 hours.
Controller dimensions: 72mm x 44mm x 26mm (2.8" x 1.7" x 1")
CLEARLink mobile app: compatible with android 4.2 and further versions, Apple iOS 8 and further.
Weight: 5.6 ounces
Accessories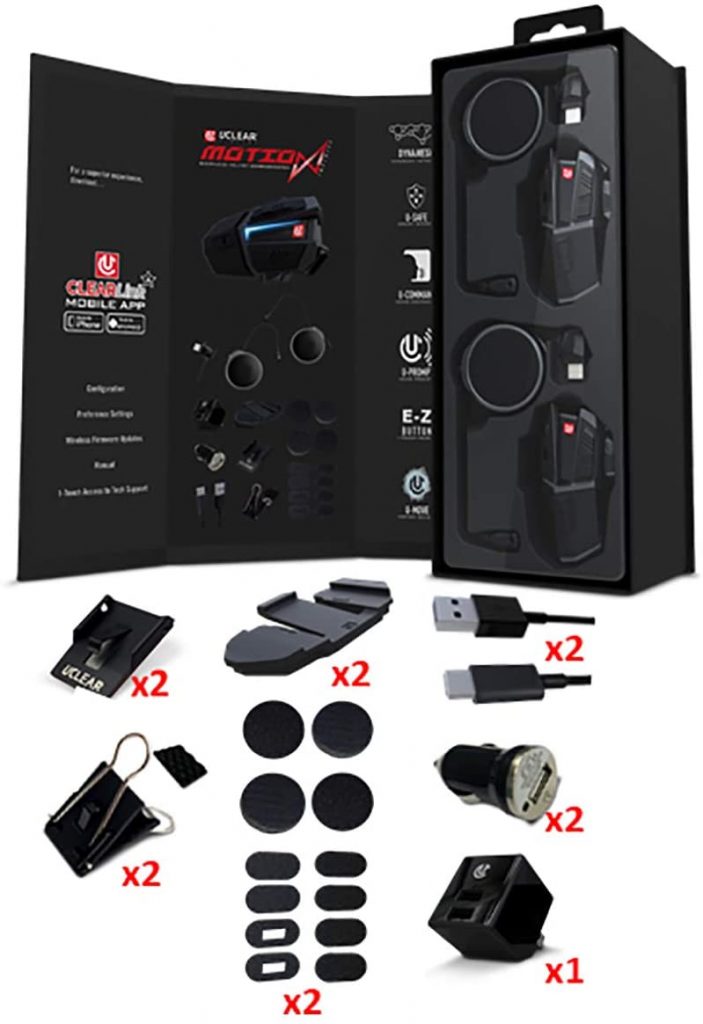 Motion infinity controller unit – 2 pieces
Pulse pro 2.0 Speaker and Mic – 2 pieces
New-style permanent mount – 2 pieces
Classic permanent mount – 2 pieces
Temporary mount – 2 pieces
C-port USB charging cable – 2 pieces
Dual USB AC wall charger – 1 piece
DC car charger- 2 pieces
Speaker mounting kit – 2 pieces
Custom earbud adapter
Features
Gesture control
The motion infinity headset comes with a gesture control that lets out a sensor beam which senses basic hand gestures. Multiple controls such as the volume, pause/play and restart are all controlled through it so you would not have to worry about buttons.
Safety alert – USAFE
The headset has a safety alert system: USAFE which has an accelerometer to detect sturdy impacts. If it detects you to be unresponsive, USAFE is programmed to notify your contacts about your GPS situation. The alert system however requires the device to have the GPS switched on.
Mesh intercom – DYNAMESH
Uclear Infinity headset is the first ever to use mesh intercom network in combination with multi-hop's automatic ability of switching. DYNAMESH identifies the changes in your group riders' positions by being paired with non-mesh and mesh units. So, even If you and your group travel for long distances, DYNAMESH makes certain to keep the connection stable.
Voice control
You can control your infinity headset using your voice. Since the headset is connected to SIRI or Google to detect your voice commands. The connection also enables the accuracy of the speech recognition to improve through the repeated updates from the cloud.
Motion sensor – UMOVE
UMOVE is the headsets' motion sensor which turns on when the helmet is worn and shuts down when it is taken off, even if you forget to do it.
Universal pairing – U-PAIR
Uclear headset's U-PAIR allows the device to pair with several Bluetooth devices at once. The helmet is compatible to be connected to smartphones, tablets, smart watches, GPS, OEM systems, action cams etc.
EZ- Touch sensor
Along with being gesture-controlled, the headset is also equipped with touch sensors that provide easy access to many features. The touch sensors make it easy for you to switch between features while you are riding your bike. Since you will not have to worry about buttons, your risk of accidents is also highly reduced.
Conference call
Headset's connectivity, mic and speakers allow you and your group to communicate on call conferencing, making your trips more exciting.
Noise cancellation
The headset has advanced ABF noise cancellation that removes any unwanted noise and improves the voice call quality. It also has dual boom-less speakers that enable you to hear better.
Warranty
The manufacturers provide you with a 2-year warranty for the product that increases the reliability of what you are buying.
Pros
Wide intercom range: Up to 1.2 km per person (0.75 miles)
Provides long talk time of up to 18 hours
Provides standby time of 400 hours
Consists of USAFE-safety alert system. 
Hand gestures and touch sensors
Voice commands collaborating with Siri and Google voice.
Universal pairing with any Bluetooth device
Automatic motion sensor that sense 
Allows call conferencing among groups
Can be attached to helmet of any style
Graphic equalizer and balancer
Noise cancellation 
Light weight
2-year warranty by the manufacturer 
Rated 3.5 stars out of 5 by users on Amazon
Cons
Reported syncing issues
Phone app is difficult to use
Hard earbud speakers 
Often noise gets distorted if the cable connector is repeatedly touched.
Speaker volumes are lower than expected. 
Sale
UClear Motion Infinity - Dual
Bluetooth 5.0
USAFE: crash sensor & alert system
Intercom Distance: Up to 1.2Km (3/4 mile) per person, infinite group riders and range
Buttonless control with simple hand gestures
Battery life: up to 18 hours average
Conclusion
UClear Motion Infinity headset is constructed by UClear based on feedback taken from riders, industrial experts, and dealers. Considering their requirements and desires, the motion infinity headset is created with 5.0 Bluetooth having DYNAMESH network connectivity. Its powerful connections not only provide stable pairing but also allow the device to be paired with infinite devices.
The headset comes with several unique qualities such as the safety alarm, voice commands, and motion gestures which makes it a stand out. The motion series are thought to be user-friendly, durable, portable, and long lasting. The headset's quality of being weather-proof ensures the best biking experience in any weather. However, the product has numerous advantages, some of its drawbacks need to be kept in mind too. Users think that the phone app is difficult to use and reports some sync issues as well. Although the product is said to have a few noise distortions, its conference calling feature along with the wide connectivity range clearly outnumbers the issues.