The world is in a constant state of flux. Gone are the times when riding enthusiasts had to enjoy their journey quietly.
Similarly, they had to rely on a complex system of gestures to stay in touch with each other.
However, this has changed due to the Bluetooth communication devices available in the market. These devices help you stay in touch with your fellow riders during all your excursions. Riders can now easily listen to music, keep track of their moves with GPS, and attend calls while riding.
Sena has been producing remarkable Bluetooth communication systems to be used by all enthusiastic motorcyclists.
The Sena 30K and 20S EVO are two extraordinary devices that keep the consumers divided. Buyers have a hard time deciding which product to buy. In order to ease things out for you, we have closely inspected both devices.
Sena 30K Bluetooth Communication System
Buy on Amazon
Design
This smart Bluetooth device comes in a classic black color. It has angular and sharp lines over it.
This device has a weight of 2.15 ounces and is painted on the outside. It features a well-designed base with clamps and adhesive mount backing plates. With its design, it can easily fit into any helmet design available in the market except for the hybrid helmets. It has dual antennas and two processors, one for Bluetooth and other for Mesh Intercom technology.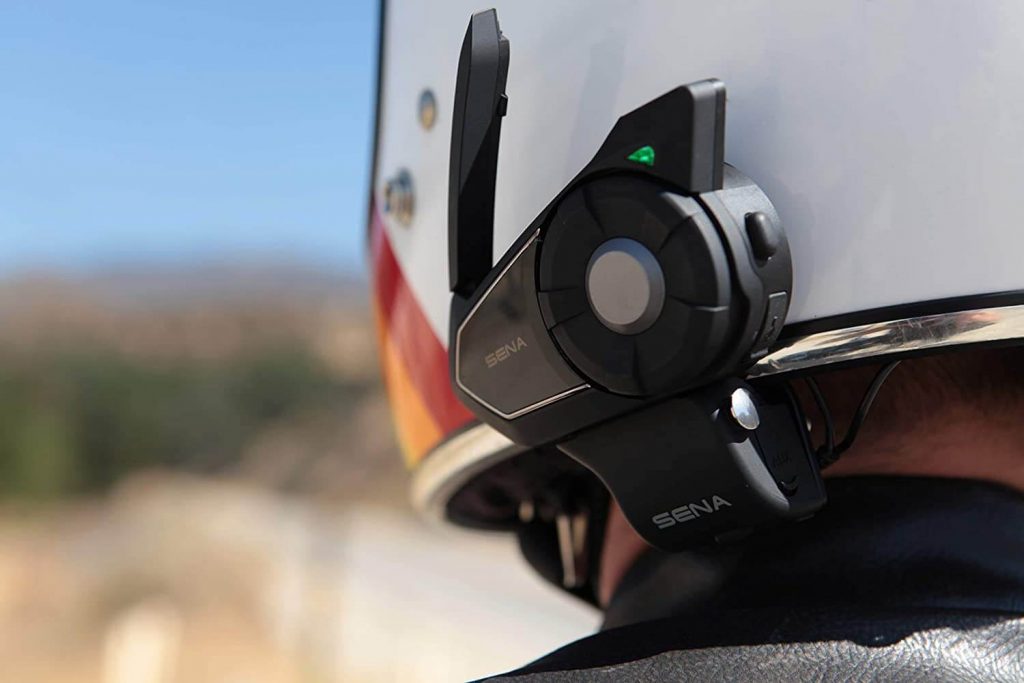 Connectivity
It consists of new Mesh Intercom Technology that enables you to connect to 30 thousand users within a range of 5 Miles. It is an advanced technology in which connection does not end if one person gets disconnected. All the people remain seamlessly connected, and the 30K technology searches for the disconnected user.
It is a multi-operation device in which Mesh Technology works in conjunction with Bluetooth 4.1. It enhances your connectivity by enabling you to connect through Bluetooth as well as with Mesh Intercom technology with your fellow riders. Additionally, the Sena 30K Audio technology assists you in carrying on your Bluetooth activities such as making phone calls, listening to music, or following GPS instructions simultaneously while having a conversation through Mesh technology.
The 30K has a new Wi-Fi docking station, which keeps your device updated automatically once you set it up through a 30K utility app.
Durability
This device is long-lasting as it has a water resistant structure.
Battery Timing
It has an average battery life of 8 hours. Twenty minutes of quick charging can boost battery life for three hours. It takes 1.5 hours to charge completely.
Pros
Can connect with an unlimited number of riders.
Adaptable to most helmets
Quick-charge
Easy to use
Built-in FM radio
Water-resistant structure
Comes with Mesh 2.0
Cons
Expensive
Buttons are hard to use
Sena 20S EVO Bluetooth Communication System
Buy on Amazon
Design
The upgraded Sena 20S comes in a sleek black design with a shark fin antenna, which makes it really cool. This shark fin antenna is there to strengthen signals. It has a weight of 2.08 ounces and three buttons, including the jog dial on it. Moreover, there is a revised microphone that increases voice clarity.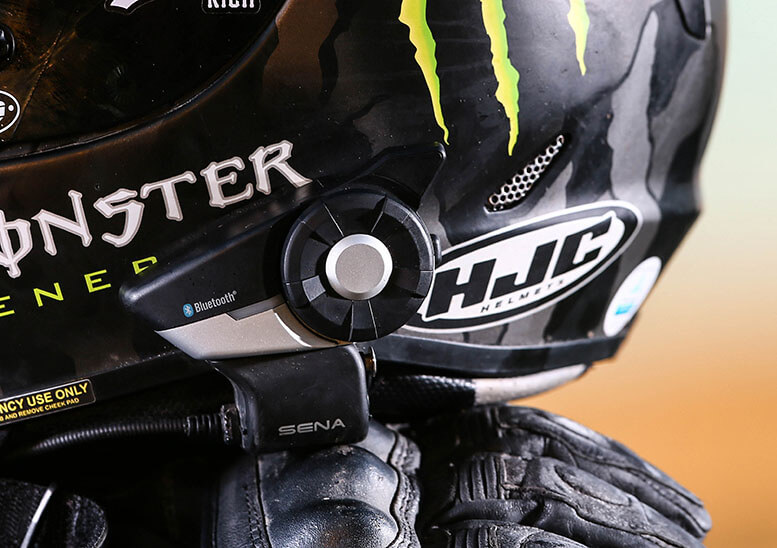 Connectivity
The 20S EVO allows you to connect to seven other riders in your group within a range of 1.2 Miles. It has a universal Intercom technology, which means that it can connect to headsets of any brand. You do not have to worry if your fellow riders use different headsets. You can easily upgrade or change your headset's features through the Sena app.
It comprises of dual Bluetooth modules which increase flexibility for operating multiple features at one time. It also features audio multitasking in which you can attend calls, listen to music, or use GPS navigation while staying in contact with your group members. It creates natural audio while running multiple audios without distorting any of them.
This device comes with a built-in FM radio tuner with a station scanner. At times you can experience inference, but overall, it serves your purpose.
Durability
The device is dust and water resistant. It can easily survive in rough and tough situations during riding.
Battery Timing
The average battery timing of this device is 13 hours per charge. It takes 5 hours to charge completely.
Pros
Dust and water-resistant
Audio clarity
NFC one-tap pairing
Easy to operate jog dial
Built-in FM radio
Cons
FM radio has poor reception
Can connect with only 8 riders
Read Sena 20S EVO Full Review Here –>
Sena 30k vs. 20S EVO
After having a detailed look at all these features, let us compare both the products so that you can easily decide which one to get for yourself.
Design
Both products are elegant and bold. The Sena 30K has a weight of 2.15 oz., while the 20S EVO weights 2.08 oz. This makes the 20S EVO slightly lighter than the Sena 30K.
Connectivity
The Sena 30K connects with a whopping amount of 30 thousand users at a time due to advanced Mesh Intercom technology. Whereas, the Sena 20S EVO connects with seven riders at a time due to its Intercom technology. Both the devices are multi-tasking, and intercom technology works in conjunction with Bluetooth 4.1. However, you can connect with more people with Mesh Intercom technology of the 30K. If your riding group is huge, then the 30K is your ideal choice.
Battery Life
The average battery life of the 30k is 8 hours, while that of the 20S EVO is 13 hours. If you do not mind the battery timing and can easily find charging spots, then you can go for 30K, otherwise, if you take up longer riding journey, then the 20S EVO should be your ideal choice.
Now, it depends on your budget, which device you buy for yourself.
Conclusion
Both are amazing products. It depends on your choice and needs which device you buy for yourself. The Sena 30K provides greater connectivity, but if you ride with just a small number of people, then the Sena 20S EVO is also a good choice.