Cardo is one of the big names in the Intercom industry. While Cardo has not launched any new product in the market for a long time now, their devices are so feature-packed that competitors like Sena are still having a hard catching up to them.
With the release of Sena 50S and 50R, things may have changed a little bit. But, we still Cardo provides better value for money when it comes to day to day usage.
Cardo Packtalk Bold and Packtalk Slim are the two flagship devices by the company. Both devices provide almost the same features but look completely different.
Let's discuss what are the key differences and similarities between Cardo Packtalk Bold and Slim and which one is the best for you.
Here's a quick comparison table if you are in hurry.
Preview


Communication Technologies
Preview

Communication Technologies
Preview

Communication Technologies
Cardo Packtalk Bold Vs Cardo Packtalk Slim
Design
First and the most prominent difference is looks of the devices. Name of the devices say a lot about them.
The Packtalk Bold has a thick profile, it comes with a foldable antenna which helps increase the range of DMC mesh system. While the Packtalk Slim has a slimmer profile and has a sleek look, which doesn't add bulk to your helmet.
The Packtalk Slim is incredibly slim at 18.5mm, but still manages to provide the same backup time as of the Packtalk Bold.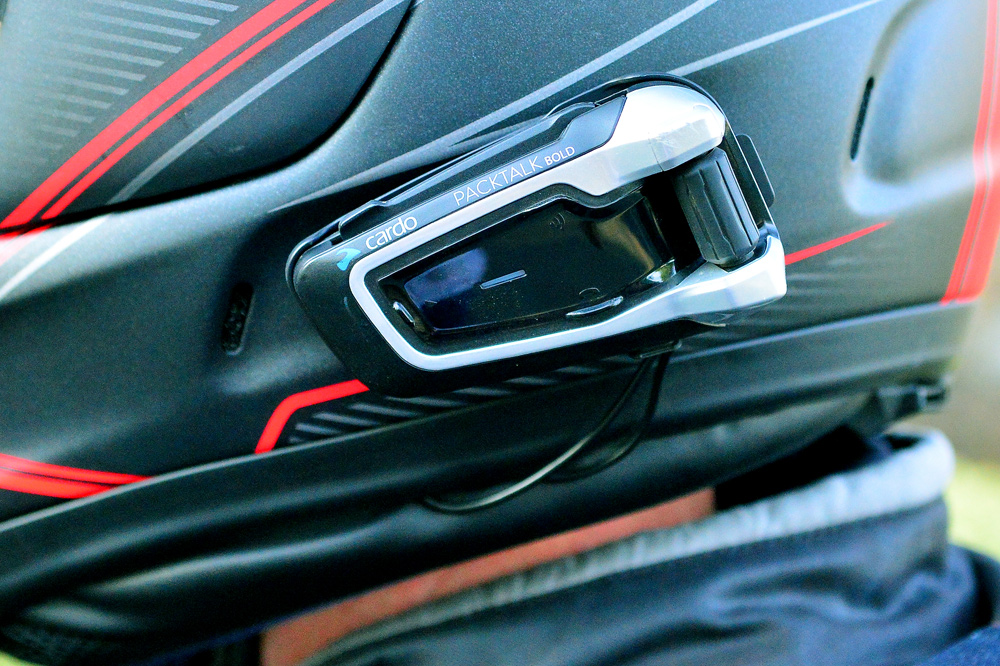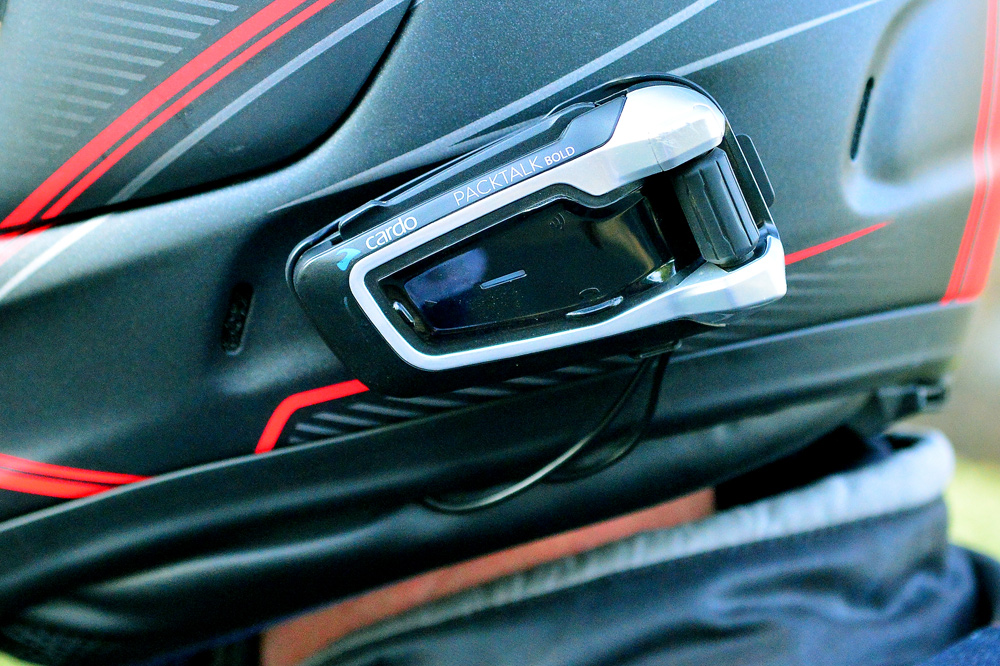 Due to the slimmer profile, Packtalk slim is compatible with only selected helmet models. You can find the list of those helmets here.
Note: Both devices are waterproof.
Sound
Sound is one of the areas where Cardo real shines. Both the devices come with JBL speakers that provide amazing sound quality and reduce ambient noise.
The speakers are 45mm wide on Packtalk Bold Black Edition and 40mm wide on regular Packtalk Bold and Packtalk Slim can fit in most helmets easily. High-quality speakers are one of the reasons why even Sena couldn't match up to the sound quality of Cardo.
Range
Both devices come with Bluetooth 4.1 and DMC mesh technology. With the DMC mesh technology, you can talk with up to 15 riders. One to one rider range is 1.6 Km (with antenna extended) for Packtalk Bold and 1.2 Km for Packtalk Slim.
This can be extended with multiple riders up to 8 Km with DMC if you have more than 6 riders connected, which is more than enough in my opinion.
Ease of Use
The positioning of control buttons is completely different on both devices, while the usage remains more or less familiar. The Cardo Packtalk Bold has a media button, an intercom button, and a telephone button for taking calls. It also has a rotating wheel which can be used to adjust the volume.
On the other hand, Packtalk Slim does not have any rotating wheel. It has an Intercom button, Media button, and a telephone button. For volume control, you have the volume up and down buttons at the bottom of the device.
While the functions stay the same, controls are adjusted to provide better usage for both profiles. In the end, It depends on your personal preference.
Voice Controls
For handsfree operations, all Cardo devices have voice control. This feature is similar to the "Hey Siri or Okay Google" feature used on smartphones to get directions or control home appliances. This can prove to be very useful and lifesaver feature in situations where you can't take your hands off the handlebar.
You can just say " Hey Cardo " and control all the features on your device from making calls to changing the music to changing FM stations. Once you become familiar with using voice commands, it will make your riding experience way easier. This can also prove to be useful if you face difficulties operating the device with gloves on.
App Connectivity
You can also use the Cardo Connect app to connect to your interface If you prefer to use it that way. Cardo connect app gives you complete remote control of your device.
The app can be used to make calls, connect to other users, change music and listen to FM radio.
The app usability remains same on both devices.
Battery Backup
Battery backup is exceptional on both devices. You get around 13 hrs of backup with mixed usage and a standby time of 7 days.
You can also charge the devices while using them, It will take around 4 hrs to completely charge them from 0.
But, there's a twist. The battery on the Slim is not integrated. Due to the Slim profile, the battery has to be fitted on the inner side of the helmet using the clamp that comes with it.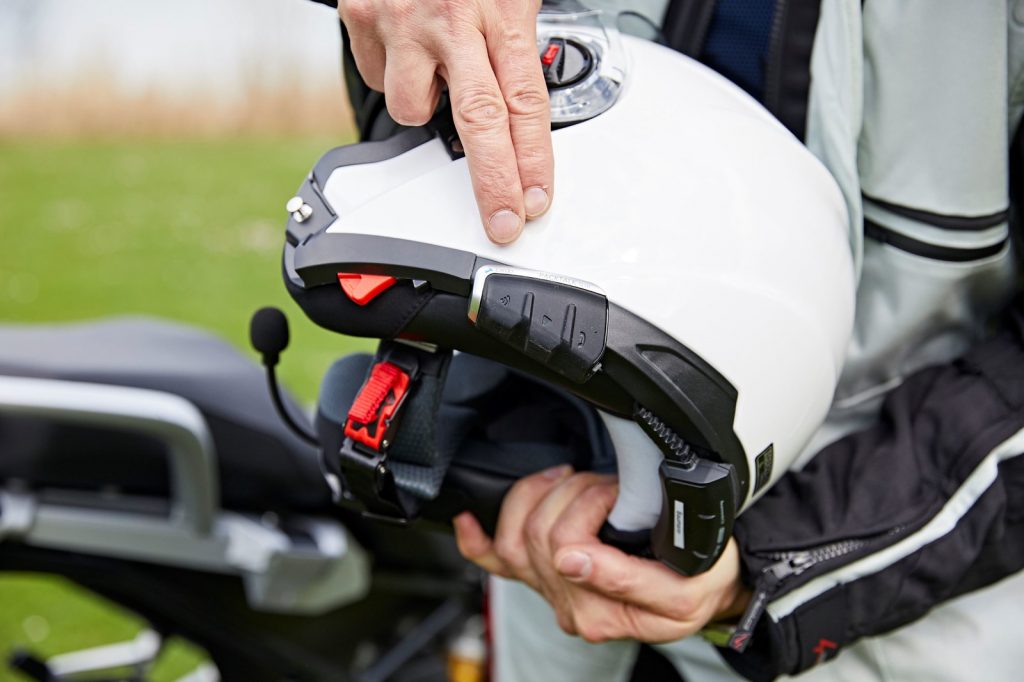 On the Packtalk Bold, you don't have to worry about the battery. It comes integrated with the device, You just need to mount the Intercom Unit on the clamp kit.
Cost
The cost can be a deciding factor for a lot of people. Both the devices are priced very competitively and are a little bit cheaper than the devices with the same features from other manufacturers.
Both devices have similar pricing. So, that is also not an issue for you.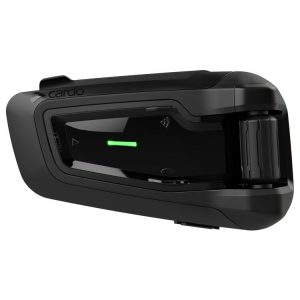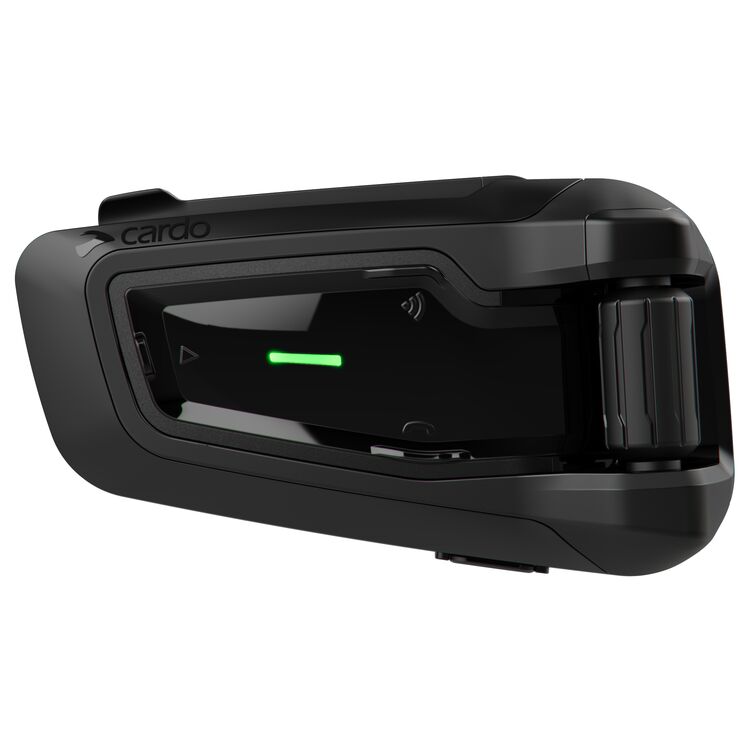 Update: Cardo has recently launched their special edition model, The Cardo Packtalk Black.
This is basically a blacked out Packtalk Bold unit which comes with bigger 45mm speaker units when compared to regular Packtalk Bold's 40mm speakers and an extra year added to the warranty period (which makes it 3 years instead of 2 years).
Final Words
After considering all the factors, we have seen that both devices have similar features except for a few cosmetic changes and operating ranges.
Apart from the volume control and a few extra hundred meters of range, there are no major differences in the number of features both devices provide.
Your decision may also depend on the type of helmet you going to mount the device on. Also, you need to consider the fact that the Slim doesn't come with an integrated battery and you will need to mount the battery inside the helmet.
In the end, it all comes down to personal preference. Consider all the factors and choose which one suits the best to your requirements.