Safety is a very important factor to keep in mind in every phase of our life. Be it in the workplace, home, or on the road, it has to be kept in consideration the whole time to prevent hurting others or ourselves.
Road safety is one that requires a lot of effort since there are thousands of people alongside you on the road, each in their frame of mind.
For that, it is crucial to follow the set traffic rules while also taking care of yourself with the help of the perfect apparel. Such apparel includes motorcycle jackets and airbags. 
As technology progresses minute by minute, day by day, there are tons of new items introduced to increase your safety on the road.
Airbag vests and jackets are one such hugely beneficial piece of clothing meant to make your trip safe, secure and fun.
These vests are light, easy to wear, and can be worn on your clothes as well giving you a fashionable look. These can significantly lessen the seriousness of wounds during an accident.
Nothing is 100% ensured to prevent you from being injured.
However, airbags have indicated how powerful they are in autos and cars.
Presently, this technology is gradually streaming down to aid the bikers as well since they are more open to damage.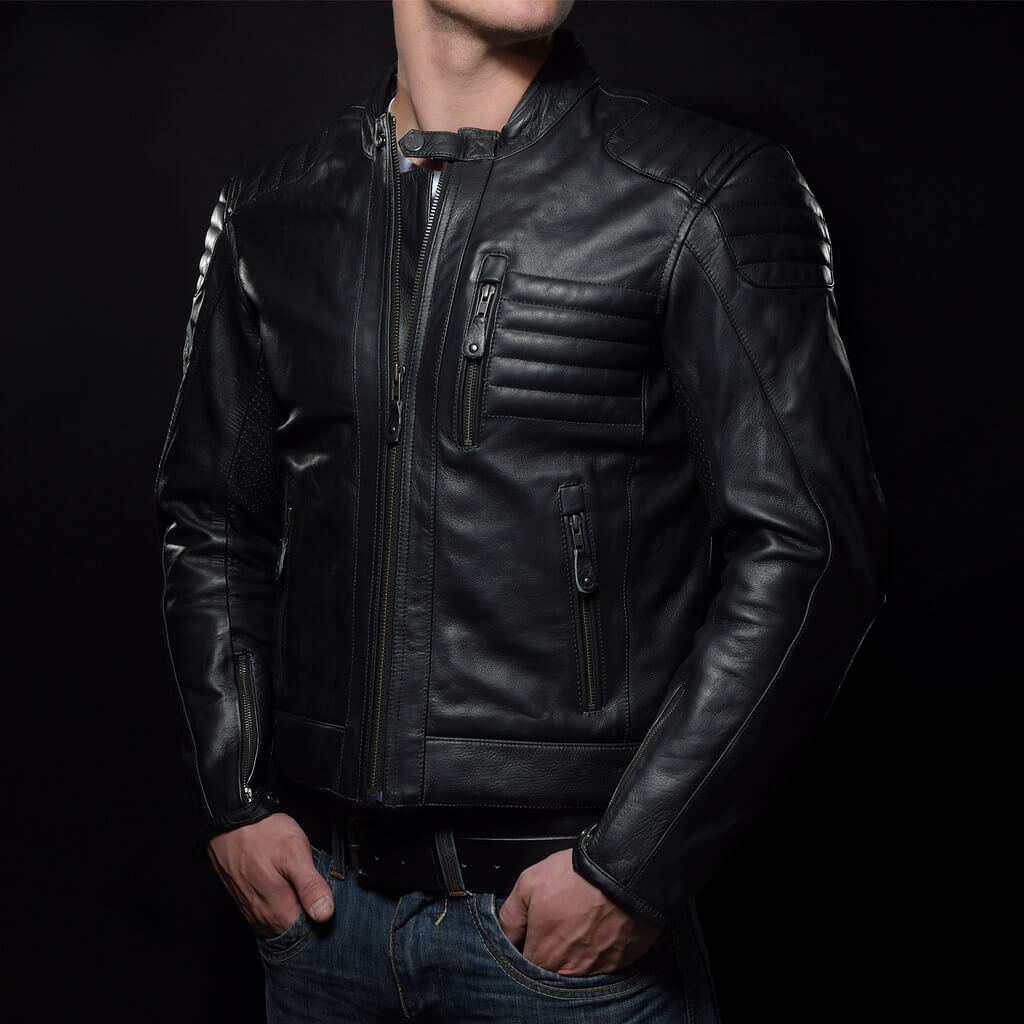 Important Factors
Types
The most classic option while buying a jacket for road safety is a leather jacket. These come in various colors such as brown, black, etc.
Leather jackets can help you in having a fashionable look while providing you ultimate safety on the road as well. These are abrasion resistant, i.e., if you do happen to be in an accident, they'll prevent you from getting rash. 
Another very mainstream and basic option is to opt for textile jackets or air vests. There are relatively cheaper and lighter.
Their durability might not be as excellent, but they work fine. These are perfect if you're planning on wearing on for hours. Textile jackets have excellent air ventilation and are comfortable.
This is also a very preferred type. Mesh jackets like textiles are extra comfortable. They come in various sizes and are highly breathable.
If you are planning to ride your bike in summers, then this is the perfect option. These are also the cheapest. 
Price
Price should be kept in mind while shopping for air vests or jackets. These come in different types and offer various features.
The price of every piece differs according to how protective and efficient it is. A leather jacket would be relatively pricier than an air vest and might provide the same amount of protection. 
Liners
Liners are an important aspect. It is smart to get a jacket or air vest that has removable liners inside. This way, you can easily take them out if you feel too hot or put them back in when it's cold. 
Below are some of the best jackets and airbag vests for motorcyclists in the market with all the required features.
Preview
Best Choice

Premium Choice

Best Value For Money

Product
Men & Womens Reflective Hit-Air"MLV-RC" model Adjustable air vest Fits Size Large (XL-3XL)
Helite Unisex-Adult Roadster Leather Motorcycle Airbag Jacket (Black, X-Large)
MotoAir Airbag One Motorcycle Airbag Vest High Visibility (Small - Medium)
Best Choice
Preview

Product
Men & Womens Reflective Hit-Air"MLV-RC" model Adjustable air vest Fits Size Large (XL-3XL)
Premium Choice
Preview

Product
Helite Unisex-Adult Roadster Leather Motorcycle Airbag Jacket (Black, X-Large)
Best Value For Money
Preview

Product
MotoAir Airbag One Motorcycle Airbag Vest High Visibility (Small - Medium)
Top 4 Motorcycle Airvests And Jackets
1. Hit Air MLV-RC Motorcycle Light Weight Airbag Vest Reflective
It is the most lightweight jacket in the market and can be very comfortable to wear.
It comes with both short and long sleeves to serve all kinds of users.
It opens up in a matter for 20-25 seconds, making it exceptionally fast and effective.
It can be used for more than one accident and is a bit more reusable than other such air vests in the market.
It is available in various sizes.
It weighs 1.1 kg. 
The belt in this air vest is adjustable according to your preference.
The various colors, especially neon and yellow, make it highly visible when it gets dark.
It only comes with one cartridge, which can be a cause of inconvenience.
It is expensive than other such pieces in the market. 
The Hit-Air MLV-RC is likely one of the best airbag vests available in the market right now.
These are highly beneficial to the public because their main huge feature is that the exterior part of the jacket is made up of Lumidex material.
This material is very reflective and consists of sharp green, yellow, and neon colors that will make you stand out in the dark and help you in being visible to people, cars and other vehicles at a larger distance.
One huge benefit of choosing this airbag vest is that it's extremely lightweight and won't pull you down or exhaust you if you have to wear it for a longer period.
On account of the new rapid airbag technology, this vest can make the airbags fill up in simply 0.18 seconds while utilizing a solitary 60cc cartridge with gas.
These airbags are effective and efficient as they seem to cover a lot of the area of your body. This area includes your neck, the chest area, the back, the hip territory.
If you want convenience and dependability, this air vest is an incredible option. It is so light, cool, and convenient that you will barely see you have it on.
Its entire system comes to full expansion in 0.25 seconds only and is said to be the most effective one in the market.
Another huge plus point is that it can even be used if one chooses to go for horse riding.
2. MotoAir Airbag One Motorcycle Airbag Vest High Visibility
It is very affordable and can easily be bought without putting a strain on your budget.
It is very lightweight, so you won't feel like it might tire you out if you wear it for longer durations of time.
It opens up fast in just 0.18 seconds and hence is very efficient as well.
The length of the cable in this bag can be slightly longer.
These are one of the best available jackets in the market for this purpose. Made to make your biking experience fun and safe, these have built-in air vests in them that are meant to safeguard you from the dangers of the road.
These jackets come in various colors and sizes to accommodate all people. The various colors in this design can help you stay safe and provide you with a fashionable look as well.
It is made up of vinyl material, which is also a little waterproof and hence can help you in reusing it without going through a lot of trouble.
These come with all the basics required, which include one CO2 cartridge, Lanyard supporting system, one carabiner and two extra anchoring cables as well. This airbag has a small cartridge in it, and it inflates when a small steel wire is pulled. In about 0.18 seconds, the airbag is inflated. With the help of this airbag, your neck, chest, back, spine and major organs in the front of the body will be saved from any serious injuries. 
This is a unisex jacket, i.e., both genders can wear it. It is a CE Euro Certified airbag that inflates in an astonishing 0.1 seconds.
It is known for its speed and efficiency as this airbag inflates in the blink of an eye. It is the perfect option for you if you're on extremely dangerous tracks and you need instant coverage to avoid injuries.  
In this jacket, support is provided to the back of the neck as well to save you from any major external brain injuries. 
It is made up of leather which gives it a very rugged look. This leather jacket can be worn over your outfit and make you look fashionable and give you the comfort of safety as well. It has liners in the inner side of the jacket and comes with elbow protectors as well.
The inner liner is made up of 100% polyester material and can be removed if the user feels like it. The neck of the jacket is made up of soft material, which can make breathing easy for you. 
It also has a cartridge in it and air ventilation clothing material near the armpits to save you from excessive sweat and discomfort.
There are also wrist fasteners present in this jacket, several pockets, and the waist circumference can be adjusted according to user preference as well.
4. Hit-Air MV6 Motorcycle Airbag Vest
The activation of the inflation option is very simple and easy. 
It has the feature of high visibility in night time giving it an extra benefit.
There is a cartridge also attached to it.
Available in black with red stripes on it that gives it a classy look making it look pretty and attractive. 
The Hit-Air MV6 comes in various sizes, and users can get it without feeling financial strain.
If the rider and cruiser become isolated during a mishap or faces a sudden accident, the airbag is initiated.
The expanded airbag gives sway security to the back, neck, and chest area. It saves the rider from any additional serious injuries. It keeps the neck adjusted to stay away from the sudden impact and lessens the dangers of significant damage or spinal damage. 
After using the cartridge, the airbags should be collapsed appropriately, and the new cartridge should be installed in the airbag. 
Each new coat accompanies 1 x CO2 cartridge. It is made up of comfortable material which makes it easy to wear and breathable.
It is made up of Lumidex material, which gives it high-visibility in the nighttime and saves you from any additional dangers. It comes in various sizes ranging from small to xx-large. The weight of the jacket is as less as 1.5 kg, so it won't exhaust you. 
What Are The Cartridges? 
Cartridges are the round tube-like instrument that is inserted in air vests and jackets so that these can be inflated and provide you with maximum security. 
Are The Cartridges Reusable?
There is no proper way to reuse the cartridge as of yet. Once it has been used, it cannot be used again. The cartridges cannot be reused, but once the vest has been inflated, it will take a few seconds to deflate and inflate again whenever you need it next.
Does The Air Vest Hurt When It Inflates?
The air vests generally inflate in the outwards direction; hence, whenever they do inflate, they fit comfortably well without hurting.
Also, read our review on Firstgear Motorcycle Jacket
There are various jackets and air vests in the market that are designed to make the entire biking and riding experience fun and safe.
These jackets come in various sizes and colours. They also have a lot of additional benefits ranging from one jacket to another. It is completely upon the user's preference to get one that is in their price range, and that suits and checks all their requirements.