Bluetooth communication systems or intercom headset devices are a real upgrade in communication technology. Who could have thought that communication would be made so much easier while riding? But here we are. Sena 50R intercom headset is a great accessory or tool that can be used to stay connected with your fellow riders.  
Earlier, people couldn't even think about such a system that will enable them to use Bluetooth intercoms. However, everything is upgrading and so is communication technology. Riders are more than happy to accept motorcycle intercoms; it certainly has made their lives easy. Now they don't have to worry about being lost or get separated from their fellows.
If someone gets separated from the group then you can guide them back by using the intercom. But even after all of this you or any of your fellow still gets lost, and go out of the connection range, they can take help from the GPS navigation and guide themselves back on the right track. 
There are many new companies making new Bluetooth intercom products as the market has now experienced a boom. However, one of the veterans Sena will always remain in the list of the first ones to produce Bluetooth intercom. 
Sena is a company that has made exceptional growth in Bluetooth communication technology ever since it was founded in the year 1998. They were the first ones to make intercom headsets in the year 2010. During this time no one has even heard of intercom technology. Sena is a well-known company especially among the bike riders and other outdoors sportsmen who use Bluetooth intercom. They have a versatile range of products, which include intercom with cameras, smart helmets and bike helmets, etc. It is without any doubt that anyone even remotely interested in the Bluetooth communication system will know the name of Sena.  
Over the period of time Sena has made a lot of products related to Bluetooth intercom or communication systems for bike riders etc. However, today we will talk specifically about one of them. 
Sena 50R Intercom Review
Sena has made a new latest Bluetooth communication system, 50 series. This latest series was launched in April of this year and has amazing new features like advanced Mesh 2.0, more participants, and improved voice commands. There are two models in the 50 series, 50R and 50S. 
Here are some of the reasons why 50 series is so great.
Advanced Mesh 2.0 Technology
Mesh 2.0 intercom technology is one of the most amazing parts of this series. Here is why:
The technology is named Mesh because it tells the effortless mixing of Bluetooth pairing with grouping, rejoining, and separating. Other than in Mesh technology these functions are differentiated. However, if you use Mesh tech you won't be able to recognize a shift between these functions. In simpler words, all of these functions are meshed together. 
It is an amazing technology because it gives you:
Clear audio voice
An optimized path planning, this makes lesser connection issues and enhances the quality. 
No matter how noisy your background is, you will get clear audio.
Multi-Channel Function
Mesh 2.0 has a multi-channel function that allows communication across 9 channels. You can use a separate group mesh intercom, which supports 24 connections that you are able to organize on different channels in groups. At a time, six of your fellows can join in without waiting for their turn. 
Apart from these modes of intercom, it also has a standard Bluetooth intercom mode. 
Sena 50R Features
Sena 50R is a Bluetooth intercom technology that is an advanced technology with a sleek and robust design. As discussed the Mesh 2.0 technology makes your connections reliable, strong and robust. 
The multi-channel technology has taken the stage for this series of Sena, a rider can now easily swipe through different channels and be connected with different groups. Private groups can accommodate up to 24 people that tell us something about this new intercom technology. 
It has Bluetooth 5.0 technology that makes it possible to pair the Sena 50R with your mobile and use it for GPS guidance, to enjoy music, and to take phone calls as you ride. In the new and upgraded 50R intercom by Sena you get improved HD speakers, voice command support, three button controls, and so much more. 
Some Specific Features in Sena 50R Intercom : 
There is so much to talk about in Sena 50R intercom but here are a few major things we want to mention. 
Communication Using Mesh 2.0 
This style of communication is new in the field and lets you virtually be connected with almost anyone participating. It connects you with the riders using Sena enabled mesh devices. Like we said, an open session will let anyone connect and communicate; however, a group session in a private room will let up to 24 participants connect. 
Mobile Phone Bluetooth Pairing
You can pair it with your smartphone and enjoy the music as you go on a journey with your friends or fellow riders. 
You can use and listen to GPS navigation as you don't want to get lost in a place you do not know anything about. 
Other than that by pairing the Sena 50R with your mobile you can take phone calls on the go. 
Lastly, you can listen to integrated FM radio. It lets you save up to 10 presets, and you can listen to these stations while enjoying your ride session. 
Sena 50R Utility App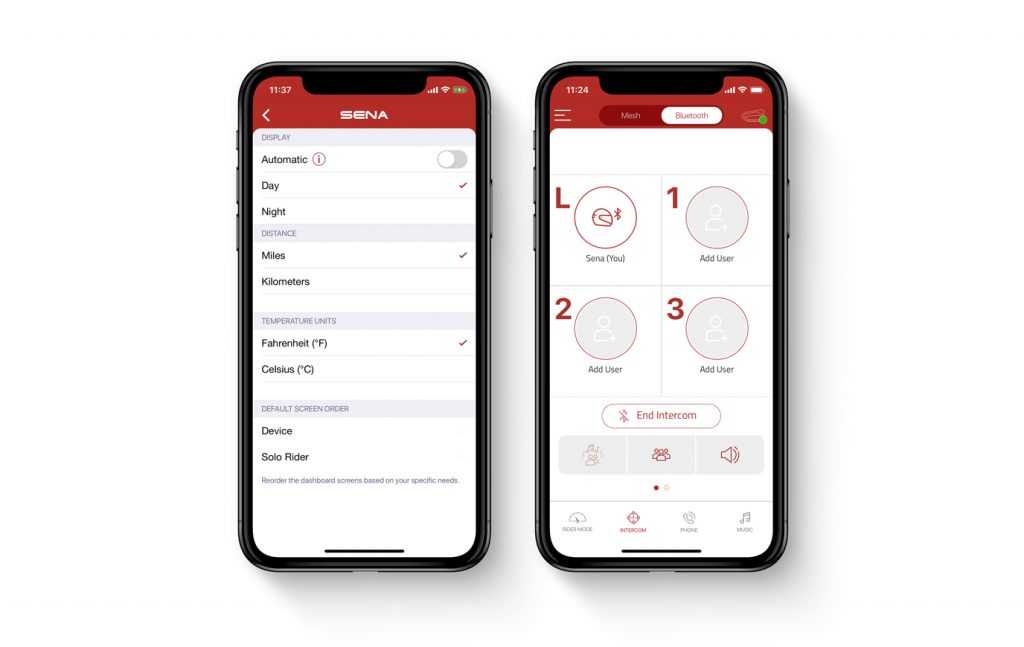 With this app you can custom many settings, which give you a good control of all the functions present in Sena 50R. With this app you can do everything and anything, you can create a private group, switch to different channels on private mesh, preset favourite FM stations, and so much more. 
Voice Commands
Voice commands give you the freedom to control your intercom unit without taking your hands off the handlebar. This plays a crucial role in avoiding accidents. Just say " Hey Google" or "Hey Siri" and control your volume or change tracks with ease.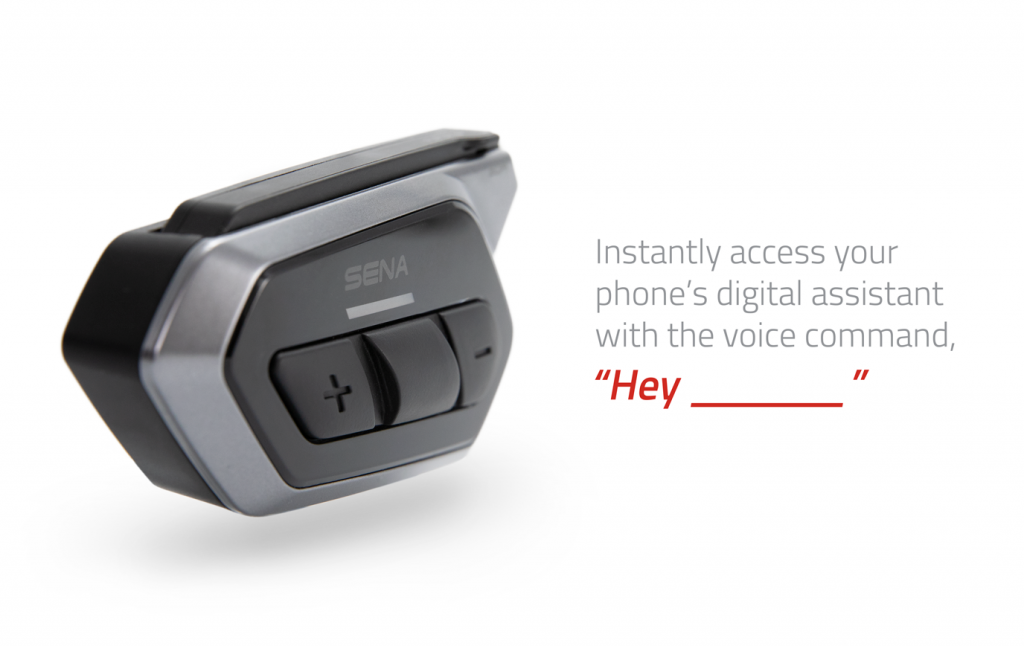 Range
The range of this Bluetooth intercom is 1.2 miles and within this range you can ensure a good connection. However, out of this range you may feel low connectivity or no connection at all. 
Riders must get a Bluetooth intercom with a good range because you don't want to get disconnected at a peak time. The range of 50R as compared to others is quite great. 
HD Quality Speakers
With its HD Quality speakers, you can now experience new realms of voice quality. The supreme quality it offers is to die for. Apart from it being as clear as a crystal, it boosts volume and bass. The overall performance results in a greater and better experience.  
This Bluetooth intercom comes with a WiFi cable that can charge your device, and will automatically download updates of firmware or even install it using WiFi connectivity. 
Charging 
This is an essential part of a Bluetooth intercom: how long will it run, and how long will it fake for charging? 
It is because Bluetooth Intercoms are made for convenience and if they are not available at the time of need then what's the point of buying them? 
Sena 50R has an amazing charge battery ratio; your battery will charge faster than other competitors up to 30%. Not only this but you can get a full charge in 1 hour, which has a life of 14 hours of regular intercom connection, and for mesh intercom it will be 9 hours. 
It also has a quick charge which charges your device in 20 minutes and gives a regular intercom life for 6 hours and for mesh intercom it is 3.5 hours. 
Mounting Options
If you are using Sena 50R you can connect it at almost any place in your helmet because it is very versatile. Its versatility depends on its additional mounting options. Even though it comes with the classic Sena clamp kit, you can use the additional options that it provides, which include use of adhesive Velcro or just adhesive for the places where the clamp wouldn't fit. 
Ease Of Usage
Sena 50R has the classic three button control layout. It includes a plus, minus and a center button. 
Bluetooth intercoms should be simple to use, even though you may get attracted to the ones that look complex, but in practicality they will take your focus off the road. While riding getting your focus off the road is probably the last thing you will ever want. 
Sena 50R has a simple interface which ensures that even the beginners and the first-timers are able to use it freely and easily. 
Conclusion
Sena 50R is a great Bluetooth intercom device that you can get. One of the most advanced technologies has been used in it. Mesh 2.0 intercom is something that your future self will thank you for buying. Looking at other devices, sena 50R is definitely taking the lead and with the cost it comes in, it is quite competitive. 
The interface is so simple, and with its amazing features, especially a first timer should get this device as soon as possible. 
While buying a new device you may look out for options but with the well-known Sena, you don't have to worry about other options. It is indeed the best one in the market, and experienced riders will agree.