As far as wireless communication devices are concerned, technology is advancing at an exponential rate day by day. In order to understand their progress in a better way, remember the issues you had with your wireless communication device a few years ago. The problems may include weak pairing with other devices, connectivity issues in unusual areas and distances, sound clarity and its overall quality, or controls that are not glove-friendly at all.
Speaking of wireless communication devices, there is a fairly new gadget in town. This one was introduced by Cardo on November 27th, 2019, and it is called Packtalk Bold. Therefore, following our pattern, we bought and tested this device in order to let you know in this Cardo Packtalk Bold review if it is worth the hype or not. If you are not much of a reader, we can tell you that the Cardo Packtalk Bold solves nearly all your problems related to wireless communication devices. 
However, like all technological products, this Cardo masterpiece is not a perfect device. That being said, the Cardo Packtalk Bold is one of the most impressive pieces of technology we have ever tested. 
Read on if you want to read our Cardo Packtalk Bold review completely, and find out if the device is for you or not.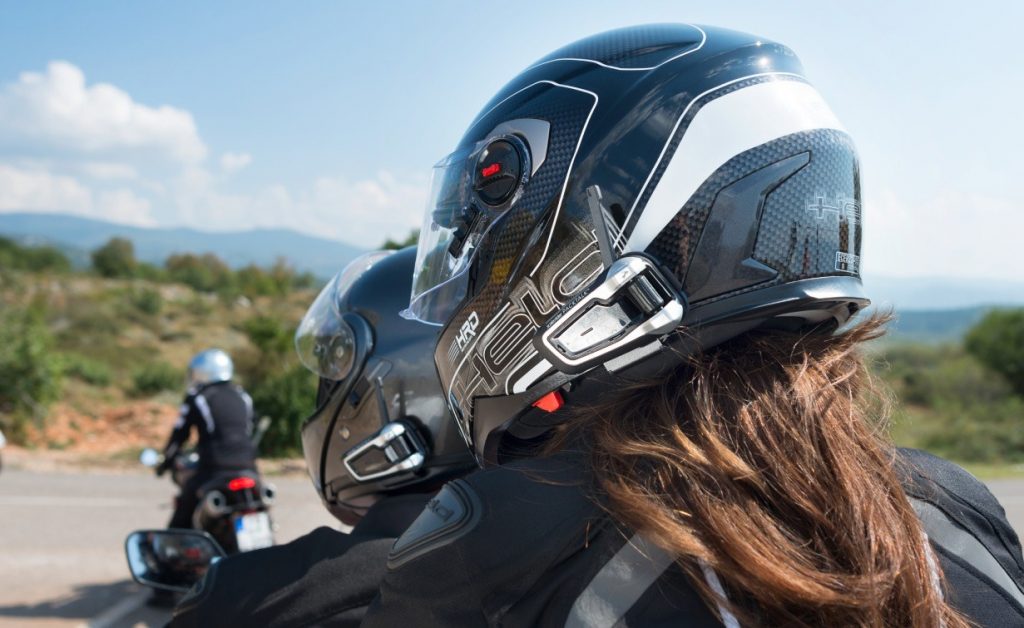 Key Specifications
The Cardo Packtalk Bold is a better, smarter, and more advanced successor of the Cardo Packtalk. However, the two devices are pretty similar at the core. Like many other similar products, the Cardo Packtalk and Packtalk Bold both have the same framework that is made up of natural voice operation, a JBL sound system, and mesh technology. In spite of that, Cardo has managed to produce a much more futuristic device this time, which we will explain further in our Cardo Packtalk Bold review.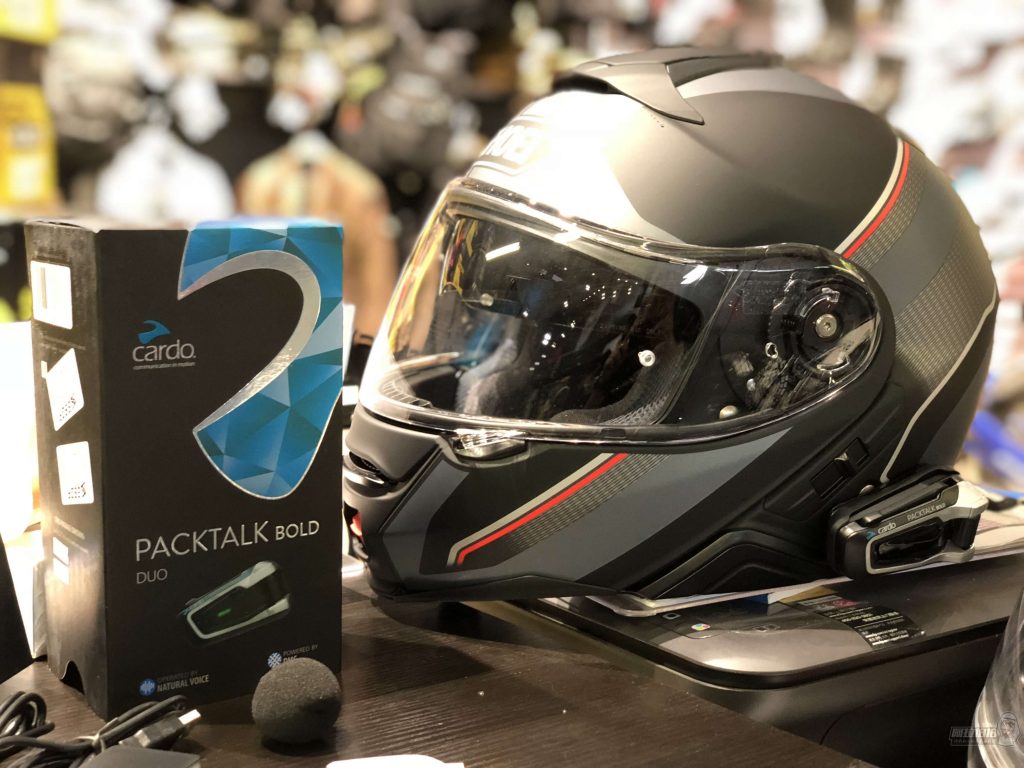 Unique Voice Technology
Starting with the Natural Voice Operation feature, we need to clarify what Cardo means by the name of this feature. The Natural Voice Operation feature refers to the easy commanding ability that the Cardo Packtalk Bold gives to its user. Due to this feature, you do not have to move even a finger if you want your Packtalk Bold module to perform a task. It means that no matter what you want your device to do, you can leave your hands on the grips and continue to drive safely.
Instead, you can simply operate your module with voice commands. And trust us, we have tried this feature multiple times and in multiple situations, and it has only impressed us. You don't have to move a finger even to turn it off because this feature is programmed to be always on and working. So all you need to do is say, "Hey Cardo," to address the system and mention your command.
A few examples of the commands are "music on," "next station," "unmute audio," "redial number" (to redial the last number on your call register), and "battery status." If you wish to address Google or Siri on your phone, you can simply say, "OK Google" or "Hey Siri." 
The voice operation works quite smoothly, responding to your commands immediately and appropriately. However, the only catch (which is reasonable in our opinion) is that you have to speak in your usual, conversational voice. Speaking too softly or too loudly will result in the system not being able to respond to your voice commands as they will be incomprehensible for the system.
Sound Quality
Another highly important feature of the Cardo Packtalk Bold is its sound. In a word, the sound quality of the Packtalk Bold is phenomenal. We believe that it is mainly due to Cardo's partnership with JBL. For those who don't know, JBL is one of the leading speaker manufacturer companies. Due to this partnership, Cardo has been able to achieve highly efficient speakers specially designed for motorcycle helmets.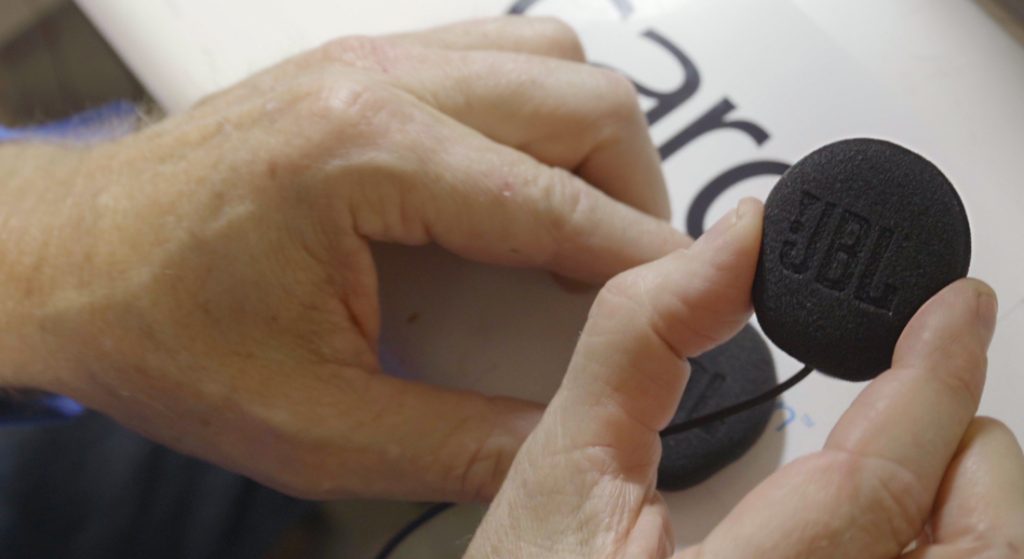 Compared to the last version, i.e. the Cardo Packtalk, the speakers of the Packtalk Bold have a bigger circumference and thickness. This can be a blessing for some and a disaster for others. Due to the size and thickness of the speakers, we can't guarantee that the speakers can be placed directly over your ears or not; this heavily depends on the space provided by your helmet. However, if you are able to place them properly, they will work like magic. The sound is incredibly clear and immersive.
Communication Technology
Last but not least, the Cardo Packtalk Bold is equipped with mesh technology (as mentioned above). If you are new to this term, mesh technology is simply a modern and advanced source of the bike to bike communication. This differs a lot from the simple connection that Bluetooth technology creates. 
In a Dynamic Mesh Communication (DMC), all the riders in your group are connected in the form of a web. A rider who is part of this web can enter or leave the web, meaning that they can connect, disconnect, and reconnect with the other riders at any instant. And they do this without interfering with the stable connection of the rest of the group.
You might have guessed that a DMC would be more useful for a group of motorcycle riders that may get separated over a number of miles. Also, it would be helpful if you are going with your group through a narrow canyon where slower group members may get left behind.
Cardo claims that the Packtalk Bold can connect up to 15 members, so we tested the gadget with the maximum bike riders especially for this Cardo Packtalk Bold review. For this test, we split the group in 5 on Stunt Road, which is a narrow and tricky route and a top choice for experienced canyon carvers. 
It is noteworthy that all the devices were easily paired initially. Once all riders were paired in a DMC connection, we all held our helmets close together. And with the press of a button, the green light on our helmet turned purple, indicating complete pairing. With this, we were connected in the group very strongly. It would automatically reconnect if one of us had disconnected. Only removing ourselves from the group through the Cardo app or resetting the units would disconnect us permanently from the group.
We made sure that one sub-group was over a mile away from the other. One by one, we made sure that each sub-group was disconnected and then reconnected. Surprisingly, the automatic reconnection was extremely smooth and easy. The other groups with the undisturbed connection had a flawless communication experience as well. On top of that, no stops were made and no buttons were pressed during this test. 
You must also know that for a private conversation with a group-mate in a DMC web, you would need the app or a separate Bluetooth connection. Each of you would also have to press a few buttons in order to check out temporarily. If you want, you can even mute yourself from the entire group. If you prefer Bluetooth technology, you can pair your Packtalk Bold to a Bluetooth communication device. Additionally, you can pair it to a phone or GPS as well. 
If you want to know the smaller limitations of the Packtalk Bold, we'll mention the most important ones. First, the system responds to the "Hey Cardo" voice commands very well; however, you might feel that the "OK Google" and "Hey Siri" commands need improvement. Moreover, even at highest or high volume levels, the audio just isn't loud enough for high motorcycle speeds. Therefore, you might want to test the volume with a few high-end earplugs.
One area where the Packtalk Bold gets full marks is its general features. The gadget is waterproof and dustproof both. We cross-checked the two qualities, and so far no problems have arisen. It comes with a talk time of up to 13 hours and a built-in FM radio that works as well as a dedicated FM radio.
Pros & Cons
A common drawback, which you will also find in all the other similar products, is that you need to download the free Cardo Connect app if you want to get the most out of your Packtalk Bold. This app is important as it will allow you to choose the type of EQ profile (regular, vocal, or bass boost) for your sound system, set the level of volume for various features (such as intercom, music, etc.), and modify the sensitivity of the auto-volume control. 
Helmet sound systems are usually not so great with bass boost, so obviously we chose that option to test the sound quality. Surprisingly, the Packtalk Bold JBL sound system is definitely a massive improvement over the Cardo Packtalk speakers. We believe that the mid-range audio as well as the low-end audio were more detailed and complete. So overall, it is safe to say that our music or audio experience was delightful.
If you currently own a Cardo Packtalk module, you can simply upgrade your JBL sound system. This upgrade will include not only the speakers but a complete update of your software.
Conclusion
Our Cardo Packtalk Bold review has been pretty clear that the Cardo device is definitely an innovative and successful invention. This compact and featureful device has helped technology advance even further. However, if you are wondering if it is worth it? that totally depends on what you want from such a device.
Considering the other options available in the market, Cardo PACKTALK Bold is definitely one of the best out there.