There are few emotions stronger than speeding on your motorcycle, flying with the wind as the air rustles your shirt and battles your helmet. The adrenaline rush you have while cruising down the highway has no parallel.
If it were up to you, you'd ride your motorcycle just about everywhere. If that applies to you, you're probably one of those people who would love to have a motorcycle teardrop camper.
What Is TEARDROP CAMPER and How Does It Work?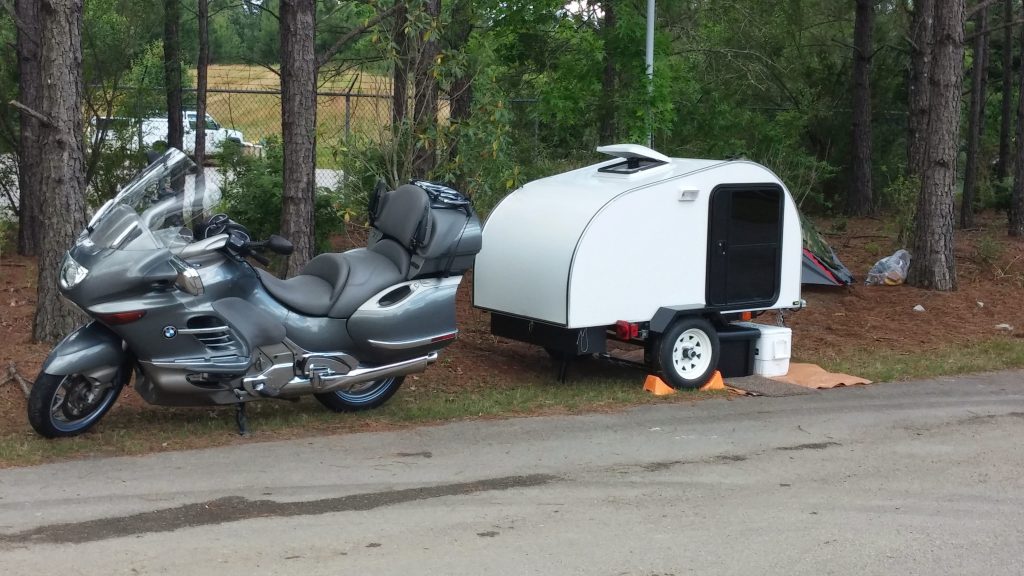 A teardrop camper, also known as a teardrop camper trailer, is a compact, lightweight trailer built like a teardrop. Teardrop trailers were created more than 80 years ago and are among the oldest types of recreational vehicles. If you were searching for a 1930s touring trailer, your perfect alternative would be a towable teardrop trailer.
There is space on the inside of a teardrop trailer for two persons to rest, and place for garments and other objects. On the outside, a kitchen for preparing meals is on the backside underneath a hatch. Teardrop trailers appear to have light sources and other electricity provided by a battery system, even though a few have mains electricity hookups like usual travel trailers.
When more efficient automobiles were developed, teardrop trailers became less common and were replaced by camper vans, fifth wheels, and bigger trailers. But the fashionable and inexpensive way of hitting the road is gradually reemerging. And here's why you should get one for yourself.
Why should you get a Motorcycle Teardrop Camper?
If you are a part-time traveler and you love to explore places and have adventures, a Motorcycle teardrop camper might be your best option. Rather than really discussing what makes this so special, let's concentrate on the pros and cons of Motorcycle Teardrop Camper.
THE PROS:
An Inexpensive Alternative to Travel
Motorcycle teardrop campers are one of the cheapest methods to travel. You wouldn't have to think about the hotel costs with a teardrop camper. Paying for a campsite is better than spending large amounts of money on hotel fees. Teardrop trailers are comparatively light too. Your motorcycle isn't going to have to drive too hard to tow; that means you also save on fuel.
Maneuverability
Teardrop trailers are indeed the simplest group of a travel trailers in the industry. They are light and small, making them super towable. Their small size is ideal for finding a parking spot easily. This camper trailer is very light; it can be unhooked and rolled onto your camping site.
Sufficient Storage Space
It is an acknowledged fact. Motorcycles are hardly the most helpful with storage capacity. Traveling for a camping trip on a motorbike reduces the quantity of stuff you can bring along. Conversely, with a motorcycle teardrop camper, you could perhaps take several necessities for your camping or a road trip. You can carry your Bluetooth speaker, guitar, more clothes, and cooking appliances when using a motorcycle teardrop camper. Even though you're going to have to limit to only the necessities, you will still get more space than you would if you agreed to go along with only your bike for the trip.
Comfort For Travelling With A Proper Shelter 
Not everybody likes to sleep directly on the ground. Teardrop camper trailers offer you the intimate experience of camping with no requirement for a tent. These teardrop campers are designed to present tiny luxuries throughout your get-away trip. You can also equip your motorcycle teardrop camper with AC, television, as well as other electronic devices to ensure you don't ever get depressed while camping.
Going To Have New Friends?
Teardrop campers are appealing to the naked eye. And especially when it is a Motorcycle Teardrop camper, it will fascinate people. On the positive side, anytime you go out camping you would always meet new people and make new friends. Your camper trailer will offer you numerous ways to connect with various individuals.
Safety First, Enjoyment later!
Are you worried about rats, bugs, and other animals while you're sleeping in the bed? You'll feel a lot better on camping with a motorcycle teardrop camper. Many motorcycle teardrop trailers are completely lockable, elevated from the ground as well as are element proof. The locking characteristic also ensures that you don't have to feel afraid of losing your valuable items.
Easy to Store
Motorcycle Teardrop trailers can fit comfortably in your basement, allowing them to be stored inexpensively without any need to make payments for the parking. There is no need to construct an additional shed or parking lot space.
THE CONS:
Though they appear fabulous at first glance, these camping teardrop trailers have many inconveniences you have to learn about.
No Toilet?
Motorcycle teardrop campers have no toilets. That means you'll have to go to campsites, community restrooms, or even "go wild" unless you're having a photovoltaic shower or a portable toilet.
Not Effective for Long Journeys
Motorcycle Teardrop Campers are great for short vacations, full weekend trips, weekend hunting trips, or boat rides but nothing beyond that. Living full-time in a teardrop trailer can be a little too much. And you'll get tired of your daily routine inside it.
Restricted Storage
Were you going to take all your luxuries in a motorcycle teardrop trailer? I am sorry to burst your bubble, but it doesn't seem to have much space! While they have more room than you would get on a regular bike, there is minimal storage space for motorcycle teardrop trailers. If you plan to take too much of your stuff, Then these teardrop trailers aren't the best option for you.
No Space For More Passengers
Do you love camping with a group of your closest buddies or your family on long trips? If that is so, then more than probably a teardrop trailer does not match your requirements. Most teardrops can carry just two passengers maximum. Are there variations to that? Definitely, but those trailers are not simple to find. Because those teardrops have greater size, they will cost you extra, too. You may also need to rethink the towing motorcycle or vehicle you select, with their length and weight.
Cracking the 'HOW TO CHOOSE A MOTORCYCLE TEARDROP CAMPER' Code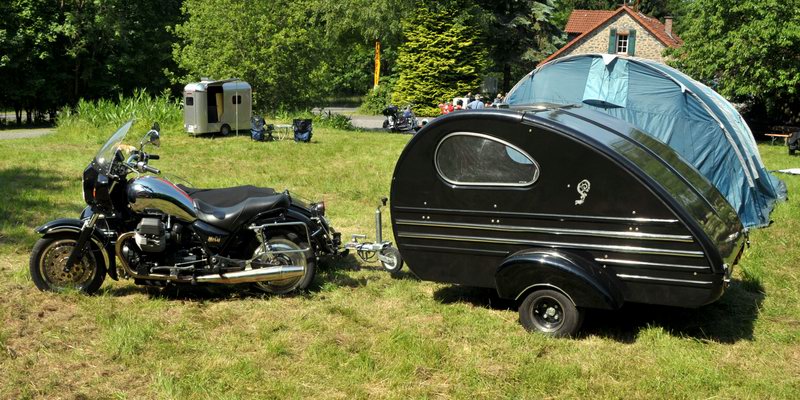 Here is what you must think when selecting the best camper trailer for your next motorbike trip.
How Heavy Is The Camper?  
When selecting a motorcycle camper, consider the one which is less than 500lbs. Please ensure that you remember the towing potential of your motorcycle before you purchase a trailer.
What are your necessities?
Need only a rustic sleeping room for your upcoming hunting trip, or are you searching for only several gadgets or an AC in your motorcycle teardrop camper? Well, just the type of teardrop trailer you'll have will specify your necessities.
Retail or DIY?
Another aspect that needs to be addressed when selecting your teardrop camper is whether you desire to go with a DIY approach or want a camper trailer purchased from a store. You may prefer making your own DIY motorcycle teardrop camper unless you're skilled with a welder. Only remember to create it under 500lbs.
What you wanted To Know: HOW MUCH DO MOTORCYCLES TEARDROP CAMPERS COST?
A teardrop camper with a motorcycle can be towed. Because small teardrop campers are easy to tow so you'll have to take special care of your motorcycle. The overall price for the small teardrop trailers ranges from $1,000 to $5,000.
For big teardrop campers, without a doubt, they'll be expensive, and you'll have to buy a heavy and big motorcycle that can tow it easily.
So far, you have learned about all the pros and cons of motorcycle teardrop camper ownership. Now we've finally arrived on the big and the most awaited question:
THE MOTORCYCLE TEARDROP CAMPER: SHOULD YOU GET IT OR NOT?
That's an answer only you could come up with. The motorcycle teardrop campers are brilliant, sturdy, cute, and fun little vehicles. They aren't for everybody, and there are evident cons to having one. You can't bring in lots of persons or goods, and also because of space restrictions, you get to do a lot of important chores outdoors.
If you are not troubled by these problems, then you should attempt to rent a motorcycle teardrop trailer. Through this, you will discover personally what it is like to stay in one. If you don't like it, then you know not to purchase more. When you hire a motorcycle teardrop camper for a trip and enjoy staying in it, make the step to have your own!
Or you can build your own with the help of this handy guide.
Sale
Ready for Your Next Camping Trip?
You got it there, everything that you need to learn about motorcycle teardrop campers. So, there's no requirement of the tent the next time you're talking of preparing for a camping trip. Upgrade to a teardrop trailer, to embrace the camping experience with a touch of comfort.