Lexin is a manufacturer of audio system products that stepped into the production of motorcycle products in 2010.
Although, now they produce Bluetooth communicators, speaker systems and cases for motorcycles, they are still considered comparatively new among the others. Lexin has recently introduced their riders' motorcycle Bluetooth headset, the LX-FT4. The headset comprises an intercom system that enables communication and has advanced noise cancellation features along with having a range of 1.2 miles.
According to Lexin, the headset was developed in a way to keep the controls simple and user-friendly. It is constructed to have higher battery life and better sound quality along with being water resistance and high-quality speakers. These features along with many others discussed later make the LX-FT4 headset one of the best for riders like you, who require great user experience.
LEXIN LX-FT4 Review
Buy on Amazon
Specifications
Dimensions:

Length: 5.12 inches. (13 cm)
Width: 1.97 inches. (5 cm)
Height: 5.12 inches (13 cm)

Product weight: 14.1 ounces (0.39 kg)
Bluetooth: V4.0
Profiles:

Headset profiles (HSP)
Hands-free profiles (HFP)
Advanced Audio Distribution Profile (A2DP)

Batteries required: 1 lithium ion battery is required to power. (Product already includes 1)
Run-time: 10-15
Stand-by time: 7 days
Lowest operating temperature: -3◦F
Material: polymer
Compatible with Siri and S-Voice.
Water resistance: Snow, ice and waterproof.
Communication range: 1.2 miles (1.9 km)
Package accessories
Packing box
Boom microphone
Button microphone
Speaker
Screws (4 pieces)
Allen wrench
Charging cables
3M double sided tape
Rubber pad for clamp plate
Speaker pad (2 pieces)
Boom microphone holder
Clamp plate
Mounting bracket
Quick start guide
User manual
Features of the Lexin LX-FT4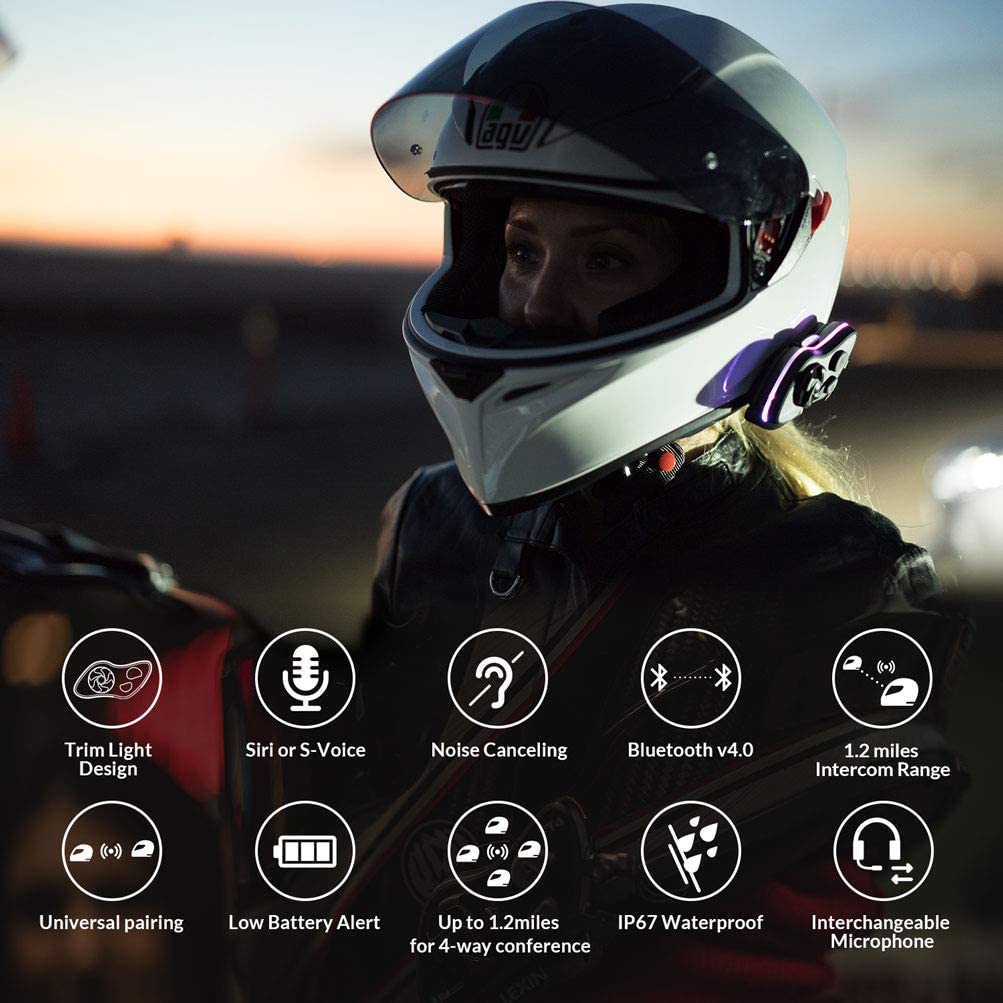 Bluetooth 4.0
The product is a Bluetooth V4.0 technology-driven communicator system that makes it technologically advanced, hence, the FT4 stands out from the others.
Connectivity
Lexin's FT4 provides connectivity with your smartphone that allows access to play music, phone calls and even voice recognitions. It is compatible with Siri (iOS), S-Voice (Samsung) and Google assistant. It also has GPS that guides through directions.
Weather resistant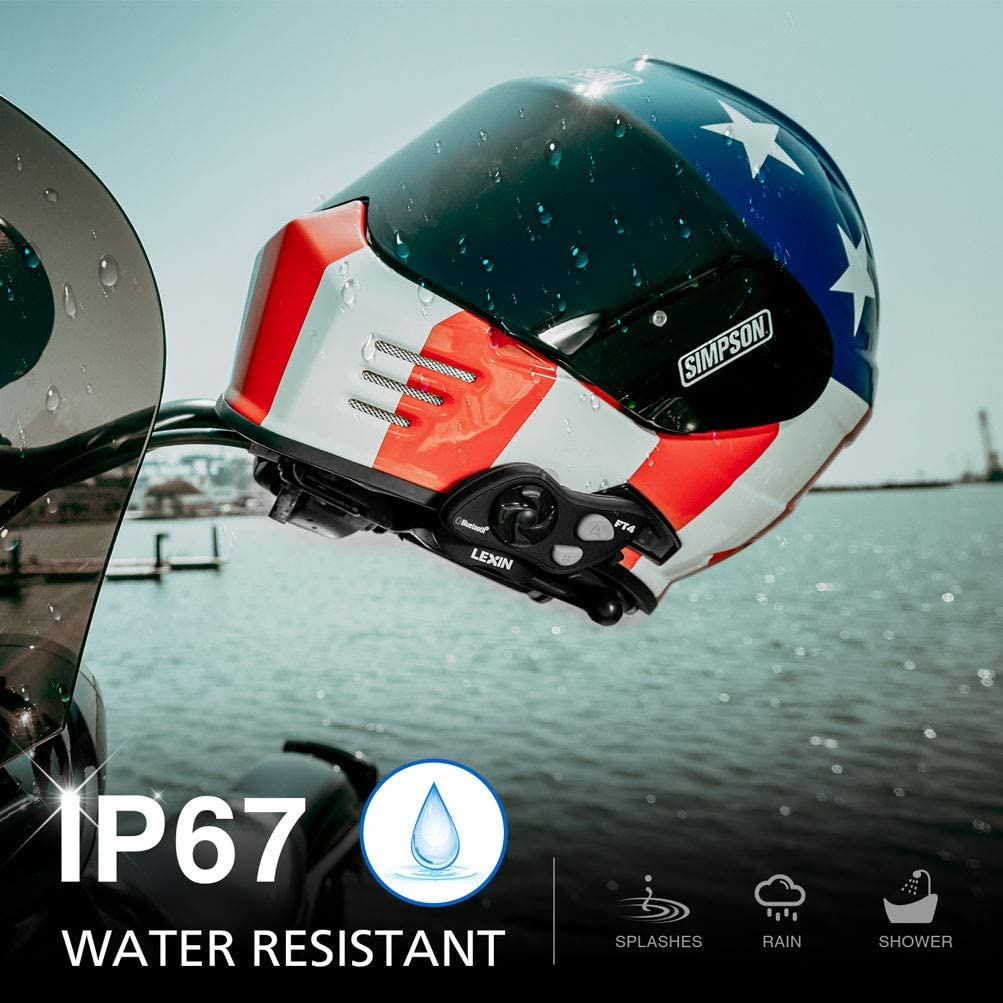 The headset has been tested in all kinds of weather conditions. Being ice, snow and waterproof, the product proves to be usable in any sort of weather.
Microphone & speaker quality
FT4 headsets have the latest microphone and speakers that work exceptionally well under wind speed of 70-75 mph. Winds with high speed cause immense noises that greatly hinder the speaker's functionality.
Microphone
The boom microphone (for modular helmets) that comes with this headset has a flexible arm that enhances its efficiency. It is easily movable, yet, works excellently at any nearby position.
Controls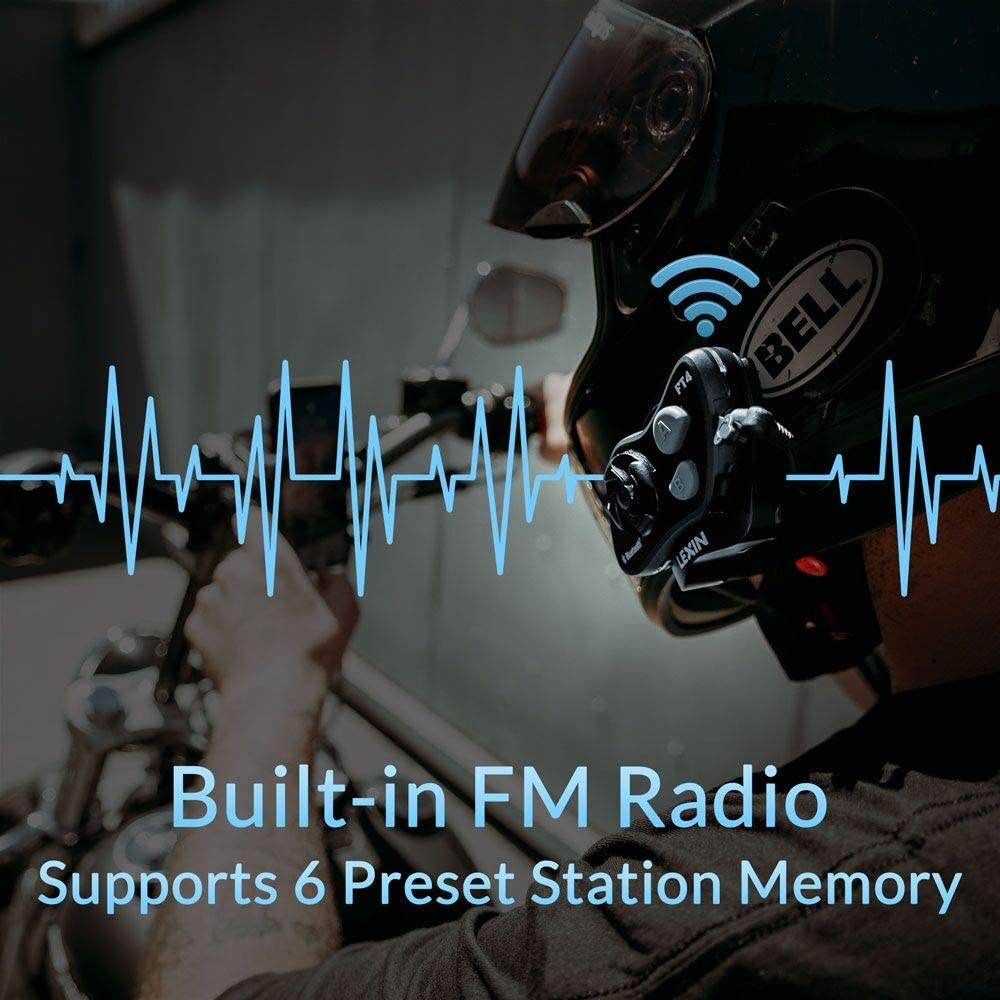 This Bluetooth headset only has three buttons as controls. The jog dial button is to control the volume, manage the soundtracks, save radio stations, and answer calls. The 'A' button is used as a power button, battery checker and to switch the radio on or off. The 'B' button is for Bluetooth pairing, intercom, and to change LED lights. Although, lesser buttons make the product user-friendly, one button being responsible for more than one function also makes it complicated to remember the button and its pattern of pressing.
Range
According to the manufacturers, the headset has a connectivity range of 1.2 miles i.e. approximately 2km. This range, comparative to others is wide and helpful for riders travelling in groups or pairs.
Lightweight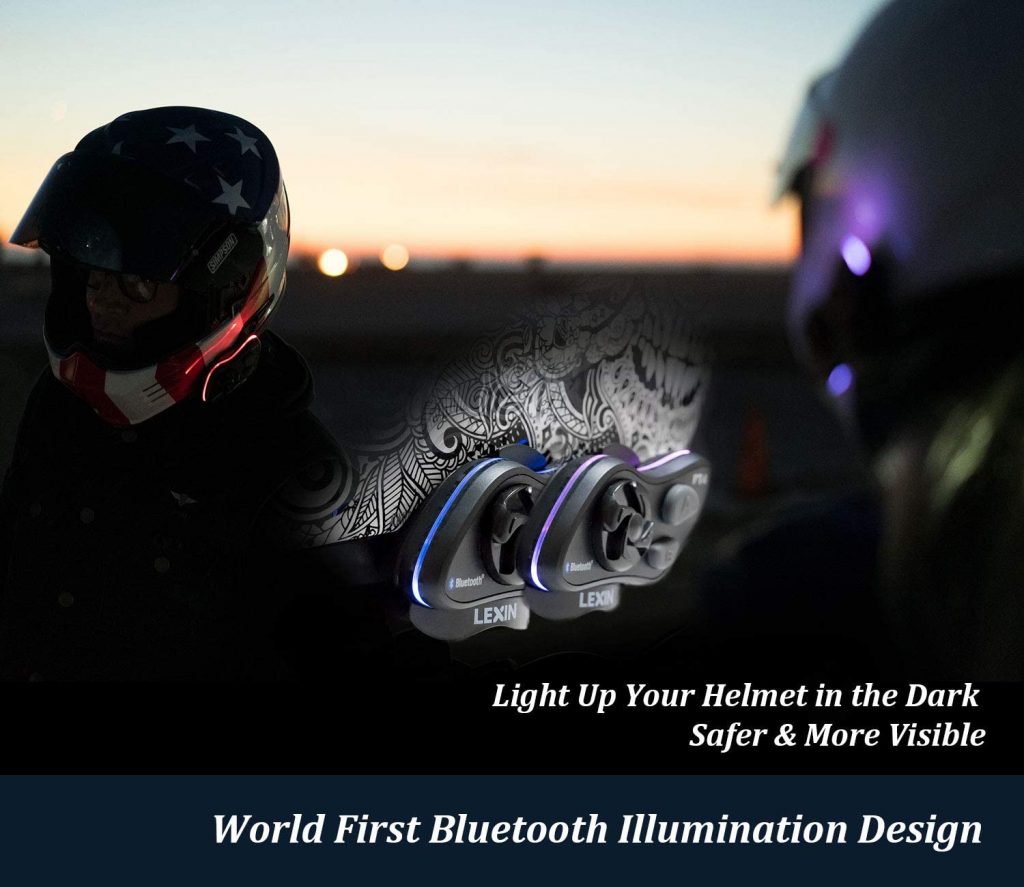 Lexin FT4 system weighs about 39 grams which adds negligible weight to the helmet it is fixed on. Since the headset is attached to the helmet, it was designed to have a light weight so that riders like you do not experience an additional and uncomfortable weight on your head.
Strong & sturdy structure
Being made of polymer, the Lexin headset is a robust product that usually withstands shocks and hits. As it must be attached to the helmet, the headset has a sturdy design that makes certain that even if it falls off the helmet, it rarely experiences external and internal damages.
Battery life
As mentioned in the specifications, the Bluetooth headset has an amazing battery life that keeps it going for 10 hrs in talk-time and 6 days in stand-by mode, that too with a charging of 2.5 hours only! In case the battery drops below 20%, the headset will warn you by beeping every 5 minutes. If you have extensive distances to travel that require it to work for prolonged periods, this product is for you.
Product package contents
The Lexin LX-FT4 comes with two different kinds of microphones. One that is suitable for a modular helmet and the other one that can adjust to an open-faced helmet. So, if your helmet is any of the two kinds, Lexin FT4's microphone can easily fit onto it. The package also contains two Velcro pads so that you may place the speaker closer to your ears.
Pros
Bluetooth V4.0
Lightweight 
Long battery life
Low battery alarm
Universal pairing to Bluetooth headset of any other company as well
Provides connectivity to both, iOS, and Samsung
Weather resistant
Easy 3- button controls
Wide range of 1.2 miles
Strong structure and durable build
Cost effective compared to other similar products
Easy installation
Comes with a combo kit having RAM X-Grip mount
2- year warranty by the manufacturer
Cons
Microphones and speakers lose effectiveness if wind speed exceeds 75 mph
Range is reviewed to be less than that stated by the manufacturer 
Does not operate on voice commands 
Multi-functioning buttons (having different pressing patterns for different commands) often confuse users
LEXIN 2X LX-FT4 1-4 Rider Motorcycle Bluetooth Headset with FM Radio, Helmet Communication Intercom...
TheFT4 Bluetooth communication device includes all accessories you need to fit an open face, modular, or full-face helmet.
With the LEXIN FT4, you can call hands-free on your Bluetooth mobile phone, listen to music or voice instructions from GPS navigation, and activate wireless Intercom mode for rider-to-rider or rider-to-passenger intercom talk within a range of 1.2 Miles (2000 Meters) .
The LEXIN MOTO FT4 is compliant with Bluetooth Specification V4.0 supporting the following profiles: Headset Profile (HSP), Hands-Free Profile (HFP), and Advanced Audio Distribution Profile (A2DP).
This headset also provides the industry's best combination of wind and ambient noise reduction with the miniature boom microphone with advanced noise cancellation.
The main unit is powered by a rechargeable lithium ion/polymer power cell that provides 10-15 hours of active use from a full charge. Standby time is over a week.
Conclusion
Lexin's LX-FT4 Bluetooth headset undoubtedly provides several features and specifications for a comparatively reasonable price than other devices of the same kind, because of which the cons can be looked over. Irrespective of the helmet you have or the devices your rider mates use, the way the headset and its accessories are compatible with more than one type of helmets, support 3 main profiles and can be paired to devices other than Lexin make this product highly suitable for you and your group!