Do you love riding your motorcycle? Do you enjoy the freedom to speed on with the unrestricted wind?
It sure can be an exhilarating experience to help you break free from tough routine tasks and simply take a breath of fresh air.
But have you ever desired to have not only the riding experience but also incorporate the possibility to quickly stay connected while keeping your safety in check? Listen to your favorite music? Or even be able to communicate with the other riders around you while on a buddy trip?
Well, you're in luck!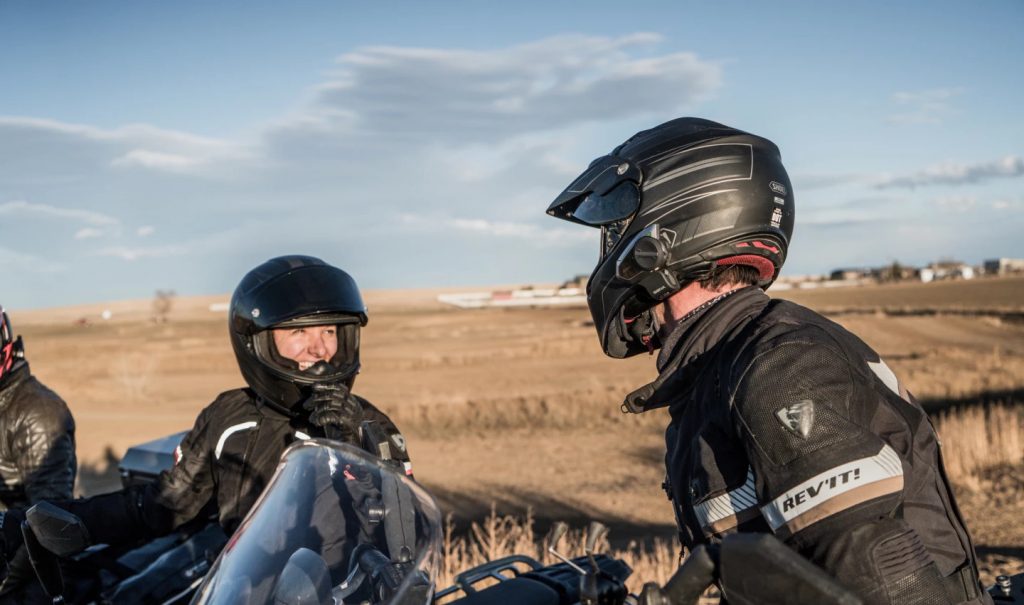 Look no further than the ever famous brand Sena. It has changed the game with its complete dedication to empowering riders with the ability to stay connected and in control while cycling or motorcycling.
From helmets with Bluetooth integrated into them, remote control, even headsets, or voice control options, it has you covered.
With Sena 50S and it's numerous versatile characteristics, your riding and communication just got the upgrade it needed. Simply attach the device to your helmet and enjoy the ride.
Sale
Sena Motorcycle Bluetooth Headset Communication System
Mesh 2.0 Intercom lets you communicate with other riders within a range of up to 5 miles / 8 km (min. 6 riders at 1 mi / 1.6 km intervals)
Multi-Channel Open Mesh allows communication with a near-limitless number of riders and lets you switch between 9 channels. Group Mesh supports up to 24 participants in a private group
Bluetooth 5 connectivity to your smartphone for access to music, phone calls, GPS navigation. Certificates : CE, FCC, IC.
Voice-activated digital assistant access to utilize a smartphone's hands-free functions ("Hey Siri" / "Hey Google")
Upgraded HD Speakers optimized for audio quality, delivering a boost in volume, bass, and clarity. Includes a WiFi Cable to charge the device and to automatically download/install firmware updates via WiFi connectivity.
Easier Connection and Conversations.
How amazing would it be to get to talk to the other riders in your vicinity with just the press of a button? Or to communicate with your buddy riding along with you without any effort? Because when you're on a motorbike, communicating can be a rather difficult job because of the wind and the noise. But the revised Mesh 2.0 feature of this product makes everything possible. It supports a large number of users within the 5-mile range.
Due to advancements in technology, this feature brings forth a strong and reliable connection strategy. This gives rise to many channel communication or even private conversations if you want one.
But that's not all, to ensure privacy, only users invited to the chat can participate. With a single push of the click-to-connect button, it enables you to shift between nine different channels. A creative system of production and responses between the Mesh 2.0 units has made it possible to have eighty percent more data transference while going through tough conditions on the road or riding through harsh terrains.
This mesh also determines the best route to get the message from one user to another. This new feature has definitely amplified the audio trait making the intercom connection easier for the users even in the most demanding scenarios because your safety always comes first. If you ever find yourself having an emergency or need aid in some tough situation, rest assured that the lines of communication are stable and clear and constructed to offer the most.
Voice Command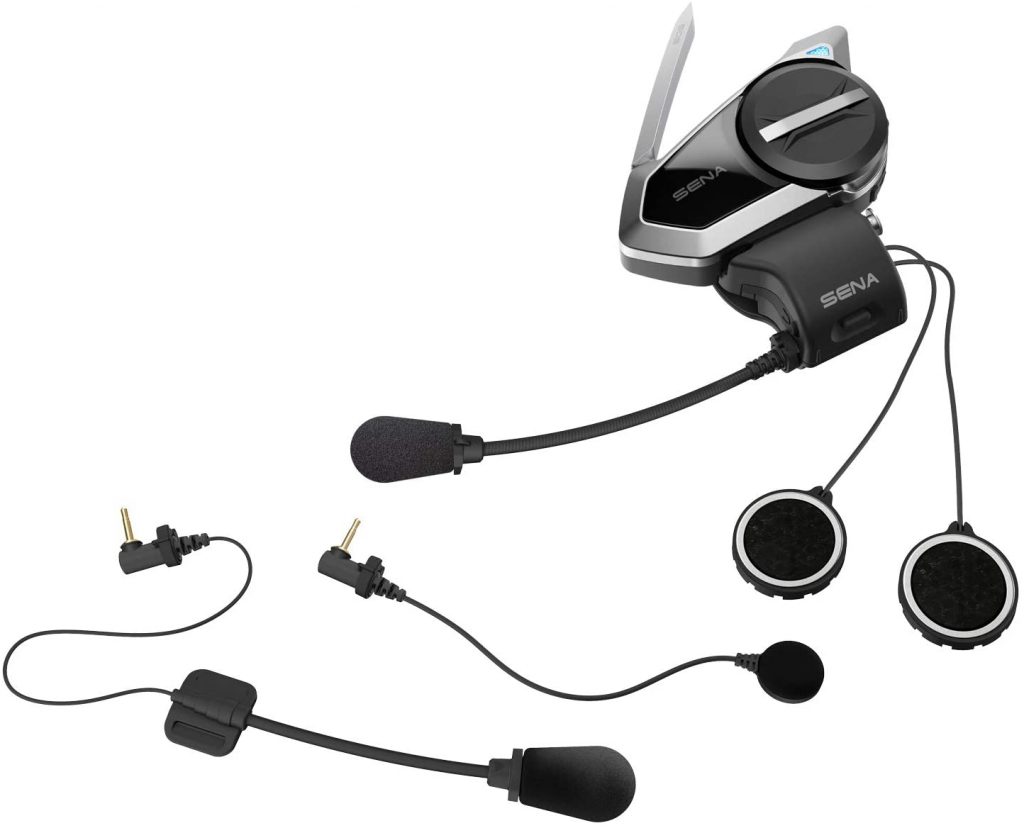 Who doesn't love voice commands? It physically frees you from the hassle of performing the task yourself. And while you are on a bike or a cycle, you can not risk rummaging around in your pockets trying to find what you need. Or even blindly pressing buttons on your device.
This headset can perform your basic tasks without having you stress over anything. Dialing or answering a call or simply wanting to start a group Mesh conversation can be easily done by telling your device to do so. If you find yourself running low on fuel, simply say "Hi Google" and it directs you to the nearest gas station by connecting directly to the Google assistant. Not only that but the voice feature also lets your device dive into your phone's features giving you access to GPS, navigation, playing your favorite song, dialing a number, and plenitude of other options.
And of course, let's not forget the eight different languages this voice command supports: English, German, French, Spanish, Russian, Japanese, and Chinese. So there isn't even a need to wonder about the language barrier aspect.
Wi-Fi Adapter
Meet the product's very own Wi-Fi adapter that includes a high-density batter with thirty percent faster charging as compared to its previous models. Boasting the ability to fully charge the headset in an hour's time, it provides hours of talk time. Additionally, with only being charged for just twenty minutes, it still gives you enough talk time.
While the adapter takes care of the fast charging process, it also handles the updating option! It detects any updates that are required once it's connected making auto upgrades to your device. With one time set up, it's all good to go keeping you and your device up to date.
Specifications
Along with these versatile features, there is a lot more this product offers you:
Bluetooth 5 enabled
Voice-activated assistance
Mesh 2.0 with strong connection reliability
Open Mesh channel that allows group conversations as well as private ones
Glove-friendly design to avoid accidents
Enhanced battery life with faster charging
Redesigned HD speakers for better audio quality
Automatic Firmware updates
Talk time of nine hours on Mesh and fourteen on Bluetooth
Utility app that makes everything manageable.
Wi-Fi cable to charge and download or install updates
Multi-language voice command support.
Pros
Tactile physical interface
Ease of use
Advancements in clarity 
Increased battery and talk time
Built-in equalizer settings   
Extra bass
Easy installation
Water-resistant
Accessories 
Wi-Fi dongle
Cons
Choppy music with Bluetooth connection on.
Short Bluetooth connection range 
Some difficult button placement 
Mesh keeps dropping
Buy on Amazon
Customers' Reviews and Conclusion
The verdict on this product is overall a positive one with users thoroughly commending the features provided. The comfort of easy accessibility and use has made many customers happy. Features like the Mesh, improved quality of speakers make this a sure pick among motorbike lovers. The utility app is another applauded component that many users appreciate.
Though some hardcore bike riders do find a few issues like app glitches, short-range problems, and voice control matters as they do believe these features can be looked at and improved with the updates provided.
Every user prefers to have things tailored to their own particular needs, however, despite some minor lagging, there is no denying the fact that this product is a sure choice of the majority of bikers. With the vast variety of options that it offers, it is certain to make you a very happy and long term user.