Remember being on a motorcycle journey with your friends, but either one of you gets separated or you can't communicate effectively. To make your life easier motorcycle intercom or communication systems are there.
Oftentimes the problem is not about how people get separated while riding, but the area you are in has weak signals. All of this makes it difficult for you and your friends to communicate and coordinate together.
The era we are living in is continuously progressing and updating different technology. It is essential that we keep up with these changes or we will soon be living in a nightmare.
Motorcycle communication system is just another device that is a step forward towards the future. Motorcycle communication systems make it easier for you to keep in touch with your fellow rider friends. With such devices you can never go astray or lose sight of others. You don't even have to focus on anything other than the road while riding, how great is that?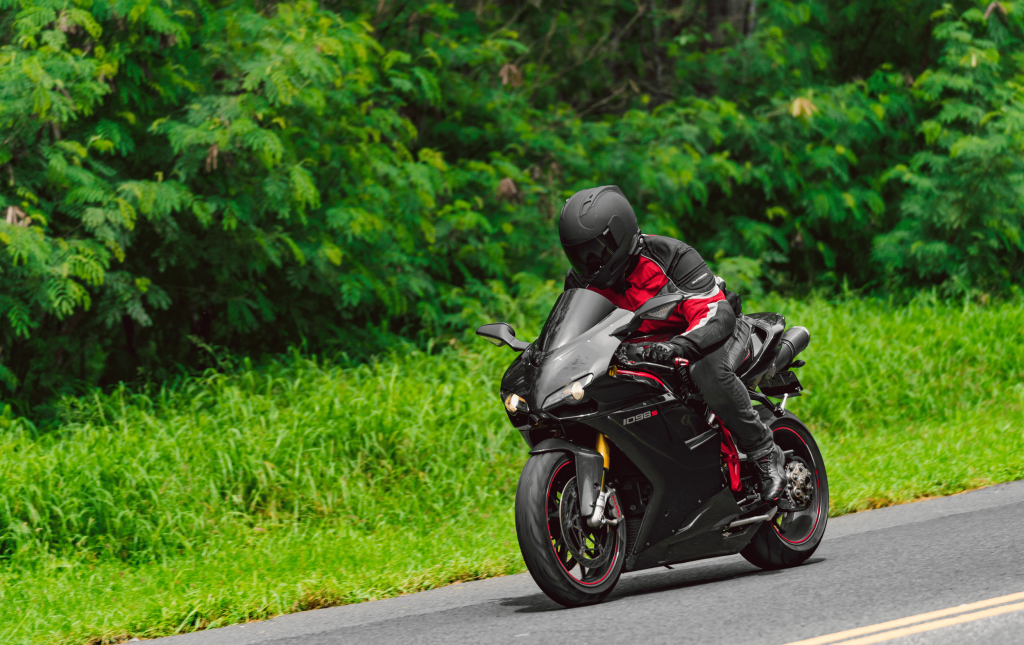 It is possible because now these communication systems are usually mounted in the helmet of the riders. It makes the entire communication effortless, and less distracting. This helps in decreasing accidents and increasing effective communication and navigation.
Types of Motorcycle Communication Systems
Wireless
These are one of the most recent and updated technologies yet made. It is an advanced technology that makes connectivity easier. It uses different radio technologies like GMRS, FM, and Bluetooth, etc.
The one that is most commonly used among these technologies is FM. It works similar to radio frequencies; however, the frequencies used are different and narrower so that your communication is clearer.
FRS works similar to GMRS but FRS works well in short distances, and GMRS is great for long distances.
Wired
These are the oldest and primitive methods of connectivity. To have a wired communication system for motorcycles you will have to use a central box with batteries and electrical wires that will be given to each of the riders.
It is impossible to use such technology, which is why they were never used for motorcycles. Wired systems are not efficient or convenient in this case.
Wireless Bluetooth
No matter if you are a rider or not you will know how common and popular wireless Bluetooth systems are, they have a lot of pros and cons of their own. However, they still have the most versatile options.
One of the most common reasons for the Bluetooth communication system being popular is that you can easily connect it with other riders' devices.
Bluetooth systems are great to have a private conversation, but when it comes to long distances they aren't the beat ones. Bluetooth systems don't quite work if the distance between the two connected devices is small.
Not only in terms of communication you can use this device for music and attending calls. You can also share your music with your rider friends.
Now that you are well aware of the different types of communication systems that can be, here is a review of one of the best motorcycle communication systems, Sena 20S EVO.
Sena 20S EVO Review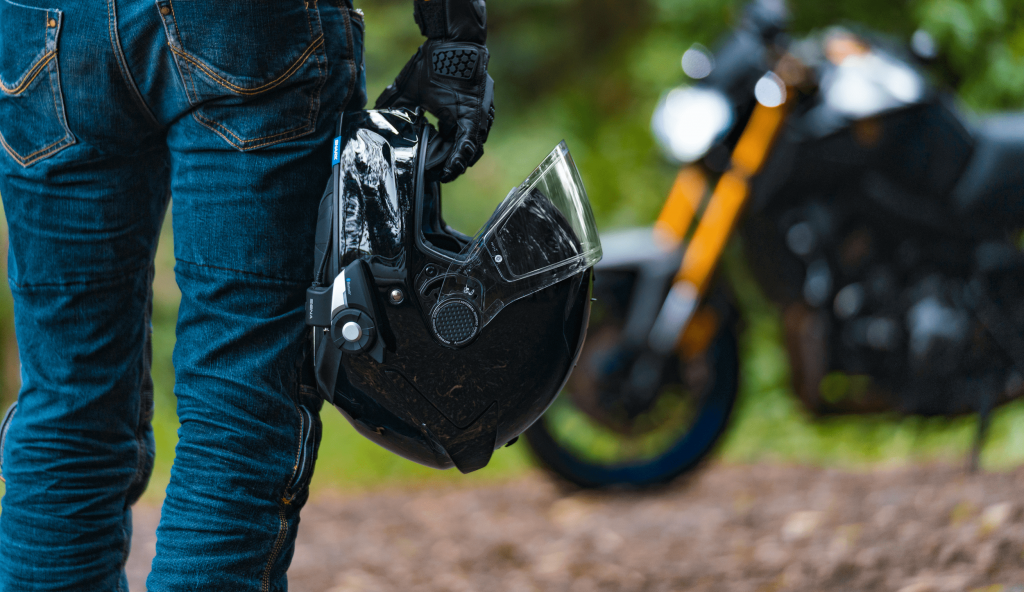 Here is a review of one of the best devices that you can use while riding a motorcycle.
Sena 20S EVO is a Bluetooth communication system. It is different from the original 20S as its flip-up antenna is redesigned into fixed-type shark fin antenna. Due to this redesigning of the antenna, we now have an increase in stability over a distance. There are a lot of updates made to the hardware as well, which makes its performance even better.
Sena 20S EVO provides its users with HD quality voices; which make music, calls and GPS instructions more enjoyable and clearer. With this device you can have so much fun riding with your friends and other fellow riders. The voice is so clear you will feel like you are talking face to face.
Sena 20S EVO Bluetooth communication system has advanced Noise Control that makes it easier to listen to your fellows amidst the wind noise. It cancels out the wind noises so that they don't interrupt your outgoing and incoming calls.
The device is extremely up to date as you can work over long distances like 2 km or 1.2 miles. You can talk with seven riders at once. Communication while riding has never been easier.
One of the key features that makes Sena 20S EVO better than many other motorcycle communication systems. It has Audio Multitasking technology, which makes it possible to have a conversation while listening to music, GPS or FM Radio. The device makes the experience of audio multitasking great. It doesn't sound like interruption at all; it gives a smooth listening experience. This feature will save you from being frustrated while you are trying to multitask during riding.
Another most important feature of Sena 20S EVO Bluetooth communication system has motion sensors technology that allows you to pair or set up your device easily with the others. You will be surprised to know that you can pair the Bluetooth devices by just simply shaking the Sena 20S EVO. You can even use a hands free voice command, it gives you complete focus on the road and not on anything else.
There is an additional option of remote control, which makes it further easier for you to handle your Sena 20S EVO Bluetooth communication system.
You can utilize and talk with your Sena 20S EVO Bluetooth communication system for up to 13 hours. Another thing that may interest you is that this device is DOT approved, making it safe.
The device is cost-competitive as well, compared to other Bluetooth communication systems. Given the services, features, and benefits Sena 20S EVO has we can't deny how good the price range is. The features of this device are unmatched in quality when compared to others. Even though the original 20S was great, the redesigned version is just so much better and you can clearly notice the differences.
Features of Sena 20S EVO Bluetooth Communication System:
Antenna
As they have upgraded from their old style of the flip-up antenna, their shark fin style of the antenna makes the device durable and sleek.
Communication With Intercom
Sena 20S EVO makes it possible for you to communicate with your other seven rider fellows. It helps in keeping everybody closer to each other. Due to this feature you don't fall behind others, and even if you do, by getting directions from others you can meet back. 
During riding if you want to decide where to stop next or if someone ahead of you wants to report a dangerous thing they endured then this is how you guys can communicate and be safe. 
Application
If you are using Sena 20S EVO you can manage and even change the headset's settings only by using Sena's app. You have the option to choose either standard or high definition sound. 
Connectivity
The connection is great, and there is no static noises in the background as you may experience in some other devices. Using the high definition option you will get to hear crystal clear voice of others. 
Having a good connection is essential, because a bad connection may get your focus out of the road and you wouldn't want that. 
Range
The range is 1.2 miles and if you compare it with others, you will see that this range is quite great. However, if you stretch the distance more than this, you will experience bad connection or no connection at all. 
To be safe from such issues you should stay within the limits.
GPS System
We all know how essential it is to have a good GPS system. It helps you keep on track and you can even share the GPS with others. By doing this you all will be able to stick together and that way you all will be safe. 
Having a better GPS is highly crucial when you are riding in an unfamiliar place. If you get lost and can't connect with your friends then your GPS is what going to help you. 
With the Sena 20S EVO, You can get voice navigation guidance from your phone.
Durable
Sena 20S EVO is a durable device as it is dust proof and rain proof, which makes it endure rough weather and even heavy rains. You can see that the headset has a rubber flap which is there to protect against any water damage.
Phone Calls Control
In this device you can control phone calls, answer or reject them easily once you get a hold of it. You can even use a voice command to answer your call for you.
Great fit
The device is a good fit for multiple helmets, and helmet styles.  
Conclusion
All these features and benefits are available in the Sena 20S EVO Bluetooth communication system. You get so many great features at market competitive rates. There are no better options than this one. It really gives you what it says, and the updated version makes sure that you get the best of everything.