The requirements and needs of every rider are nearly similar. Whenever we plan to go out on a voyage, the first thing that clicks our mind is our safety. This is why we all want a helmet that is competitive and offers the primary features. To be liked by a zealous rider, a helmet must be engineered without a fault.
With this review, we are introducing the third-generation helmet of this brand. Without further delay, let's see why this helmet qualifies to be on your wishlist.
How We Made This Review?
When we did the Scorpion Exo R420 review, we came across many interesting features. After dissecting the design of this helmet, we got to know that it ensures high airflow. Besides that, it helps in reducing the noise levels at high speed. When we read the customers' feedback, it was clear that the improvements in the interior and exterior structure won their hearts. 
Not only that, our team got to the bottom of every feature of this helmet to resolve your queries.
Things You Need to Consider Before Buying
This helmet is keeping up with the reputation of the existing gears by Scorpion. The reason why it is seen as a competitive option in the market is its price. Even though there are endless helmets, this fitment and finish are still hard to find. 
Also, you observe many helmets having the same features at a higher cost. The first impression you get after holding and examining this helmet is that it's a good buy. 
Additionally, those who have a history of using Scorpion helmets will see advancements and amendments in this version. However, one thing that has remained constant is the budget-friendly cost.
Cost
In this review, for openers, let's talk about its price. This version has left behind the simple shell shape of the old model. Nonetheless, the makers remember the primary purpose of this motorcycle gear is to ensure good value and protection.
Starting At $150, you get many styles and colors to suit your preference. As a final product, this helmet has a transparent shiny coat of paint with relevant detailing. We know that for several riders, style doesn't count as a significant element. But, honestly, in a helmet under when 200 dollars having good looks with top-quality features is a true blessing.
Features
The outer body of this helmet is made up of tough polycarbonate. In this price range, you will not find a helmet made up of fiberglass. That doesn't mean that polycarbonate lacks at providing safety to the riders. The drawback of this material is that it is on the heavier side as compared to the fiberglass or composite material. According to many bikers, polycarbonate is more effective in absorbing the energy of an impact. This is because this material is flexible. 
To detect the properties of the shell, it went through tests where it was squeezed and pulled with force. The Snell and DOT approval are enough to prove the protection of this helmet. In addition to that, it eliminates the shrill and scraping sound from the outside.
Secondly, for ventilation, you will see a chin vent, one crown vent, and a rear exhaust vent. It may be a bit shocking, but these three vents are sufficient for the excellent airflow that this product offers.
Actually, the chin hole is a 3-way vent containing a slider. The job of this slider is to move from the closed shield position to the face vent. The top vent also has an opening and closing slider. These vents provide a passage for air to pass through the helmet via large internal channels. After a while, this air moves out of the rear exhaust vent.
Due to this ventilation system, you don't feel sweaty in hot weather. To keep the shield clear, we need air to blow up on the back. So, the chin vent comes with an anti-fog coating. In most cases, this combination is successful in doing the task perfectly.
This helmet has a transparent face shield with an Ellip-Tec II ratchet system. Because of this hinge system, you can pull the shield backward to block the entrance for wind and water. Basically, the ratchet helps to keep the shield clear and in an open position. Moreover, there is a tab and lock for swift operation. Optically, the vision from the opening is vertical. So, it may not be for tracks.
Usability
By the Ever Clear shield, we mean that it has a fog-resistant coat on the back of the face shield. That is so far one of the best anti-fog systems present in a full-face helmet. Although it works in a controlled manner, you may face difficulties in cold weather. Because when the surrounding gets cold, you may feel the need of opening the shield to get some air. 
Sometimes, when you have thick motorbike gloves on, it is tough to perform a few actions on your helmet. The sliders on the shield are easy to operate once you get used to them. The shield saves your face from the harmful effects of sunlight. 
Features and Benefits
Design
This helmet is available in vibrant and bold graphics. Speaking of variety and preference, the color schemes of this helmet are invincible. The clear cover of paint is done over the solid and graphical patterns precisely. The helmet is solid in colors has slightly less cost than the printed ones. Graphics. Usually, you will see a ten-dollar difference in the price of these two designs. 
In terms of weight, the company announced that they were coming up with an extremely lightweight helmet. An average full-face helmet is a little more than 1kg. Unfortunately, they were unsuccessful to fulfill this parameter. Overall, this is a large-looking helmet with a weight of around 1.7 Kg. Having said that, it is not as light as an average polycarbonate helmet.
The weight depends on the comfort of the rider. Hence, it varies from person to person. That is why when we asked the consumers, they had mixed feeling about the weight of the helmet. For some, it wasn't really a big deal. On the contrary, a group of bikers said that it feels heavy on long highway rides. The point is that it is completely up to you whether you are fine with the weight or not.
Modes
This helmet has only a single mode, i.e., it is a full-face helmet. As it was made to offer exemplary protection towards crashes, the shield stays in one place during your ride. Because of this, you have to remove the helmet from your head when you stop by a store. 
Maintenance 
The internal fabric and padding of this helmet are comfortable and plush. To be honest, this is how a helmet must feel against the face of the biker. It has the improved KwikWick II anti-microbial lining. This fabric is popular for keeping sweat and germs away from the helmet. After an exhaustive ride, you can separate the liner from the helmet and put it in the laundry basket. 
For instance, if you have planned a day trip, you can wash it even a night before. The quick-drying nature of this liner brings this much ease to your life. 
On sunny days, the liner will keep your head cool and dry. Similarly, during winter, it has a warming effect. As the liner is moisture-wicking and anti-microbial properties, it is make admired by many bikers.
Apart from that, the Kwikfit cheek pads are removable as well. Furthermore, you can wear your spectacles and glasses inside the helmet. The emergency release system of the cheek pads enables you to take it off for a quick rinse.
Other Features
To secure the helmet on your head, there is a Double-D ring fastener. They are proven to work better than micrometric hooks. Still, those who are not familiar with them may find them tricky. In reality, this type of fastener is old school but offers safety.
Moving on to the communication devices, this helmet has wide speaker pockets integrated into the layered EPS shock-absorbing lining of the helmet. The cut for speakers in this helmet can accommodate the biggest Bluetooth device used for communication.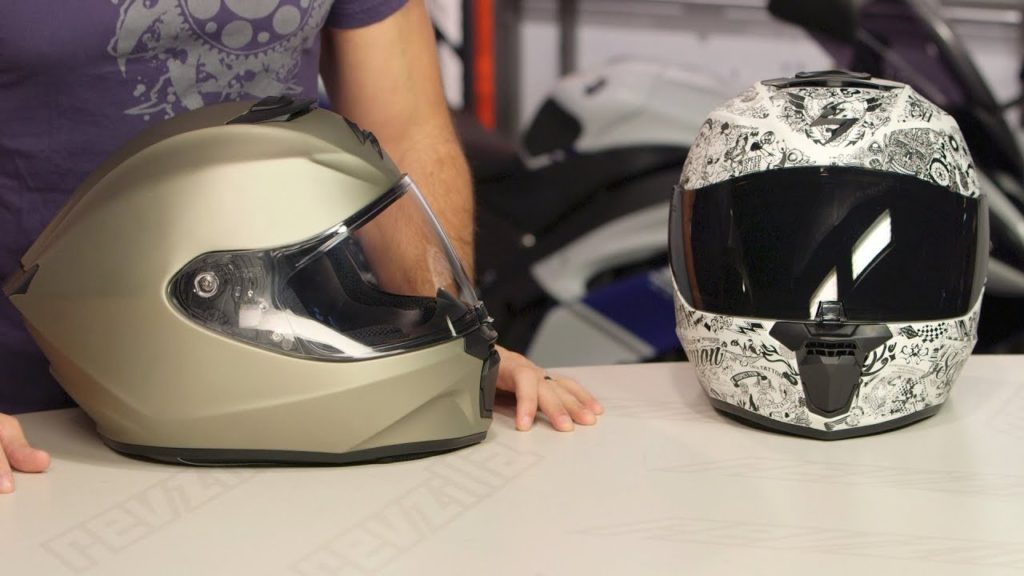 Has Certifications by DOT and Snell

Improved KwikWick II anti-microbial liner

Construction is solid 

Amazing overall finish 

Fitment in updated

Great ventilation with 3 vents
A tendency for buffetting at speeds
With our review, we have put every aspect of this helmet in front of you. In our opinion, this is a high-quality full-face helmet available at a cost-effective price.
We reckon that this classic helmet will keep you satisfied and safe for years. Besides that, aerodynamic system, noise reduction, clear shield makes it the perfect choice for all kind of rides.