Being among the most reputed helmet brands in the market, ILM is honed for its excellence and durability. They have pushed forward products that made trends and have valued safety and comfort just as much as an artistic design. Safety is a major concern nowadays with the road becoming ever-crowded and people driving recklessly.
If you're seeking to invest in a bike helmet that makes you feel like a MOTOGP racer while protecting you like a soldier at war, look no further.
Exceeding the safety standards set forth by DOT and FMVSS-218, ILM full-face helmet is a reassurance to its users when it comes to damage control. It is built with a lightweight frame that is easy on the spine but strong enough to take a hit. The visor is anti-fog, safety straps hold the helmet firmly in place, while a built-in neck scarf will keep you cozy during those freezing winter nights out.
Buy on Amazon
Strong & Sleek Design
Built from a lightweight yet strong and durable ABS material, the helmet's outer shell imparts strength and resilience to the helmet. The helmet uses a quick-release strap system to keep it fixed in place over your head. This system is far superior to the conventional D-ring system which at times can become tedious to operate.
As you cut through the streets at high speeds, granted they are empty – safety first, the aerodynamic build of the helmet will be much appreciated. It is designed specifically to cancel out or at least minimize wind drag to a minimum, giving you an unabated riding experience. The lightweight frame is another selling point that makes it easier to keep the helmet on for long rides without straining your neck. All in all, the helmet is a high tech option at an affordable price and its design has much to be appreciated in this regard.
Versatile Visor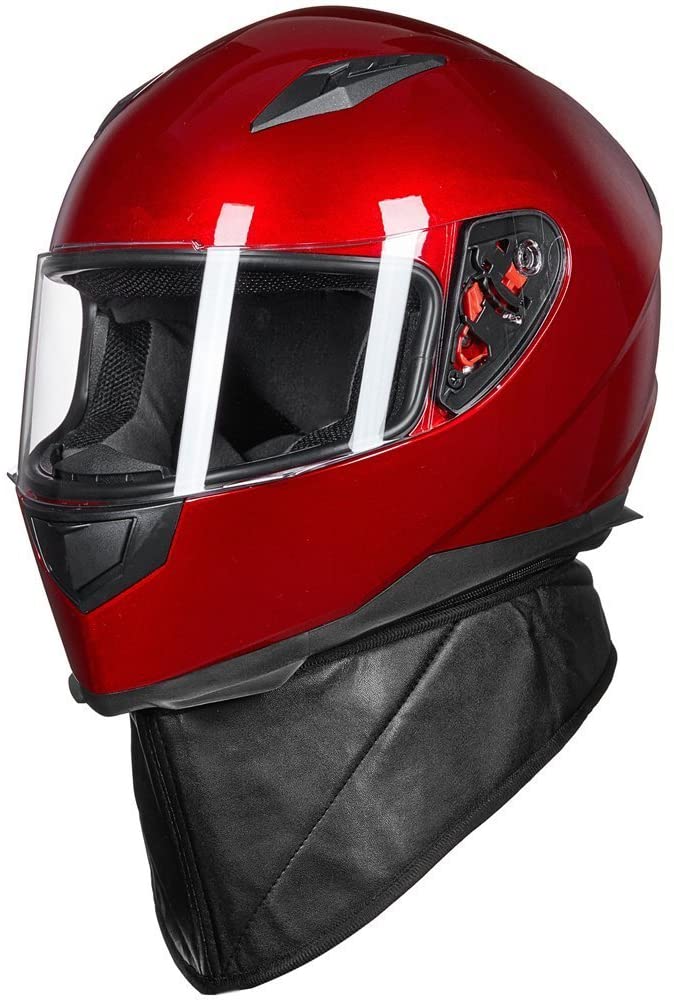 Conventionally a visor or face shield protects your face from windburn, debris, bugs, and dirt while you're riding. ILM full-face helmet does that but it can do so much more too. Equipped with two visors, one clear and one tainted, the helmet is ideal for all visibility conditions. While riding under the clear sunny sky, you might want to switch on the tainted or shady screen to protect yourself from glare. In the dark of the night, however, you will yearn for maximum visibility and this is where the clear screen will come in handy.
No need to toggle between two helmets for night and day, because ILM delivers the best of both worlds in one packaging. The visor also comes with an anti-scratch feature that will keep it clear while its anti-fog technology will prevent moisture condensation on the screen. The latter is not flawless but does get the work done in most cases. If you feel like it's not working for you, you can always upgrade.
Thorough Ventilation
Effective ventilation may be the difference between a comfortable ride and being smothered while moving ahead. Summers are especially brutal when it comes to breathability, with so much moisture and warmth, no wonder people don't take their bikes out for a spin in the afternoon. This problem, however, can be circumvented with the ILM full-face helmet. The helmet is loaded with perfectly positioned air vents that allow easy air-flow throughout the helmet. This means that breathability will never be an issue, even in the summers. There is one thing though, the noise from the wind rushing in may spoil your music experience but then again, on the road, keep your eyes peeled and ears open.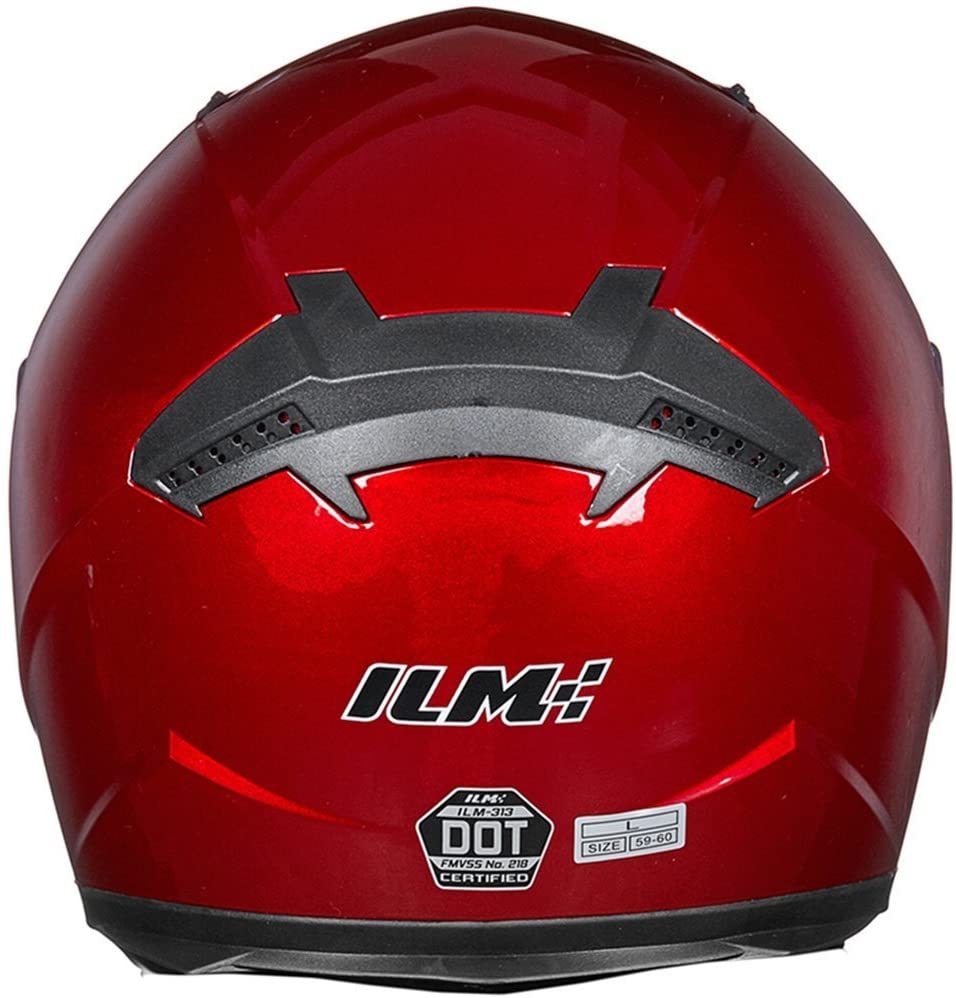 Features of ILM full-face helmet that set it apart
Here are some features that set ILM full-face helmet apart from the crowd:
It is built from lightweight ABS material which makes it comfortable for wearing.
Its aerodynamic construct allows you to ride on at top speed without any mitigation from air drag.
Quick release strap lock mechanism is superior to the conventional D-ring system.
Neck scarf keeps you cozy in the winters or during those long chilly nights out.
The visor is anti-scratch and anti-fog.
There are two face shields, one clear – for sunny days, and the other shaded – for nights.
A thorough ventilation system makes aeration possible and keeps the interior relatively cool.
The helmet weighs in at a mere 4.85 pounds, making it ideal for long rides.
It is also extremely sturdy and durable, it can absorb the momentum of impacts.
It is approved by DOT and FMVSS-218.
The internal lining of the helmet is removable and can be washed once it becomes dirty.
The internal padding will mold according to your facial features and fit perfectly.
There are eleven different colors to choose from and they all look fantastic.
The helmet is also very affordable.
Customer Reviews and Conclusion
ILM has maintained its status as one of the best motorcycle helmet brands out there. With its durable products that come with attractive aerodynamic constructs, the company has amassed a huge customer pool. The appraisals and endorsements this helmet has attracted from an appreciative client pool that has used it, is enough for us to recommend it too. With so many colors to choose from that go perfectly with your ride, nothing is keeping you from buying it.
Aside from the innocent looks and beauty of design, the helmet is also very practical. It is affordable and offers a great deal of features only found in products from the high end of the price tag. For instance, a lightweight construct allows you to ride your bike for hours without straining your neck. Its dual visors also make it a two in one deal, allowing you to ride at any time and with optimal visibility. The best feature, however, and the most quintessential ingredient to any helmet, is safety. ILM full-face helmet is perfectly safe and heavens forbid if you shall ever be in an accident, this helmet will be a lifesaver.
Also Read: Freedcon Bluetooth Helmet Review