Every biker needs sporty gear to provide protection and an eye-catchy look. Usually, a full-face helmet that is available in the market is made of polycarbonate. The objective behind using this material is to make it suitable for the tracks.
However, the type of motorcycle helmet you want depends completely on your use. Also, we are normally more interested in the ones that offer a lower price. Hence, if you feel like this is the time to purchase a new full-face helmet, we are adding another option to your wishlist.
How We Made this Review?
In this review, we will share the features of this helmet. So, you will know the things you can expect from this helmet. When our team was making this review, we took the insight of the bikers who own this helmet. Aside from that, we observed the track performance of this helmet to know if our valued readers are getting the correct gear.
After analyzing its performance on the road and chatting with the owners, we decided to make a review of this product. If you find it tiresome to search for reviews on the internet, we have got you covered. By reading this article, you will not have to do exhaustive research on this helmet.
Things to Consider Before Buying
There are a bunch of elements that you need to look at before you spend your money on a helmet. First of all, you must check if you are investing in the right sort of helmet. Buying the wrong type is a total waste because you can't use it for the rides you prefer. We have discussed the main factors here to help you choose the best helmet for your daily usage.
Cost
We all know that the cost of the product has the most important when it comes to buying any gear. No matter how many features it offers, we always ask about its price prior to making the final decision. This helmet comes around the price tag of $200. It has a comfortable liner on the inside. But, you can't expect it to give you a luxurious feel. When you are spending less than $200 for safety gear, it is not logical to wish for luxurious liners. In case you are fond of loud graphics, you can pay some extra dollars to get it.
Features
This is a long oval fit helmet. Usually, people complain about helmets being round. Therefore, to give it a comfortable fit, this shape was designed. Only those who have a round face can have an issue wearing this helmet.
The lining is known as Hydra dry and moisture-wicking. Due to this liner, you remain sweat-free for at least 10 hours on hot days. Furthermore, the EPS liner has amazing vent channels that provide a way for the air to flow without any limitation. There is a fog-free face shield on the helmet. It ensures a vision to a 5-degree angle. Not to mention, this improves peripheral vision. In this price range, the face shield allows clear vision. 
With the pro lock shield locking mechanism, the visor is properly sealed. This seal keeps the breeze and rain away from your eyes. The face shield has a quick-release mechanism that is not as simple as the other helmets with this system. To swap the face shields, you don't have to get the tools. By pushing the shield, you can take it out.
The feature that deserves appreciation is its ventilation. The ventilation of this helmet gives competition to the premium helmets. Even today, helmets from high-end brands don't offer this ventilation. 
The helmet has multiple inlets on the front side that are easy to manage. Other than that, you will find six exhaust vents on the rear side. The size of the vents is nearly 10 mm. This is rarely seen in full-face helmets. 
Also, the chin vents have three switches at different positions. With the help of these switches, you get the option to control the cooling system. You can do this by opening and shutting the crown, brow, and chin vents.
Usability
Even though this helmet is not very light in weight, it reduces fatigue for several hours of rides. Moreover, the interior of the helmet stays cool during the day. If you are going on a hot weather trip, it will keep the temperature down. Less fatigue and superb ventilation are the two things that are a blessing for every rider. Fortunately, this helmet provides both of these characteristics. 
Once you secure the chin strap, it fits like a new pair of socks by Nike. This is what makes them great for long-distance and joyriding. This helmet meets or exceeds the needs of a buyer at an affordable price that is under two hundred dollars. 
Features and Benefits
Design
The weight of this helmet is slightly more than 3 pounds. That means it lies in the middle from this perspective. It is neither a lightweight helmet nor a heavy one. You can easily wear it on the road without feeling a load on your shoulders. 
The construction material has a role in the improved aerodynamic attribute of the helmet. You will not face discomfort while wearing this helmet.
The icon is popular among buyers because of the eccentric graphics of their helmets. Those who like to look sober can buy plain gloss white, black, or silver models. The models that have a matt finish give an awesome rubbery feel.
The riders with long and narrower head sizes must not stress about the fitment. This helmet is made to accommodate your special demands.
You will get this helmet from the market in four shell sizes. On top of that, you can buy replacement cheek pads in distinct sizes for this helmet. Thus, there are higher chances of you getting the right helmet for your head.
Modes
It is a Full Face helmet that grants many benefits for the riders. It has a built-in face shield to keep insects, rocks, water, and wind away from your face. Apart from that, it is equipped with speaker pockets for Bluetooth sound and communication devices.
The vents on this full-face helmet allow just the right amount of air to get inside the helmet. A survey told us that there are more than forty percent chances of breaking your jaw if you fall while wearing a helmet. This is when this Full-Face Helmet will save you from injuries that are most likely to occur. It also promotes a peripheral vision for the biker.
Maintenance 
The lining of this helmet is the traditional one. A majority of the companies are using this lining for the polycarbonate shells. The main advantage of this liner is that you can remove cheek pads and the headliner swiftly. The padding is ultra-breathable, and the Hydradry fabric absorbs the moisture. The simplicity of the helmet can be noticed with the ease of washing it provides. You can wash the liner in a machine.
Because of this property, it says stink-free forever. By quickly rinsing it in water after a ride, you can keep it clean. The molded breath deflector is also removable to prevent the face shield from the fog in a cold climate.
Other Features
Many people prefer to wear glasses inside the helmet. Unfortunately, it is not always possible to find grooves inside the helmet. To make things smoother for you, this helmet has specific cuts to fit different types of eyewear. 
The build quality of the helmet is topnotch. Many users said that it remains scratchless even after multiple collisions. Besides that, you get a 1-year warranty from the manufactures. And, from the testimonial of the clients, it is obvious that it is not returned frequently.
Because of the vents in this helmet, it is unable to block the noise. That is why you need decent ear protection with this helmet to ride peacefully.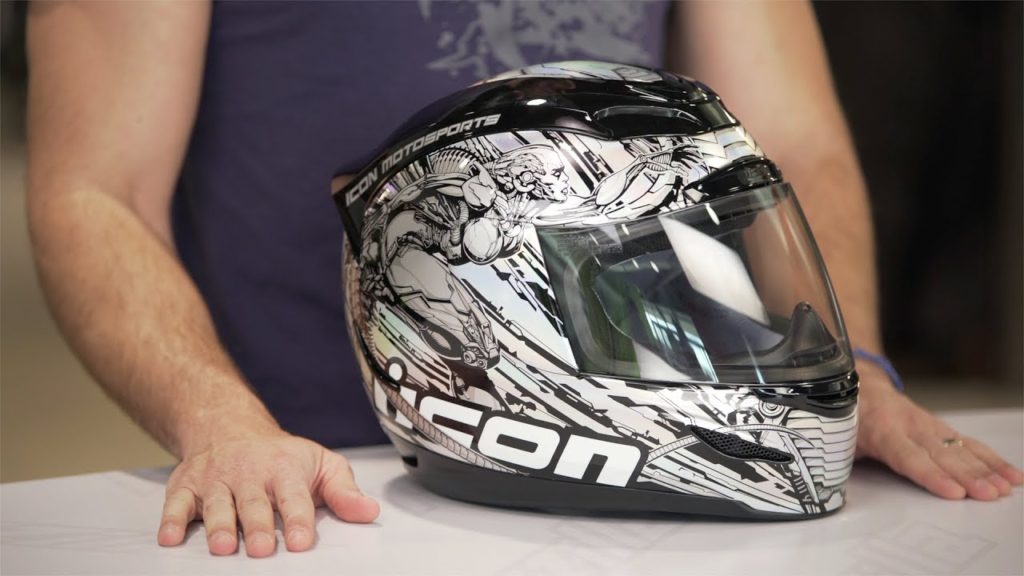 Reliable 1-year warranty

Allows excellent ventilation 

Unique designs and sizes

Mitigates unnecessary buffeting

Swappable face shield with a clear vision

Integrated large pockets to adjust speakers

The price is reasonable
The neck roll is tight

The helmet noise may become unbearable
All in all, at this price tag, this helmet offers a good level of protection. With the build quality, it provides a shield from head and neck injuries. Nonetheless, you can't wear this in rainy weather or extreme conditions because of the leaks. We consider this helmet a good buy, as it can be used for long rides without worrying. 
We have tried to cover every pros and cons of the helmet. So, it is up to you if you're planning to add it to your shopping cart or not.