Buying new motorbikes may be beneficial if you are the type of person who is a bike lover and keeps their bikes or cars for decades. However, if you enjoy changing your ride regularly, buying new would be too expensive and a waste of money. Instead, you should invest in a second-hand motorbike and change it as soon as you get bored of it.
Although buying used motorcycles carries a strong negative stigma. Many people are concerned that they might invest in a bike that has continuous mechanical problems. This might be true if you are not careful, but there are plenty of honest sellers who want to get rid of their bikes for a fair price. If you search for it carefully, you may be able to find a good bike.
When it comes to used bikes, some individuals are confused about how to differentiate between second-hand bikes that are in good condition from bad ones. First, you must examine the overall condition and check if there is crash damage anywhere. Buying a bike from a dealer is perfectly acceptable, and no one should be ashamed of it.
Things to check before buying a used motorcycle
1. Check the Vehicle Identification Number (VIN)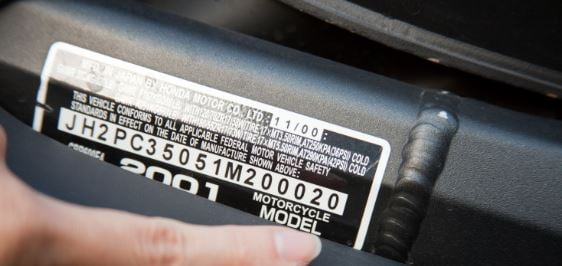 This is where it all begins. If you're looking at a stolen bike, the remainder of this information is pointless. You must check the numbers physically to ensure they haven't been re-stamped. If you're looking at bikes with a high theft rate, bring along photos of factory-stamped numbers for comparison to make sure what the original numbers looked like.
Make sure that the title numbers match the headstock. You can make some money on titling problems if you find your way around the local motor vehicle bureaucrats, but title inconsistencies are a problem for most folks. 
2. Examine the Bike Cold
Tell the seller to leave the bike cold before you arrive, especially if it's an older cycle. On a hot bike, it's incredibly easy to mask starting and running issues of the bike. Check the jugs and pipes to ensure that the bike is ice cold. If the seller can't get the bike started, or if the first minute of running time sounds like rocks being crushed in e blender, you might have some issues once you take the bike home.
3. Examine the Ends of the Bar, the Levers, and the Footpegs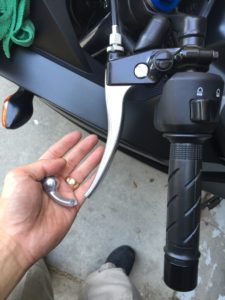 These are the first things that come to mind. The age of levers and footpegs should correspond to the age of the bike. The bike has been dismantled if they are damaged. By clear observation, you can easily find clues regarding damaged parts. When a lever hits the ground, it tends to "curl." Although they might not have been broken, and the vendor may have polished the rash out, a curved appearance usually indicates that they are.
Detachable levers and pegs are also a sign that there has been a crash. If the vendor admits to it, he could be a kind guy who tried his hardest to fix the bike. However, it could indicate that the seller is trying to sell you a damaged bike if it goes unmentioned.
4. Take a Look at how hard the Bike was Ridden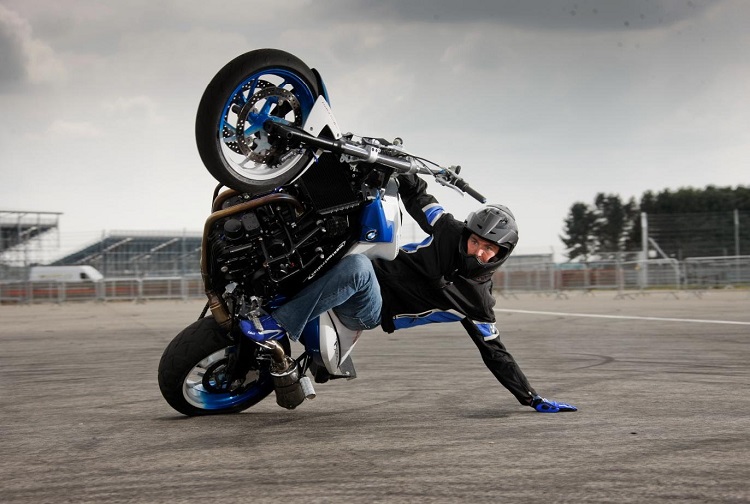 Although this is not a hard and fast rule, hard riding is harmful to the bike, but some people truly misuse their bikes. I inspect the tires. Flat, longitudinally grooved tires identify burnouts. Check the edges of the tires on sports machines. If the tires have small lumps of rubber or microscopic surface ripples to the edges, the bike was probably ridden at the track.
Also, look at the hero blobs that are the small indicators on the footpegs that warn the rider when they're about to scrape more expensive pieces. If those are worn down or missing, the bike may have been taken to the racetrack. Whereas, it seems rather disqualified with the consideration to provide the customers with such details.  However, it gives you an insight about the seller, whether or not he is through with the details or not. That supposedly leads to the authenticity of that product and towards the seller, and he might not be genuine. 
5. Check to see Whether it ever has been Ripped off
Examine the fork and ignition locks. There's a good indication someone went on a joyride if either one is busted. It is important to understand the resale value of bikes before you invest in them. So that if you plan to sell it again, you should know the actual price so that you are not the one with loss.
Try not to overlook the importance of your motorbike and give it a ride to clear your suspicions. However, this will give you an insight into what parts are still intact and what needs to be replaced. That way. You will be able to pick between the best one among them. Besides, the tires also need to be checked whether they are in good form or not. 
6. Remove the Seat
You're going in there to examine the wiring, particularly the parts connected to the battery. If you see factory connectors and nothing appears to be wrong, that's good, but you should be concerned if you see a GPS, fog lights, and two power leads dangling off the bike before you get into the innards.
Moreover, look out for the electrical tapes or a mass of one-color wiring and that vampire connector. Recognize that any electrical disaster could be both costly and difficult to restore. Especially when you are examining the motorbike, you need to make sure that everything gets a test run from your eyes. Sometimes, the sellers try to install cheap connectors and check for multiple colored wires. If they are in a bunch and of the same color, this will be hard for you to identify them. 
7. Examine the bike's Overall Condition
Normally, people are not concerned with the mileage of the motorcycle. Furthermore, the odometer can only state a part of the story about the bike. It would be good if the owner offers you a file of receipts. If the bike appears to be well-kept in general and has matching tires, gleaming, waxed paint, and the wear components such as grips and seat covers have been replaced, then it's a good sign.
Customers generally take great care of one component of their bike while neglecting another. In addition, they either adore or despise their bicycle, so if you see evidence of something that has never been repaired in a while, it could be a sign that the bike has other flaws. 
You must check the oil level and also the brake fluid color and level. Make sure it isn't dark brown or black, but instead pale yellow. Also, look for the dry cables, and pitted fork tubes, and leaking fork seals. Rusted chains should all be examined. Leaks of any kind are invariably bad. Inoperable electrical components, mushy brakes, and rusted gasoline tanks will tell you about the bike's condition.
8. Pre-ride Inspection
Primarily, it would help if you went for a trail ride on the bike. There seems to be no explanation why a trial ride cannot take place. If you're paying the entire price for the bike in cash, the vendor can never object to it as he fears losing a sale. You may also give them your identity card, but pre-riding checking is a must-have. 
9. Examining the motorbike cold
It is easier to merge the cheap upgrades upon a hot bike, and they go unnoticed. However, when purchasing a used motorcycle, let it cool down for a while. Running problems can be masked down while the bike is hot, whereas this won`t get ignored when the bike is ice cold. 
Suppose it vibrates and sounds like a blender filled with rocks, then it is not safe for you or good enough to be bought. If your bike experiences difficulty in starting or while racing, then it is somewhat problematic. You should avoid such kind of hassle on your hands. 
10. Search for them
There are a lot of factors worth looking at. Sometimes, the market offers plenty of viable options to opt for any of them according to your liking. Moreover, always make a little checklist of yours about the features that you require in that motorbike. 
You can also check out multiple showrooms or the dealers that offer useful courses throughout the multiple models. Always go for the upgraded features that can be easily replaced if worn out or degrade over some time. 
Are used motorcycles worth buying?
There are multiple reasons which conclude that used motorcycles imply a great deal upon the bike lovers. For someone who loves to taste the wide variety of motorbikes in their short life span, used ones are so far the best and possible solution for them. 
However, with every used product, there come certain shortcomings that you should figure out before taking them out for a ride or before making a purchase. You can replace your old and rusty bike with them. Moreover, it costs you less than new ones. Besides, teenagers love something fun and thrilling, so they are always looking for an upgrade. 
In addition, let`s cover up some mileage over it. It might give you an idea of the engine`s life and what the bike requires for its maintenance. In addition, it will tell you about the age and health of the motorbike. 
Furthermore, an average amount of mileage considered healthy without any distraction or interruption is about 40,000 miles on a high-mileage motorbike. At the same time, 25,000 mileage is considered best for the sporty ones. 
FAQs
1. Which month is the best for buying a used motorcycle?
Winter is the ideal time of year to purchase a motorcycle. There are fewer motorcycle buyers when the temperature has dropped below freezing point. This means fewer buyers, and so there's a higher chance of reduced prices for motorcycle dealers. But, of course, this excludes the places where it is summer all year.
2. Which motorcycle is the most reliable?
Yamaha has been considered as the most dependable motorcycle brand, according to Consumer Reports. A four-year-old bike has an 11 percent failure rate, which is considered the best among manufacturers. In addition, the brand is regarded for providing economical yet exceptionally reliable transportation.
3. Why should I buy a used motorcycle?
When you're on a limited budget or simply looking for a great price for motorbikes, buying a secondhand motorcycle is a great option.
4. What is the best second-hand motorcycle to buy?
There are many options of different brands that offer used bikes in good working condition. In addition, many renowned brand's second-hand bikes work efficiently, including Honda CBR125R 2004, Yamaha YBR125 2005, and Honda VFR800i 1998 to 2013.
5. What should you do after purchasing a used motorcycle?
Elements that need to be replaced are clutch or throttle cables. Wheel bearings, suspension servicing, and, also chain and sprockets can also be changed. However, each bike will require different maintenance so prepare beforehand.
6. Should I purchase a used motorcycle as my first motorcycle?
You don't have to buy a normal motorbike, but it's usually a smart beginning if you have no idea what kind of riding you prefer. You should expect your first bike to be precisely what it is known for. Since it's your first bike, give it a chance.
Final Verdict
Looking for a used motorbike is a time-consuming process that involves many considerations. Motorbikes are used in daily lives for all purposes. Some use it for fun rides with friends and so look for a brand new bike. However, some people invest in bikes as they need them for their daily use. 
It is advised to invest less and in second-hand bikes, so that not only your budget keeps intact, and you can also enjoy the benefits of a motorcycle. Furthermore, it would be best if you kept looking for a trust-able vendor who sells with honesty so that you do not have to worry about issues related to the second-hand bike.