The Bell Helmet Company has persisted for around 50 years and has made quite a name for itself. Good service and durable products define this company and the product in discussion is no exception. The company is a subsidiary of Vista Outdoor and is honed for manufacturing high-quality helmets that assure safety.
Bell helmets distinguish themselves with their sleekness, elegance, and functionality. Though they look good, they can sustain stress and offer complete protection. Bell Qualifier Helmet follows the same principle and emerges as a product worth recommending. This article aims to explore the features of the said product and to analyze how it may serve you.
Bell Qualifier Full-Face Helmet
Versatile Face Shield
The versatile face shield, otherwise known as the visor, is one of the main selling points for the product. The visor is photochromic and anti-fog, meaning that it will never allow visibility to be compromised. NutraFog II is the technology responsible for its anti-fog property, this prevents moisture from tainting the screen. This means that even in those dark winter nights, you will not have any trouble getting your bearings straight.
The visor also protects users from the harmful ultraviolet radiation from the sun with its anti-UV screen. These rays are an ever-present danger in broad daylight and a potential mutagen, so good riddance. The screen will also maintain its sparkly shine owing to its scratch-resistant surface.
Another alluring feature, associated with the visor and exclusive to Bell Helmets is the ClickReleaseTM. This system allows you to shift through the various photochromic adjustments the helmet has to offer and without hassle. The screen shade is vital for optimizing vision and to prevent straining the eyes. Imagine this, you're on the prowl in broad daylight, in this case, you'd want to switch to a dark shaded screen. Conversely, during those late-night hangouts, a clear screen will be more efficient. No need to switch helmets, just use the ClickReleasesTM and switch the screen shade.
Effective Air Vents
Ventilation is another feature that sets Bell Qualifier apart from the rest. An ideal helmet should allow air to flow freely within the helmet and not cause any duress to the user, and this makes the Bell Qualifier an ideal helmet. Equipped with multiple air vents, the helmet allows air to flow through unabated and allows you to adjust the flow rate.
If you're driving at a high speed, in a race perhaps, you'd want air to gently brush past your face, not to smother it. Normally, there would be nothing you could do about this but with Bell Qualifier, you can adjust the airflow rate. While racing past your neighborhood, you can make the air vents slower. However, if you are riding peacefully at an average speed, you'd be better off with the vents set to maximum, so that the inside of the helmet gets perfectly aerated.
This way you can enjoy your ride without worrying about air pressure. Another vent, located near the chin area clears out any mist that might accumulate on the screen due to breathing, although that is unlikely to happen in the first place. And in all, such effective ventilation makes Bell Qualifier a decent choice.
Comfortable & Safe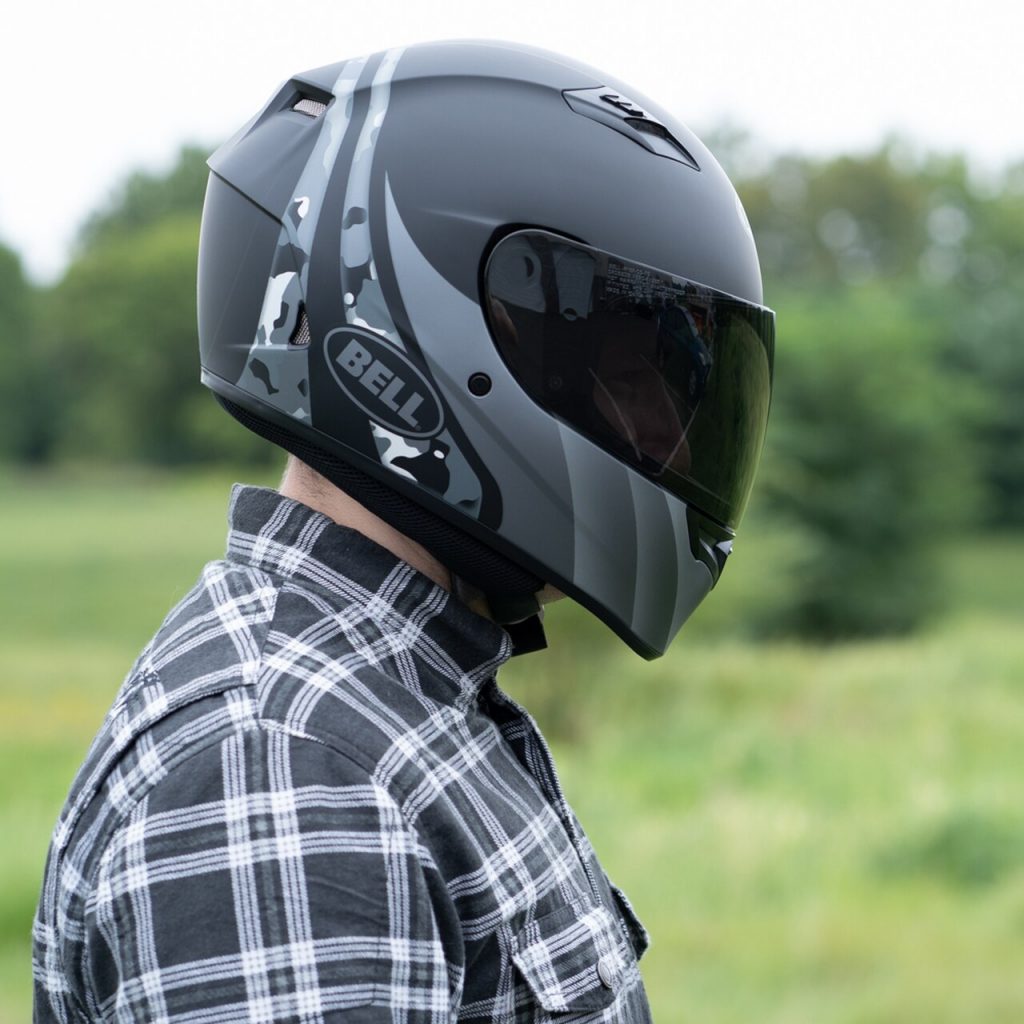 The helmet is available in weights ranging from 1.6 to 4.8 pounds depending on the shell size. Its lightweight is attributed to the polycarbonate framework that makes it strong yet light at the same time. The lightweight frame makes the helmet ideal for long rides and comfortable to wear. It does not strain the neck and does not feel like a burden. Your face will not experience any significant pressure while wearing the helmet and you can ride for hours without worry.
Its light build should not deceive you, however, as the helmet is very durable and very strong. It can absorb the momentum of collisions and minimize the pressure of impact, saving your skull from damage in the event of a crash. Moreover, a D-ring lock system keeps the helmet in place and keeps it from loosening up. These safety features have earned it endorsements from DOT and ECE, since it aced all safety measures.
Notable Features of Bell Qualifier Helmet
Here is a quick rundown of all the notable features of Bell Qualifier Helmet:
It is a lightweight, comfortable, and safe product, having exceeded all safety requisites.
It has an attractive design and is available in several colors such as matte black, matte grey, and gloss black.
Its aerodynamic design allows users to ride on unabated by wind drag force.
It has an effective and controllable air ventilation system suited for all speeds.
The visor is anti-fog, photochromic, and anti-UV.
Face screen shades can be switched with the exclusive ClickReleasesTM functionality.
It comes in several sizes, ranging from extra small to triple extra-large, making it ideal for all.
It is perfectly padded and fits comfortably.
The cheek pads are 3D laser contoured and grip the face perfectly but not too tightly.
The interior padding is removable and washable, so you never have to settle for a dirty helmet.
Padded wind collar serves to check noise entering the helmet, hence keeping you safe from distractions.
Internally built speakers are also perfect for listening to your favorite music while riding, however, make sure to stay focused.
The helmet comes with a solid 5 years warranty, which itself is enough to help you develop trust in the product's durability.
Conclusion
Customers of the company have generally offered very generous remarks for the product and why wouldn't they? It is hard enough to find a high-quality helmet at a reasonable price so when a reputable company offers just that, nothing is keeping you back. The helmet offers so much and stands out from the crowd owing to its unique features. If you're looking for investing once and getting a product that lasts, think no further and get your hands on Bell Qualifier.
Also Read: Sena 5S Review – The Upgrade You Need