If you like going out on trails on your dirt bike or adventure bike with your buddies, you must have come across the situations where you feel lost or left behind.
A good GPS device is what you need if you like going into the wild. The Trail Tech Voyager Pro is much more than a GPS device. Apart from excellent GPS navigation, It comes with other features like buddy tracker, speedometer, and Bluetooth connectivity to intercom units so that you can hear the voice navigation, control music, make calls, get your messages on the screen while you are talking to your buddies.
As far as the features go, The Voyager Pro has a lot more that we will be discussing further in this article.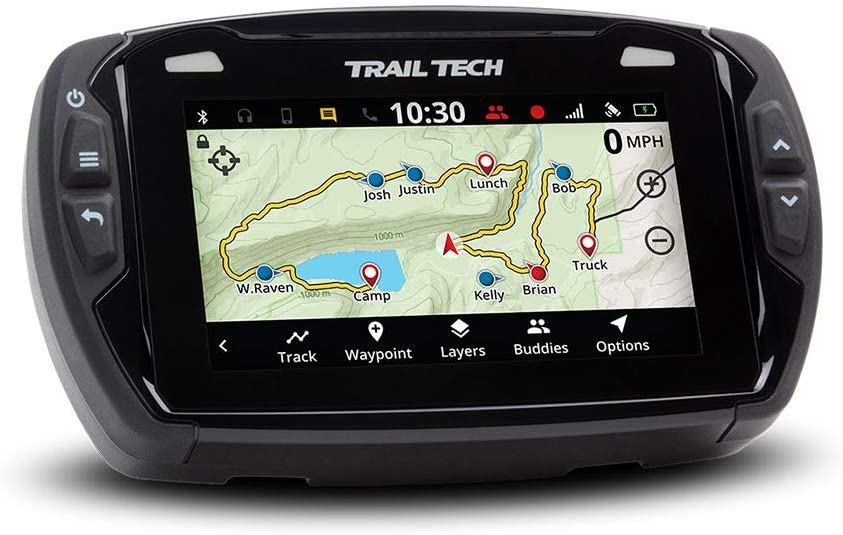 Screen
The Trail Tech Voyager Pro comes with a 4-inch color screen, which is IP67 rated. Which means you don't have to worry about the dust or water getting into it. Also, the screen has a very nice touch response, which works even with your gloves on.
The screen is easy to see in every light condition, day or night. In the daylight, the screen is bright enough and at night time it changes to dark mode and doesn't blind you with the brightness.
Most of the time, you will be using the arrow buttons for navigation through menus and modes. But, for the times when you need to use the touch screen for zooming in or out of the maps, it is very smooth.
You can also select the TachBar Screen to show your speed and trip meter and temperature on the screen.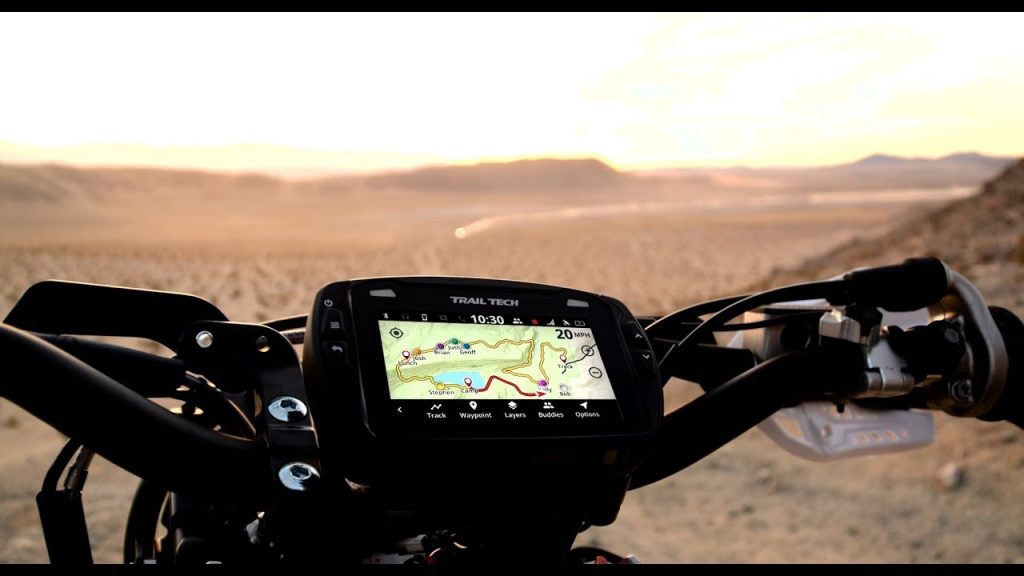 If you ask us, the screen mode you will be using the most is the map screen. You can select different gauges to be shown on the screen along with the map depending on your usage. For eg. When you are on a dirtbike, you will use different gauges and when you are on an adventure bike, you can select different gauges.
You also have the shortcuts on the map screen like logging, tracks, buddy tracking, waypoints. Which makes it very easy to navigate through different options.
One of the best features of the maps is that you can choose different colors for routes. Let's say you are somewhere where you have multiple trails and you want to go on a particular trail and don't want to lose directions. You can go ahead and select your route and color it so that it always stands out and your are always on track.
Media
On the media screen, you can connect your phone and your helmet headset and you can then control your phone from the Voyager Pro. The music controls take up most of the screen, which is awesome and makes controlling your music easy. On the bottom of the screen you have other options from your phone like Dialer, Contacts, Messages.
Buddy Tracking
Buddy tracking is an awesome feature if you like going out with a group or your partner. With buddy tracker, you can connect upto 20 riders. You can see on the map where everyone is going.
In case your partner or buddies get ahead of you, you don't have to worry because you will know where they are and you can follow their route on the map.
Another cool thing about the buddy tracker is the buddy tails. In the scenarios when you don't have certain trails downloaded on your device and your buddy gets ahead of you and you feel like they are on the middle of nowhere. They will be leaving behind a tail that you can follow to get to them.
The buddy tracking feature also includes the emergency buddy beacon. In case of any emergency or break-down, if your buddy gets ahead of you, you can activate buddy beacon and your buddy will be notified and can get back to you easily and help you.
Range
The range of the device is which is something variable and depends on a number of factors. In optimal conditions, you can get a range of up to 5 miles of range for buddy tracking. But, if you are in the canyons, the range can reduce depending on the area.
Battery Life
The battery life on the Voyager Pro is 3 hrs. To be honest, it is not too much. But, considering the fact that it has to be mounted on your bike and connected to the battery of your bike, the battery backup really doesn't matter.
Miscellaneous

The Voyager Pro has some other cool features that are worth mentioning. One of the features we like is that you can set it to show an indicator light when you hit a certain temperature on the engine.
From a security point of view, It is an expensive device and can get stolen if you don't take it off your bike. To make it more secure, you can lock the device to your bike with an Allen key, so no one can take it off while you are away from your bike.
The built of the device is also pretty solid. It doesn't fall off even when your bike falls down or rolls down from a height. It is not break-proof but will last a long time unless you don't ride in extreme conditions.
Final Verdict
After extensively testing the Trail Tech Voyager Pro, we realized that there was something that we were missing. The Voyager Pro makes riding in the trails much easier and the buddy tracker really helps stay with your friends. The buddy tracking feature is way better than Garmin's basecamp.
If you are looking for a great GPS device, then this really something you should get. It surely is a little more expensive than the other products available in the market but for that price, it also delivers a lot more.