Are you interested in knowing the Scooters and Mopeds that look like Motorcycles? If so, then you are in the right place. Keep reading to find out everything there is to know about them. Although Scooters, Mopeds, and Motorcycles are all desirable and affordable substitutes for cars for doing errands and traveling, there are a few similarities and differences among them.
How are Scooters and Motorcycles different?
Scooters and Motorcycles are different in more than one way. Take a look at the following differences among them:
1. General and Acceleration
Motorcycles and Scooters both are two-wheeled vehicles but Motorcycles are engineered for greater speeds and are fitted with greater acceleration whereas Scooters feature a step-through frame and footrest structure.
2. Learning to drive
If you are a beginner, you would then have a better chance of learning how to drive a Scooter as compared to a Motorcycle. Apart from those Scooters that appear the same as Motorcycles, the learning process is quite simple.
3. Engine Capacity
The majority of the Scooter engines are less efficient and somewhat smaller than the ones on Motorcycles. The typical engine capacity of a Scooter varies from 50 to 150cc. Even so, the smallest Motorcycle engine normally begins at 250cc. But a few of the Motorcycle-looking Scooters do possess 250cc engines.
4. Tires and Base Of The Wheels
Motorcycles have a wheel size of 16" whereas the wheel size of a scooter varies from 10" – 16". One more difference between the two centers about the tires and the base of the wheels. It ensures that it is easier to drive a Motorcycle at fast speeds than it is on a Scooter. Whereas Scooters, on the other hand, can better accommodate lower speeds due to the space among the wheels and also the tire dimensions.
5. Speed
The speed of both varies by engine size. But, mostly motorcycles are faster as they are fitted with larger engines.
6. Riding on highway
Both can be ridden on highways.
7. Legality
Scooters can be ridden by 14-year-olds and above but motorcycles can be ridden by 16 and above.
8. Motorcycle license requirement
Both require a motorcycle license to be ridden.
9. Built-in storage
Scooter engines are mounted on the rear side of the front axle. It provides a large area across the wheel where the driver can hold cargo and helmets. Whereas Motorcycles lack this internal storage capacity (apart from big touring Motorcycles). Even so, riders need to fasten hard or smooth-sided saddle backpacks for storing.
How are Mopeds and Motorcycles different?
Just like Scooters and Motorcycles, Mopeds are Motorcycles that are also quite different. Review the following differences among them:
1. General Difference And Acceleration
A Moped is a two-wheeled vehicle fitted with bicycle-like pedals that the driver makes use of to move the vehicle while a Motorcycle is also a two-wheeled vehicle but is engineered for greater speeds and is fitted with greater acceleration.
2. Engine Capacity
A Moped has an engine capacity of 50cc whereas a Motorcycle has 250cc or larger engine capacity.
3. Wheel Size
A Motorcycle has a wheel size of 16 inches or larger whereas the wheel size of a Moped varies.
4. Speed
A Moped has a speed of 28mph whereas the speed of a Motorcycle varies by the size of the engine.
5. Riding on highway
A Motorcycle can be ridden on a highway but a Moped cannot.
6. Legality
A Moped can be driven by 15-16-year-olds whereas a Motorcycle can be ridden by 16-year-olds.
7. Motorcycle license requirement
Riding a Motorcycle requires a license to be ridden whereas the necessity of license varies for Moped by states.
Scooters That Look Like Motorcycles
Now that we've discussed all the differences between both, let's look at the examples.
1. Kymco 700i MyRoad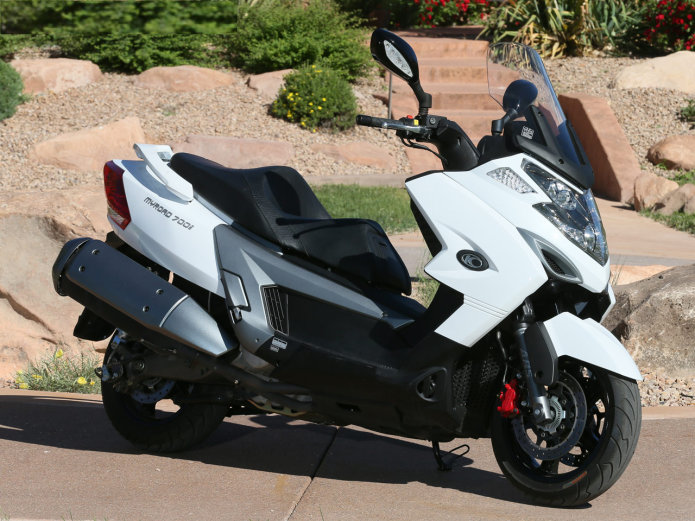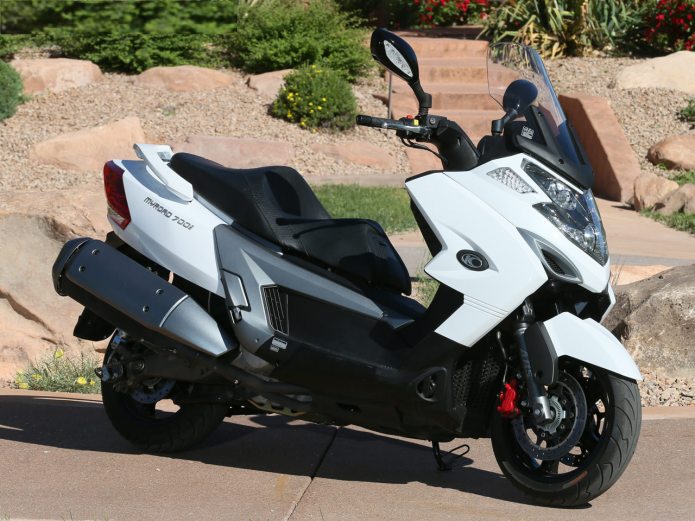 This scooter features a 699cc engine along with keyless ignition, a computerized movable suspension, and an ABS. It allows you to reach the highest speeds of over 110 mph as well.
2. Gilera GP800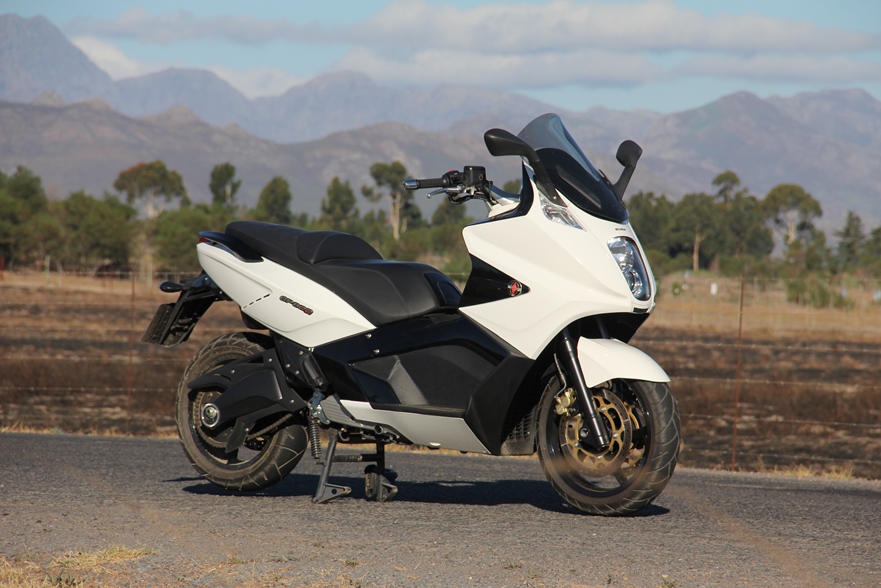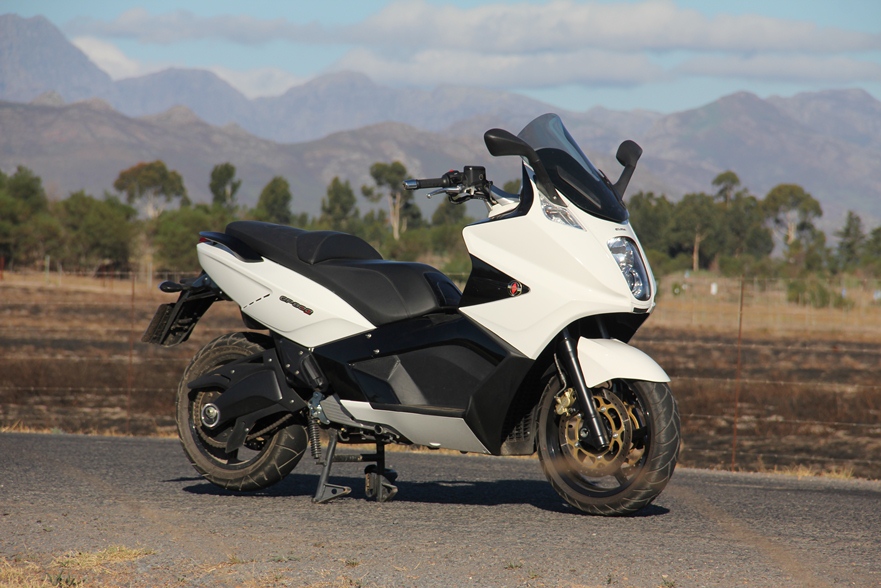 The Gilera GP800 is powered by an 839cc motor. Thanks to it possessing the v-twin-engine, the beast can even reach 75bhp readily. Even though it's huge and appears kind of like a motorcycle, this scooter is very lightweight (weighs 248 kg). Even now, it's said a great deal regarding the fact that it can reach 120 mph.
3. Yamaha T-Max 500
The T-Max may be relatively small but that doesn't prevent it from showcasing nearly all the features you'd want on a motorcycle. This scooter emerges with an engine of 499cc and a sporty framework. Also, wind safety capabilities are worthwhile to notice.
4. Honda Silverwing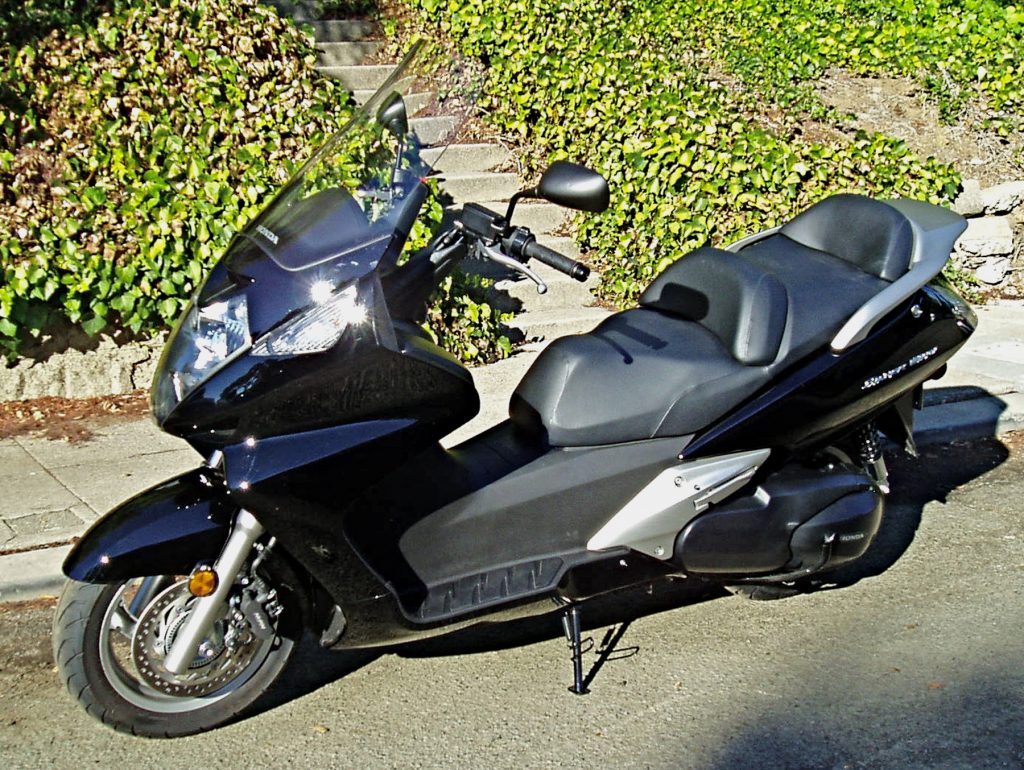 The Honda Silverwing has a 582cc engine, but it is not the largest of the available scooters. Being Honda's flagship maxi-scooter, it arrives with the framework you would demand a motorbike-like scooter.
5. Suzuki Burgman 650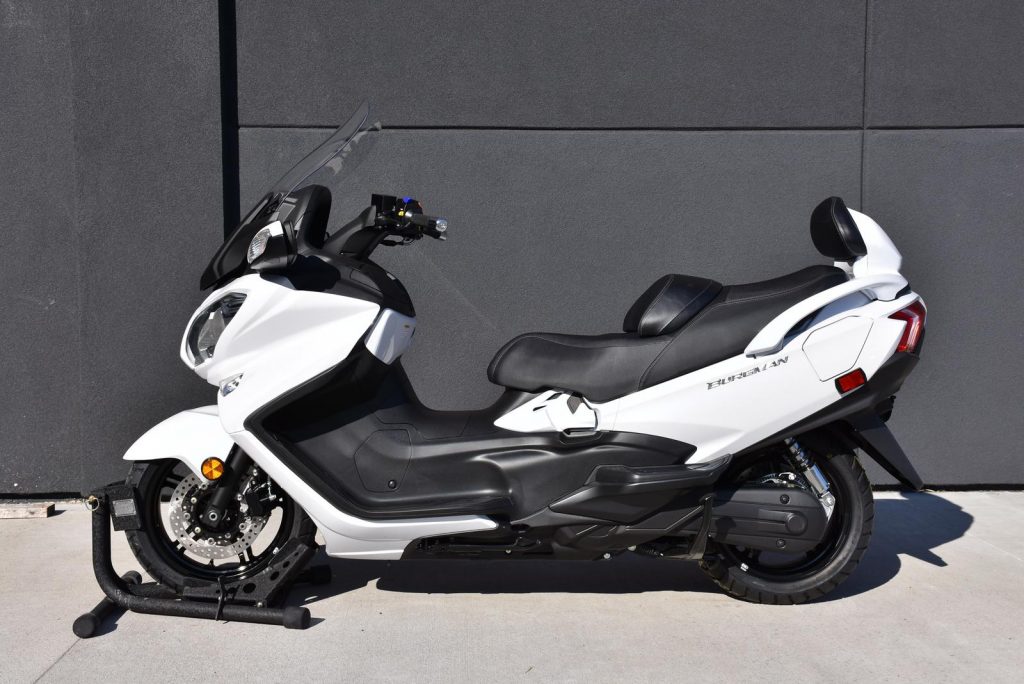 The Suzuki Burgman 650 arrives with a 638cc engine, ABS, and push-button control. It is rated amongst the top motorcycle-looking scooters and performs well and securely even if the seat level of 755 mm is slightly lesser than that of a motorbike.
Mopeds That Look Like Motorcycles
Below are some of the Mopeds that look like Motorcycles:
1. TVS XL 100 Comfort
The TVS XL 100 Comfort is fueled by a 4-stroke 99.7cc engine providing 4.3bhp power, has a maximum speed of 60kmph. It arrives with a wide and pleasant seat, a removable front seat with a durable flat-bed foundation to allow load handling.
2. Eastman ET110
This Moped has a 107cc displacement, 7 bhp @ 8000 rpm maximum power, 7.2 Nm @ 5000 rpm maximum torque, 4-speed gears, and a fuel tank capacity of 4.50 liters.
3. Petra Sprint
This Moped has high-strength panels and a reinforced body. It is steady and guarantees comfort and flexibility. This moped has a 984cc engine and a 4 cylinder petrol engine.
Conclusion
Knowing the differences among the three is extremely important so that you can decide properly. But do look at all the necessary features so that you can get your desirable ride without wasting any money.
Also Read: How To Start A Motorcycle Club