Riding motorcycles is fun. But, all the fun fades away when you want to carry supplies with you while you ride.
You don't actually get many storage compartments in most motorcycles to keep things when you are riding.
As a motorcycle lover, you might sometime wish that you could go for small grocery shopping on your bike.
But sadly, the only place you will have to store anything is in your pockets. That's not a very practical solution.
We will discuss in this article, why most motorcycles don't come with a practical storage compartment.
Why Motorcycles Don't Have Storage Compartments?
In modern motorcycles, storage is a big issue, as the only space in the name of storage is a small little compartment under the rear seat of the motorcycle. Which is good only for storing the toolkit that comes with the motorcycle
Every since motorcycles became popular, people were looking for something that gives the riding feel of a motorcycle and storage capacity of a scooter.
It is not that no one ever tried adding a storage compartment to motorcycles. In the mid-70s a few big names like Kawasaki, Harley, and Suzuki had a meeting to discuss if they could come up with something that can solve this problem.
But, If they add a storage compartment to the motorcycle. There was no way it could be done without compromising on the riding quality of the motorcycles and making few other compromises that motorcycle enthusiasts would not have liked.
The only way it was possible to do it without making changes to the shape of the motorcycle was reducing the fuel tank capacity by moving the fuel tank under the seat and using the front portion of the motorcycle as storage.
This would be the same as it is done in scooters, which results in a reduced fuel capacity of around 5 liters. Whereas, on motorcycles, it is somewhere from 12-18 liters.
There was a divided opinion between people. Some wanted practicality and some wanted pure performance and the feel of riding a motorcycle.
Adding extra storage compartment to motorcycles would also mean that they would need to completely rethink the design.
Another reason why big companies don't take the idea of adding storage compartments to there motorcycles seriously is that people would not want to have motorcycles with a reduced fuel capacity of around 5 liters. Because motorcycles don't give high fuel economy, unlike scooters due to obvious reasons like having large displacement engines.
Few companies have tried making motorcycles with storage compartments that are large enough to accumulate a full-face helmet. Due to which, they had to move the fuel tank under the seat and reduce the fuel capacity. Which gave a feeling of riding a scooter and is not widely accepted by motorcycle enthusiasts.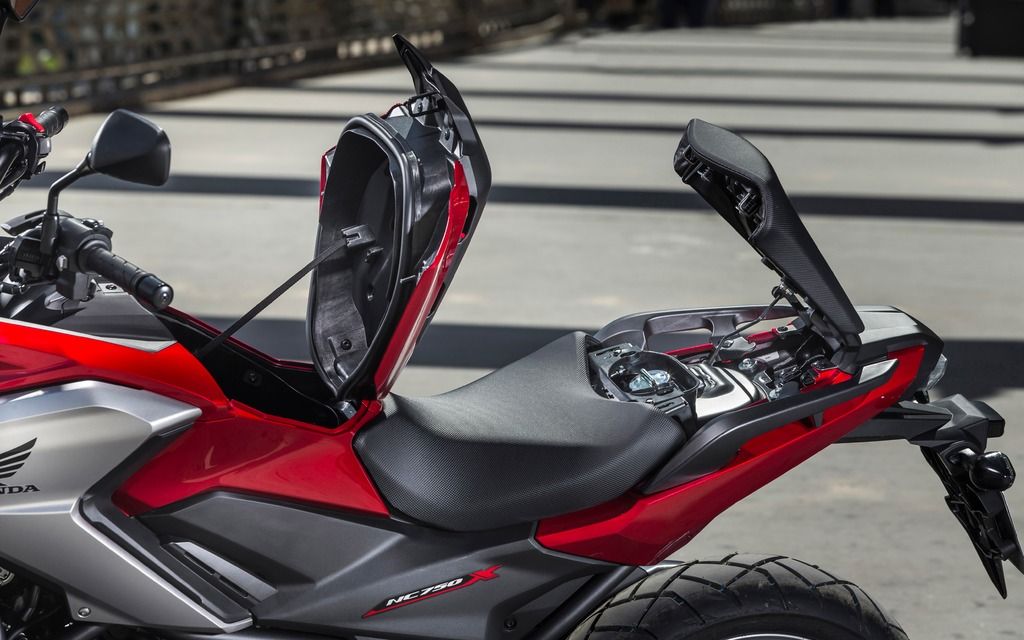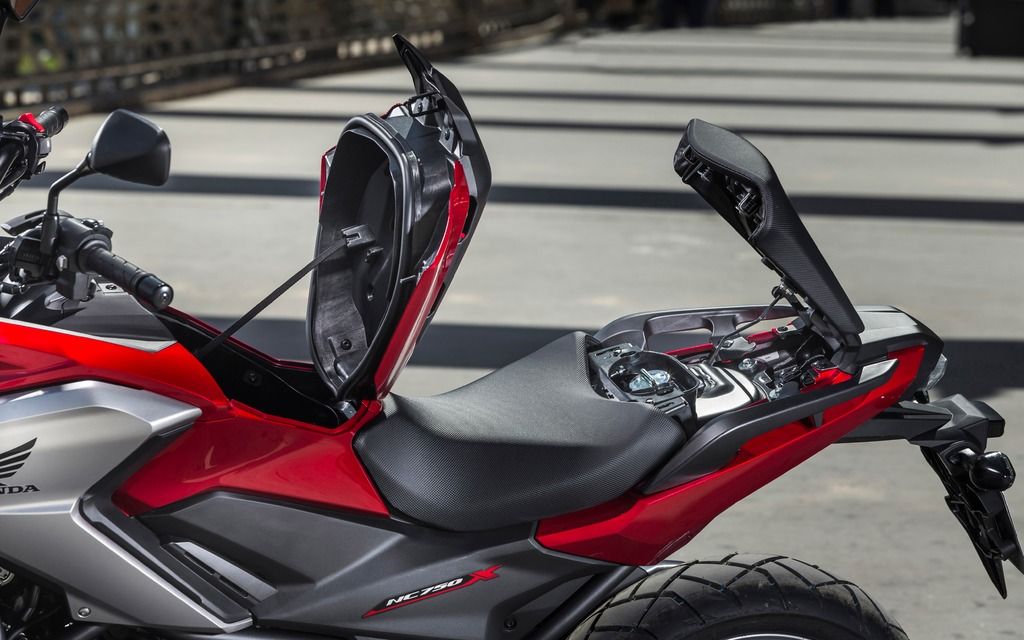 Taking into consideration that most people would prefer a larger fuel tank instead of a storage compartment. Most companies refrain from making bikes with storage compartments.
It is also practical to have more fuel capacity rather than having a storage compartment because you would need a lot of fuel if you go on a motorcycle trip and sometimes you can't find gas stations for miles when you are away from the city.
But, where do i store stuff when I'm riding?
Where To Store Stuff On Motorcycle?
When you want to go on a long ride, you would need a lot of stuff like snacks, power banks, water bottles.
While there are a few bikes that come with storage compartments, you can still have additional storage on your normal motorcycle.
Motorcycle Storage Accessories:
1. Bags
Bags are the easiest storage option available for daily commuters. You can store your basic stuff like mobile phones, cameras, water bottles, and snacks. Bags are practical and can also be used for other things apart from biking.
2. Tank Bags
If you feel like carrying a bag on your back is not something you would like. A tank bag would be suitable for you. These bags can be attached to the tank of your motorcycle fuel tanks with the help of a latch. These bags can be a little smaller than your regular bag. But, they are very practical. As you can store your regular stuff in the bag just like you would do with your backpack. Most tank bags come with a transparent top compartment, where you can place your phone and use it for navigation.
If you don't like the idea of tank bags, there are also bags that you can mount on the back seat of your motorcycle.
Motorcycle Seat Tail Bag Backpack Dual Use Motorcycle Waterproof Helmet Bag Dirt Bike Accessories
【Multifunctional Usage】 Fit most of the motorcycle, dirt bike, dual sport and enduro, it can also be used as handbag and shoulderbag for easy movement.
【Practicality And Versatility】 A Classic Look and all the features you could ever want.A good item to store your helmet,wallet, phone, camera, energy drinks, cigarette, etc.Also features a expandable bottom section to enlarge storage space.It's also a decoration to your motorcycle with modern design.
【Durable Material】 Motorcycle tail bag is made of high quality PU leather, water resistant, you can use it in rainy day (But not for heavy rain).
【Motorcycle Tail Bag Measures】 16.9"L x 11.8"W x 6.7"H Standard / 16.9"L x 11.8"W x 11.8"H Expanded ; Weight: 1KG.
【Easy Installation】 Tied the back seat bag to your bike's cushion with the 2 strips, tighten it, fasten it with the 4 buckles.✱ Package Include: 1 x Rear seat bag 1 x Rain cover 2 x Buckle strap 1 x shoulder strap
3. Top Box
Top boxes increase your storage capacity by a large margin. If you are going on a motorcycle trip and want to carry a lot of stuff with you, you can also attach a top box on the rear seat of your motorcycle. This will add a lot of additional storage to your motorcycles. Some top boxes can even accumulate a full-face helmet
Sale
4. Panniers Or Saddle Bags
Panniers come in a set of two. These are two storage boxes that attach to the left and right side of your motorcycles back seat. These are huge and add large storage capacity to your motorcycle. Panniers are usually used for long road trips, where you would want to carry fuel and camping materials with you.
Sale
5. Bungee Cords
Talking about camping most camping stuff can be stored inside the panniers. However, to increase the capacity you can use bungee cords to tie your camping tent on the back seat of your motorcycle. This can affect the balance of your bike. So, be careful while mounting anything on your bike and make sure it is aligned in the center of your bike.
Cartman Bungee Cord Assortment 28 Pieces with Motorcycle Net
2pc 40" 8mm, 2pc 32" 8mm, 4pc 24" 8mm, 6pc 18" 8mm bungee cords , 8pc 10" 4mm mini bungee cords, 4pc 8" 4mm canopy ties, 1pc 15" by 15" Rubber cargo net, 1pc Carrying bag
The perfect combination of high-quality latex core + rubber core has both the softness of latex and the strength of rubber.
Color coded by length for convenient selection, Make use of the smaller bungee cords with balls on even the tiniest items to get the right amount of tension and securely anchor things down.
1pc 15" by 15" motorcycle cargo net, essential for storing spare helmets and jackets or equipment and luggage while you are on the road, with 6 hooks to hold down luggage and other things.
Cartman bungee cords are perfect for any outdoor activity, always keep it in your backpack. Whether you're packing for a camping trip, storing packages in the garage, moving boxes, fastening items to your ATV, bicycle, boat, motorcycle, trailer, kayak or SUV
Conclusion
Motorcycles have been around for so many years now. But, there is no practical way till now which allows us to add a storage compartment to a motorcycle without hindering the riding performance and making the motorcycles look somewhat like scooters.
The only practical way is to do aftermarket solutions like adding a tank bag or top box to the motorcycle. Or If you are an adventure lover, adding motorcycle panniers will be the best way to increase storage on your motorcycle.
Ride On!