Start shaving off your cruiser's stock pipes right away. Sure, they are well crafted, aesthetically appealing, and high-grade quality pipes but they limit your evil, rebellious twin cruiser from delivering a classic performance. 
How so? Harley's stock systems weigh on the heavier side. To comply with the government stated emission limits and noise regulations of not going overboard than 80 decibels. The Harley stock systems offer good performance while keeping the manufacturing costs from hitting the roof. This is followed by a plethora of limitations by holding back in terms of optimal performance and sound potentials.
With a vast range of great performing, and feature-rich performance exhaust systems tailored specifically to meet or beat your criteria for the best, choosing one amongst the many best is a sweat breaking work. 
However, to save you from the hassle and make a well-informed decision, we have brought out a review guide of the top 10 motorcycle performance exhausts best suited for your Harley, to meet you halfway through the decision making and to help you navigate through the endless options.
Here are our top 3 choices if you are in hurry or don't like reading too much.
Best Choice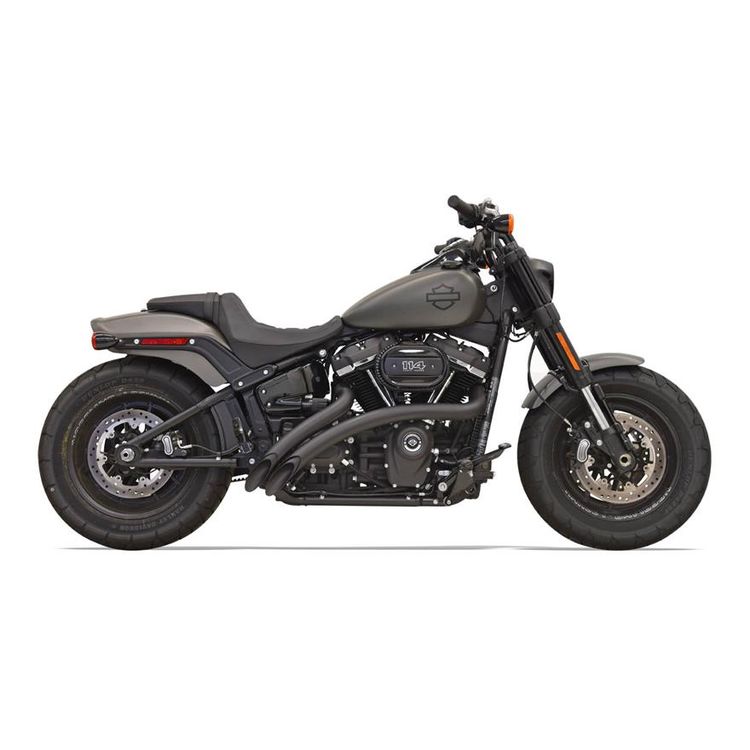 Premium Choice

Best Value For Money

Bassani Radial Sweepers Exhaust With Heat Shields For Harley
Vance & Hines Big Radius For Harley
Rinehart 4" Slip-On Mufflers For Harley
Best Choice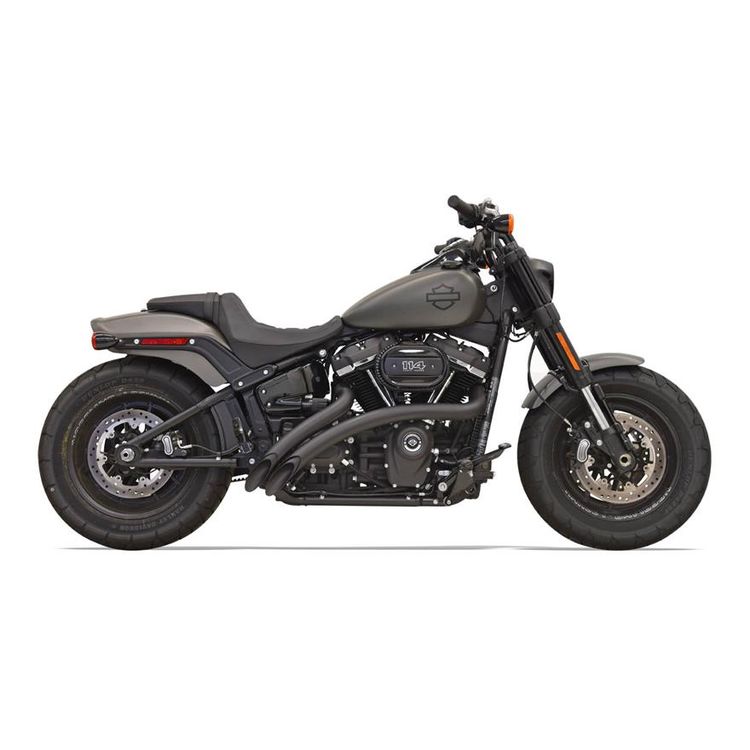 Bassani Radial Sweepers Exhaust With Heat Shields For Harley
Premium Choice

Vance & Hines Big Radius For Harley
Best Value For Money

Rinehart 4" Slip-On Mufflers For Harley
Engineered with the capacity to accommodate multiple modifications to meet your dream criteria, the Harley Davidson motorcycles are incredibly distinctive road gliders.
The performance exhausts offer an easy way out to liberate more horsepower from your engine by optimizing fuel running and combustion, offering more torque and a roaring, raspier sound.
The lighter is the new heavy should be your mantra while you are at it. To ensure that your cruiser has optimal acceleration and handling, installing the light performance exhaust systems would be an ideal modification to your vintage cruiser or motorbike. 
By shaving off the lengthy, muzzled, and streamlined mufflers, you not only rid your cruiser of the heavyweight and constraints but also warrant that improved performance and sound is delivered. The performance exhausts offer less flow-restricting chambers and feature baffles in them to guarantee optimal horsepower. Read the following top picks from our experts.
1. Firebrand Exhaust 4" Loose Cannon Slip-On Muffler For Harley
Effectually fits with the saddlebags and skirts.

Features a 4" diameter flash-suppressor end treatments

Enhances power in terms of both stock and high-performance motors

Delivers a deep rumbling throttle sound

It is also available in black.

Easy to install

Near to none backfires when switching gears.
The stocker Harley Davidson clamp is a notch small and requires a mallet to fit the slip-on muffler.

Is prone to quick discoloration and rusting

The black color is not matte black but more towards the charcoal shade.

The outer rim side area shows wearing signs annoyingly soon.
Being a banger for the bucks, this 4" Loose Cannon Slip-On Muffler delivers the aesthetics, optimal performance, maximum horsepower and torque, and a rumbling throttle sound. All without blowing up your budget.
The inlying free-flowing baffles being 2.5" inch long, with a stainless core and dual-layer packing, are the highlight feature. Not only do they deliver improved performance but also an aggressively deep rumbling sound that makes your Harley, i.e., your alter ego, a classic.
The outlying features include a high-grade quality show chrome, the 4" mufflers that offer flash-suppressed end treatments to take your Harley's performance up by a notch. 
2. Firebrand Exhaust 3" Loose Cannon Slip-On Muffler For Harley
Dual-density muffler packing

3" built muffle body features a flash suppressor end treatments

Doesn't requires you to be an expert in mechanics to install

Is available in chrome as well.

Offer a full-throttle orchestral level sound.
There is a heap of exhaust backfires causing imminent power loss, which relegates the overall performance.

Fail to line with the bolt holes efficiently and so have to be drilled. 

The package doesn't include exhaust gaskets
Being the little cousin of the 4" Loose Cannon Slip-On Muffler, this performance exhaust system is built from relative mechanics and shares similarity in terms of features and performance but at a more budget-friendly rate. 
Featuring 2" free-flowing baffles, the 3" Cannon Slip-On Muffler delivers optimal sound and power. Plus, the dual-density muffler packing ensures a race baffle performance is delivered.
3. Bassani 3" Firepower Series Slip-On Mufflers For Harley
A 16-inch gauge steel-work 

Domestic and international exchange and return policy

A variety of suitable end caps can be purchased if you want a swift switch up for your pipe look.

The 2" muffler baffles come with flash-suppressor end treatments. 
The ensemble doesn't come with black heat shields.

Difficult installation level due to the mounting bracket on the muffler

The pipes would occasionally pop beside the popping going on with the deceleration. 

Needs to be tuned before installation to have your bike properly dialed in

There is a backfire between second and third gear switching.

Rough acceleration as opposed to the stock exhausts 

Need a fuel controller to prevent poor mixture intake causing eye-watering
Engineered to offer installation ease besides the 2-inch free-flowing muffler baffles, the 3" Firepower Slip-On offers unparalleled service in terms of compatibility, fuel management, power optimization, and an authoritative, smooth throttle sound. 
Constructed with 16 gauge steel, the 3" Firepower Slip-On manufacturers offer both a domestic and international level return and substitution benefit.
4. Vance & Hines Pro Pipe 2-Into-1 Exhaust For Harley
Features O2 sensor ports

Broad and convenient torque gain

The optional Quiet and Competition baffles are available individually.

Considerably large merge collector and stepped headers

Has a 4.5-inch muffler body at the edge
The support bracket is prone to breaking promptly.

The fiberglass packing gives in to wear quickly, causing an annoying rattling sound 
The most advanced development in Vance and Hine's history is the 2-into-1 Pro Pipe exhaust unit. With the pre-tuned stepped headers scaling up to 1- 3/4 " to 1 – 7/8 ", the Pro Pipe 2-into-1 exhaust features a header and black collector shield fields besides having one shield over the megaphone as well. 
Plus, the highlight of the Pro pipe 2-into-1 is the CNC (computer numerical control) device chrome-plated billet end cap. Equipped with a highly efficient merge collector that adequately fills the back megaphone exhaust design. Thus, managing the ideal balance of maximum rolling power, exhaust back-pressure, and firm throttle response.
5. Vance & Hines Grenades Hi-Output 2-Into-2 Exhaust For Harley
The package comes with a heat pipe and heat shields in chrome finishing as well as black.

The unit is readily available in full-length chrome, full-length black, chrome with black stubs, and black with nickel stubs.

The super-bung technology readily accommodates 12mm and 18mm O2 sensors.

Includes CNC (computer numerical counter) machined billet end caps.

Comes with an instruction manual guide and mounting hardware
Might not entertain the use of passenger pegs or saddlebags

Difficult installation level because of having to remove or update the right side passenger peg carefully to not scratch the fender
Legal for racing vehicles in the state of California only, this Grenades Hi-Output is particularly the most innovative piece of Vance and Hines. 
The three muffler design offers a dynamic aesthetic outlook to not only the cruiser but also an aggressive deep-tone style with an assortment of high-output pipes.
With the 2-into-2 exhaust, the Grenade Hi-Output surpasses its older cousin Pro Pipe 2-into-1 in achieving more torque, acceleration, and power. The considerably wide 4" inch diameter end of the three stepped muffler body comes along with the 2 1/4 '' inch head-pipe heat shields that offer coverage over the 1 3/4 '' head-pipes.
6. Rinehart 4" Xtreme True Duals For Harley Touring
A limited lifetime exhaust warranty with a 2-year warranty on black finish films.

Features anti-reversion louvers to assist with the exhaust scavenging for a low-ended grunt.

Strategical rear pipe design on the low-down that lowers the heat amount emission on the leg area keeps the rider comfortable.

The stepped header technology boosts exhaust flow and power delivery.

Offer your dyno tech a suitable domain to obtain accurate data of exhaust ratio.
There is a lot of popping at deceleration. 

The sound isn't pleasant but annoying.

The heat shields are extremely tight and hard to get on.

The welded nub required to assist in preventing reversion is absent 
Integrating Rinehart's innovative anti-reversion louvers at the exhaust port point, the Xtreme True Duals effectively cuts back on the negative pulse boost torque to allow the rider an instant control and power rush with a flick of the wrist on the throttle.
With rider's comfort as the prime objective, the Xtreme True Duals are engineered to preserve the legs from heat emission impacts by strategically placing the rear head pipe on the down-low away from the leg area. 
Plus, the design further incorporates bends that are an absolute necessity for the perfect fitment of the head pipes. Thus, relieving the rider from the exhaust flow restriction and the scavenging impact is boosted through Rinehart's original stepped header technology. Furthermore, the oxygen sensor ports fitted in the head pipes, the Xtreme True Duals, offer your dyno tech the most suitable domain to obtain accurate data of your vehicle's exhaust (air to fuel) ratio.
7. Cobra Speedster Shorts Exhaust For Harley
The 2.5 inches heat shields can withstand 222-degree heat and fit completely up to the billet edges for a seamless appearance and no bluing.

Crossover technology of the Cobra Power Port boots overall power

The perfect custom finish of the show-chrome besides machined chrome billet edge caps

The package comes with removable baffles and mounting hardware to provide installation ease.

Includes the innovative oxygen sensor bungs 
Takes a lot of pounding for the baffles to fit perfectly against the heat shields

Requires full pre-tuning before installation 
By combining the conventional shotgun designing and modern innovative technology performance, the Cobra Speedster Shorts are the best. With a triple-chromed coat finishing, shotgun designed pipes are measuring up to full-length, 222-degree heat shields and the chromed aluminum billet tips. 
Delivering optimal power gains as compared to the stocks that are at the top of the market chain. The gains sprout from the Cobra Power Port; the exclusive crossover technology is what boots the overall power from idle to the red line leading to a deep aggressive tone.
Optimizing the power and overall performance by offering enhanced scavenging of the exhaust gases over the most budget-friendly standard exhaust performance systems. The Cobra Speedster Shorts 
produces the power boost that you normally encounter in a 2-into-1 experience with a 2-into-1 system, all the while preserving the clean, classic range of a 2-into-2 pipe.
8. Bassani Radial Sweepers Exhaust With Heat Shields For Harley
Oxygen sensing ports and plugs 

Obtainable in distinct chrome and/or black finish 

Manufactured with a 16-gauge dual steel

Available in slotted or solid heat shields both included with the package

Rear designed performance stepped heaters
Getting everything aligned with the rear bracket and secured is a tough job.

Require thin wall socket for installation

The paint chips off very easily.

The package doesn't include new exhaust port gaskets. 
With great horsepower deliverance, the Bassani Radial Sweepers Exhausts offer unrivaled performance. Besides the radial rear sections and innovative stepped header tubes. The Bassani Radial Sweepers Exhausts offer ease of installation with the bolt-on design while imparting an appealing classic look to your cruiser.
9. Rinehart 4" Slip-On Mufflers For Harley
Innovative muffler and baffle design

Obtainable mufflers in a wide range of finish options and end cap treatments

Sold in pairs

Come with a warranty over coatings and exhaust systems.

Easy to install package

Offer boosted horsepower and performance 
Lean a bit on the pricey side

Provides a nice low rumble instead of a roaring thrum on the throttle

The package doesn't come with a new gasket to bolt to the header pipe.
With an innovative and advanced muffler design, the Rinehart 4 Slip-On Mufflers offer unrivaled performance by noticeable horsepower deliverance and overall boosted performance. 
The Rinehart 4 inches slip-on mufflers come with an industry baffling 2-year warranty on black finish coatings besides a limited lifetime warranty on their exhaust systems. Thus promising optimal customer care and cooperation. The Rinehart top an appealing design game with chrome or black mufflers followed with chrome or black edge caps.
This race-proven muffler comes with a baffle design and an easy to install package. Besides, the Rinehart Racing mufflers are known for their distinctive and innovative design and sound appearance. This meaning the manufacturers operate internationally and are a well-known brand that has been around for a while now.
10. Vance & Hines Big Radius For Harley
Heat shields come with full coverage.

For oxygen sensors, there are factory welded ports available.

Mounting hardware besides louvered core baffles is included in the package.

Signature end treatment beside a chrome badge that imparts a sleek modern outlook to your cruiser.
These exhausts lean a bit on the pricey side

There can be manufacturing errors or alignment difficulty while installing 

The exhaust shield can get easily scratch, so be careful during installation
These exhausts come with aesthetically curved 2 1/2 inches full-coverage heat shields, end tips, and a quality blue-proof chrome. The Big Radius exhausts set the bar high in terms of custom styled outlook, quality, and sound without cutting back on optimal performance. 
Plus, these Big Radius exhausts produce increased horsepower and torque, both of which are delivered with a signature hotrod sound classic to Vance and Hines alone.
Performance Exhaust Buying Guide
Just so you can get hold of the right aftermath exhaust system without having to probe through each option, many of which promise fake claims, consequently wasting your bucks, here is why we have assembled a guide for you that offers the "all you need to know" information about the item in question.
Tubing
If you reside in dry areas, then prefer aluminized tubing. But if in areas with high moisture in the air and uses road salt, then stainless steel tubing should be corrosion resistant like the T304 stainless steel. Replacing stock tubing with free-flowing mandrel tubings ensures that maximum horsepower is gained out of your engine for optimal performance.
Loudness
It is better to gauge how loud your system would be once installed before the constant droning becomes obnoxious and starts assaulting your ears on long rides. Therefore, check the sound clips offered online from the manufacturers.
Modification Requirement 
Though many exhaust systems are easy to install with bolt-ons and require no alterations. There might be kits that would require minor welding to be the perfect fit or new exhaust gaskets, both of which will be found in product descriptions usually.
The Magnusson-Moss Warranty Act
To ensure that your dealer doesn't nullify your exhaust system warranty once you have installed it, there is the Magnusson-Moss Warranty Act that will prevent them from doing so. There are many manufacturing defects that come in the picture only after installation, so this act ensures the warranty of your repair and/or exchange. Unless the fault was not manufactural but on your account.
Header and Axle-Back Systems
Once you have determined how much tubing you want to barter, you can then choose either header or manifold back exhaust systems, which though can be labor-intensive and might require a mechanic for installation. Or pick Axle-Back system, which readily replaces the easiest parts of OEM (original equipment manufacturer) exhausts to access elevated levels of horsepower, acceleration, and sound.
Though you really don't 'need' an exhaust system, with cruisers like Harley having their potential limited but still offering optimal performance at the factory. But we all prefer getting every ounce worth our dimes.
With options like full-system and slip-on mufflers, out of the two alternatives, it is the slip-on that is more budget-friendly. However, the slip-on has minimal effect on boosting engine performance. It is the full-system that offers guaranteed optimal horsepower, torque, and fuel efficiency despite being on the pricey side.
After doing thorough knee-deep research, we narrowed down our findings to the above mentioned 9 motorcycle fuel stabilizers that are not only budget-friendly but also don't cut back on efficient performance. 
So we suggest that once you find one who beats or meets your criteria, don't check it off if it doesn't come in your budget range. Spending a wad just to cry out loud, in the end, wouldn't be ideal. Therefore, instead of going for cheaper alternatives, we suggest that you save up and then make the purchase. We are sure you won't be disappointed, you can take us up on our word!