Motorcycle touring is one of the greatest sources of adventure especially when you are dwelling in an area, which is near to incredible plains and stretches of roads ready for you to explore.
If you are a die-hard adventurer, then packing along a motorcycle camping tent will not be a nuisance for you.
After all, who will back out of spending a night under the starry sky in cool summer breeze just because of an extra motorcycle tent?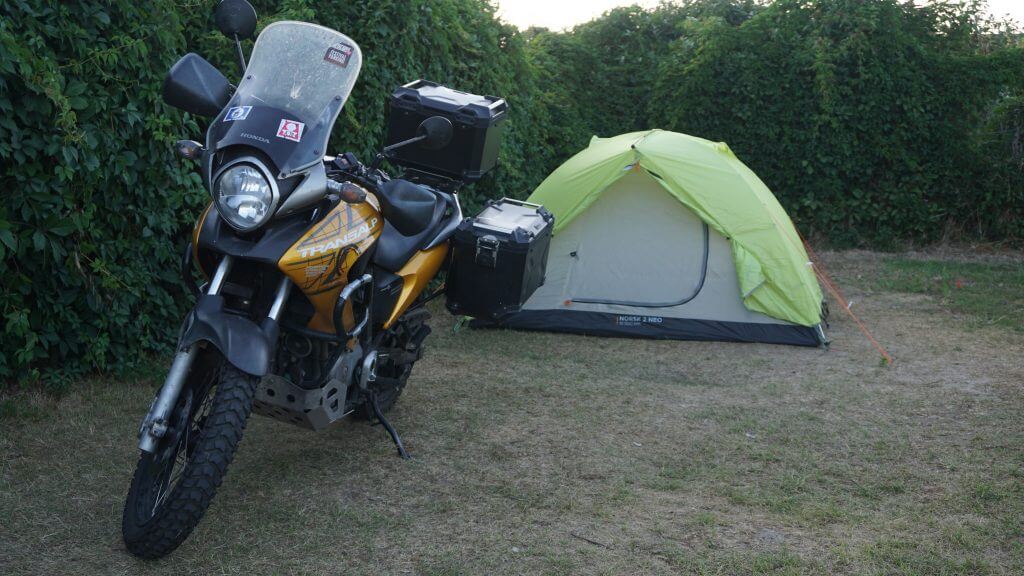 When you are on the road, far from the safety and comfort of home, the only thing that can provide you near-home like shelter and protection is a camping tent.
It is also important to have a space where you can keep yourself protected from pesky bugs or keep some wild animal from going through your food stash at night; what better way to do that than to pack a durable and comfortable tent in your backpack which is spacious enough to room your bike as well at night.
In the article below, we have assembled some best motorcycle camping tents for adventure-enthusiast bikers who do not want to miss any opportunity of hitting the road on their trusted bike to breathe in the summer breeze.
Going through the list, you can choose which product will suit your needs best and prevent you from getting into any drama.
Buyer's Guide for Motorcycle Camping Tent
To an ordinary person, all tents will look the same, providing all the necessities for camping. However, this is not the case.
With a plethora of options present in the market, one can easily get confused in choosing the right product. Just as GPS takes you safely to your desired location, buying guides are there to help you pick the right product that perfectly meets all your needs.
Everybody buys a product that suits their budget. This buying guide highlights some other key factors besides money that you need to consider while purchasing the best motorcycle camping tent.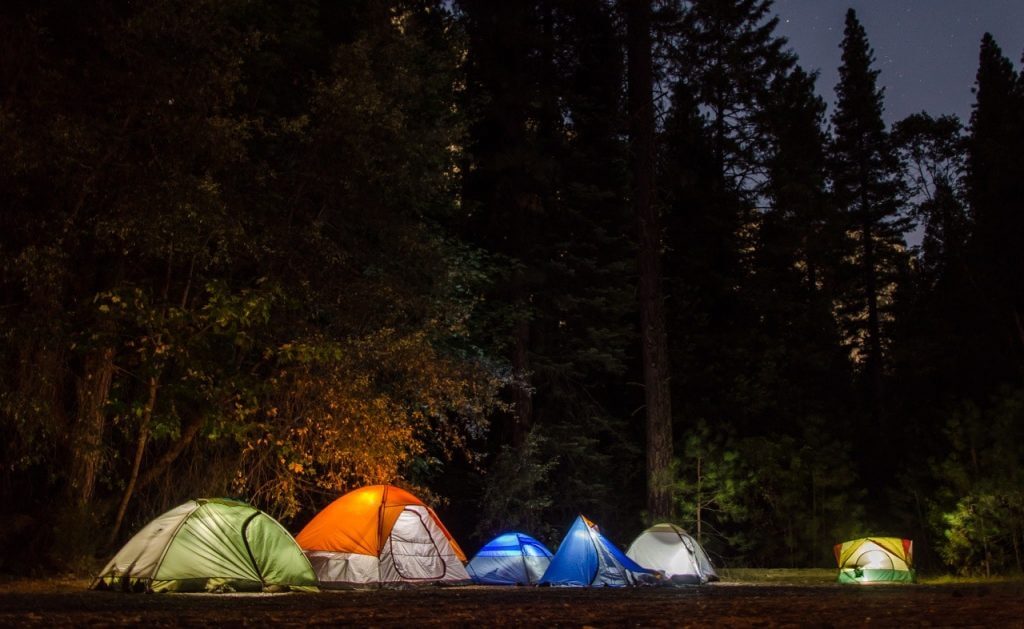 Usage of tent
The first and foremost step before you buy a camping tent is to know the purpose for which you are making the purchase.
If you are going on a short weekend trip, you might consider buying a lightweight tent to carry on your bike.
On the other hand, if your trip is going to last for weeks, then you need something more durable and equipped to battle with all kinds of weather and elements but still manageable in weight to be easily carried around while you plan to hike on tough terrains.
Tent's size
For motorcycle adventurers, it is mandatory to buy a tent, which is spacious enough to room their bike. Always find one which offers space more than your needs.
You will like to roll around in extra space.
Later on, it can be utilized when you plan a family camping trip, and the extra space will easily accommodate your dog and children.
Choose lightweight tent
As you will have to carry the tent on your back while riding your motorcycle, heavyweight will become a hassle for you.
Also, while you are hiking, it becomes extremely difficult to hike carrying a heavy backpack on your back. Always go for a super lightweight camping tent.
Convenient setup
When you are on the road, away from home, you cannot carry a fully packed toolkit with you on a bike.
Therefore, it is wise to go through the set up process carefully and time it will take. Always purchase a tent that offers an easy set up in lesser time.
Know the weather type of your camping site
You need a sturdy three-season tent with a wide vestibule to protect your gear from rain if you intend to camp on Olympic Peninsula.
In the Southwest, you can do just fine with a two-season tent, make sure it offers protection from the sun with many vents free airflow in warm temperature.
A four-season tent is suitable for high altitudes with low temperatures.
Check packability
Only a lightweight tent will not do. You have to test how much equipment you can push inside your tent so that it fits better in your backpack and still does not weigh much.
If you follow these guidelines closely, you can avoid any unpleasant incident on your trip.
Preview
Best Choice

Premium Choice

Product
Coleman Evanston Screened Camping Tent, 6/8 Person Weatherproof Tent with Roomy Interior Includes...
Harley-Davidson Dome Tent w/Vestibule Motorcycle Storage, Orange HDL-10010A
Best Choice
Preview

Product
Coleman Evanston Screened Camping Tent, 6/8 Person Weatherproof Tent with Roomy Interior Includes...
Premium Choice
Preview

Product
Harley-Davidson Dome Tent w/Vestibule Motorcycle Storage, Orange HDL-10010A
9 Best Motorcycle Camping Tents
1. CATOMA 64598F Lightweight Switchback Motorcycle 2-Person Camping Tent
Buy on Amazon
If you are on your bike embarking on a new adventure and do not want to ruin your tour by camping in a cramped space, then Catoma has come up with a solution with its 2-person Lightweight Switchback Motorcycle Camping Tent 64598F.
Its two-wall design offers easy access and additional storage space. With the addition of an extra aluminum pole, you can build in two doors and antechambers to sneak in your bike if need be.
Its waterproof fabric and mesh ventilation system, for scorching summer months, work well in all seasons, giving you great night's rest out in the open.
With its 15 pounds' weight, it is a little heavier for a lightweight camping tent, but it's not something that should ruin your camping experience because the design includes its carrying bag for easy stacking.
The highlight of the design is its quick and easy setup.
Due to its speed dome integrated frame, you can set it up in just around 60 seconds. Isn't it great? Now you don't have to waste your precious time setting up a tent once you have selected a perfect one for spending the night.
The design has a breathable inner tent and louvers to allow air transportation and bathtub flooring. A perfect combination for hot summer nights! You cannot go wrong with this motorbike camping tent.
Pros
It has a hook for hanging a light.
The design is suitable for all weather conditions.
Its vestibule is spacious for storing backpack and shoes.
Cons
It's a little heavy for a lightweight camping tent.
The design is not suitable if you are 6-feet or taller.
The design can only store a smaller bike.
2. Coleman Hooligan 2-person Tent
Buy on Amazon
If you are on a budget but also want to have an exquisite camping experience, then close your eyes and go for Coleman Hooligan's 2-person tent. The name says it all. You do not have to worry about the stuff because Coleman does not compromise on the material.
Its single-entry design can space only two persons. This shouldn't worry you because it has a small vestibule to provide storage for your bike, keeping it protected from snoopy eyes and rain. Its one-pole configuration allows for quick set up or taking down.
Its heavy-duty polyethylene flooring and leak-proof seams can endure harsh weather conditions. This also gives it additional durability.
What's the point of camping in the open in summers when you cannot stargaze?
Coleman has taken care of that as well.
Pull the water-resistant coating off to expose the beautiful night sky without the risk of being bitten by mosquitoes and bugs.
Although it is lightweight and can be easily carried on a bike, the bulky size is an unpleasant feature. Overall, it is the best value for money tent for most motorcycle adventurers.
Pros
It is very cheap and lightweight.
Its quality is best for extreme weather conditions.
It has a top side vent.
Cons
It is very bulky.
There is no hook for hanging a lantern inside the tent.
Its vestibule entrance is small for a full-size person.
3. ENKEEO Backpacking Dome Camping Tent for 2 Persons
Buy on Amazon
Enkeeo motorcycle camping tent is a step up from Coleman.
Although it isn't specifically designed for bikers, it has plenty of space to shelter two persons during a motorcycle tour. It's not even that heavy.
The design is composed of a durable mesh fabric that contains not only waterproof but also a sunproof and windproof flysheet.
The multiple mesh windows and ventilation segments allow enough air circulation to prevent you from being cooked in hot climatic conditions.
The groundsheet of the tent is also waterproof to prevent water from seeping into your stuff. This internal tent can be used as a ventilating tent separately when needed.
Its compact and portable design – simple 2-pole design – aims for fast set up and packing down.
It is a decent choice to enjoy a safe camping experience, keeping you from getting wet or cold when you are out in the plains. Its anti-tear polyester material gives it long-lasting durability.
The only notable downside of this camping tent is that it does not have any additional garage space for sheltering your bike at night.
Pros
It has durable material and a compact transporting bag.
It contains an interior pocket for a mobile phone and a hoop for hanging flashlight or lantern.
Its spacious design is suitable for two people to sleep in easily.
Cons
It does not have a storage area for the bike.
It has thin flooring.
The material of the rainfly attachment is flimsy.
4. HARLEY-DAVIDSON Dome Tent, Orange HDL-10010A
Buy on Amazon
This H-D dome tent is spacious enough to room four people and your bike easily. At the front is a motorcycle vestibule, specially designed to protect your bike when you are camping.
This garage space can be separated from the tent when you don't need it. However, the garage space is only for one bike. The other bike will have to be placed in the open.
Harley claims that it can be easily assembled and set up, taking barely 10 minutes. So, you do not have to fuss around much once you reach your desired destination.
Its mesh roof panels allow for fresh air to enter in hot weather. It offers a high standard of water resistance with its fiberglass frame.
The aluminum stakes of the tent provide the necessary strength to the material and have a flysheet fitted with translucent windows for visibility and illumination.
Its floor seams are strengthened with an extra layer to give high weather resistance to the material.
40 x 40 front and back doors offer comfortable entrance into the tent and are covered with mesh material to keep you protected from pesky bugs.
In addition to that, its approximately 12lbs weight and a carrying bag make it easy to carry it with you on a camping and hiking expedition, or a bike adventure.
Pros
Spacious to room a group of four people.
Additional garage space for bike.
Weather-resistant floor seams
Extra strength because of 14 aluminum tent stakes.
Cons
Motorcycle storage can room only one bike.
5. High Peak Outdoors Hiker/Biker Tent
Buy on Amazon
This is another one of the best motorcycle camping tent you want to consider buying when you are on a budget yet don't want to miss a hiking expedition.
As the name suggests, it is specifically designed for motorcyclists, bikers, and ruck sackers who need a small area to cover their gear in a tent while touring.
However, the garage area is small and will hardly fit a big bike.
The tent is lightweight and compact, making it a perfect choice to carry on a bike for your road expedition.
The design comes with two fiberglass poles and quick snaps for setting it up without spending much time, approximately three minutes set up time.
Its mesh ventilation system, water, and wind resistant material make it ideal for any weather condition. In addition to this, the tent has a lot of airflow sections on each side, making it a perfect choice in warm weather.
Its seamless bathtub flooring keeps you dry when you sleep at night. It also features two small storage pouches for stashing your stuff.
It is specifically designed to endure severe weather situations. So, if you are one of those biking enthusiasts who have a penchant for going off the beaten tracks, then this might be a safe choice for you.
Pros
It is extremely light in weight.
Compact size and easily portable.
It can be set up and assembled quickly.
Suitable for extreme weather.
Cons
The small vestibule area is not suitable for fitting in a big bike.
The storage pouches hang in your face.
6. BELLAMORE GIFT Family Tent for 4 Persons
Buy on Amazon
This camping tent is large enough to accommodate four people because of its double sleeping area on each side of the tent.
Also, the middle storage area is large enough to shelter your bike, large packs and shoes.
Due to its huge space, it is ideal for weekend-long family camping or a group of bikers on two gears. The two sleeping areas have separate doors to provide you enough privacy.
The external tent and groundsheet are both made of water-resistant material, keeping the water away. Its fiberglass frame can battle strong winds.
The design features a mesh window for ventilation purposes.
Pros
Suitable for family camping.
It can endure harsh weather conditions.
Enough storage to shelter two bikes.
Cons
Heavy due to approximately 19lbs weight.
Restricted ventilation due to the single mesh window.
7. Coleman Evanston 6-Person Dome Motorcycle Tent
Buy on Amazon
One of the most interesting things about this motorcycle camping tent is its dome shape design and attached screen room.
It is commodious enough to room six persons and two queen size mattresses.
The front screened porch offers dual purpose. You can lounge in it during the day without bugs bothering you and sneak your bike in it later at night when you sleep.
WeatherTec system and patented welding flooring keep the water out. The screened porch floor has holes to drain the water out.
The strong frame of the design can battle against 35+ mph winds.
The design comes with snag-free clips and a proprietary pin-and-ring system for easy setup. It will take approximately 15 minutes to set up the whole structure.
However, bear in mind that the dome structure provides support to the only main sleeping area. You will need to fix the screen porch and fly properly.
Pros
Stable and aerodynamic dome structure.
Spacious to accommodate six people.
Screened room for lounging.
Cons
Relatively low ceiling, only 68 inches.
The screen room gets wet and muddy in the rain.
8. Vuz Moto 12-Foot Waterproof Motorcycle Tent
Buy on Amazon
The design and shape look small, but this tent is commodious enough to room you, your bike and your camping buddy.
There is a secluded garage space for your bike to keep it from harm's way. It is made of the toughest material available to withstand even the most unforgiving weather conditions.
The sturdy design is strong due to aluminum poles.
Another good thing is that it contains four entrances, so no need to make a queue for entering the tent.
The tent is easy to use and quick to erect and offers decent weather protection.
It's a three-season tent.
Meaning, it can battle against strong winds and rainfall. With its 13lbs weight, it is portable enough to be easily packed and carried.
Pros
A separate garage area for the bike.
It offers a hassle-free setup.
It offers roomy and comfortable stretching space.
Cons
It requires two people to set it up quickly in the rain.
Not fully self-supporting design.
9. OT QOMOTOP Instant Cabin Camping Tent
No products found.
No products found.
This is one of those instant cabin-style camping tents that can be erected upright within 60 seconds due to its wireless layout, with just one or two steps.
Spacious internal area can accommodate up to 6 people – you, your camping buddies – a queen size air bed and tenting gears. Therefore, it is ideal for family camping.
Its elastic fabric design offers the best outdoor functions and a high level of resistance from the water. Its sturdy design has enough strength to withstand rain and strong winds.
The design comes with tent stakes, storage bags, mud mat and gear pockets for keeping mobile and other such things.
A unique feature is its electric cord port, which provides a way to access electric cable easily. And if no longer in use, the port can be fully closed.
This full seam taped tent has a welded bathtub floor and taped interior, which keeps it dry in the rain.
Its improved ventilation system with mesh roof and ground louvers allows considerable ventilation compared to other tents without leaving moisture on the inner ceiling at night.
Pros
Ideal for small family camping.
Quick and automatic set up.
Advanced ventilation system for maximum airflow.
Cons
A little heavy to carry on a bike.
It is more suitable for family picnics than camping.
FAQs
What is the difference between an ordinary camping tent and a motorcycle camping tent?
A standard two-person camping tent will only have enough space for two people to sleep inside the tent. On the other hand, a two-person motorcycle camping tent is large enough to accommodate not only two persons but also their gear and a bike. It has a separate area for sheltering a bike.
What is the advantage of using a motorcycle camping tent?
A motorcycle camping tent is specially designed for bikers. It comes with a motorcycle vestibule to keep it protected at night. It is designed to withstand all kinds of unpleasant weather conditions, preventing your adventure from getting ruined and delivering considerable security to you and your gear from rain or winds.
Also, read our review for Firstgear Motorcycle Jacket
Conclusion
Motorcycle camping is a rejuvenating experience, whether you are going alone or with the company. To add on to your adventure, it is better to pack a decent camping tent with you before you hit the road on your bike.
A best motorcycle camping tent will not only deliver plenty of storage space but also ensure that all your luggage and camping gear stays clean and out of harm's way.
Keeping in mind your pocket status, make sure that you purchase a lightweight tent, for portability, and having the strength to endure all weather conditions, giving you the best camping experience.